2017 Swedish Warmblood Elite Foal Auction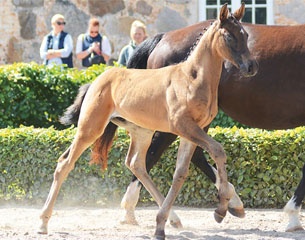 The colt Radius became the best selling foal at the 2017 Swedish Warmblood Elite Foal Auction held in Flyinge, Sweden, on 6 October 2017 during the National Young Horse Championships.
Andreas Helgstrand acquired Radius (by Revolution x OO Seven, bred by Lena Nystrom) for 300,000 SKK (approx 32,500 euro).
Jan Brink bought the most expensive jumper foal, the colt Main River (by Cornet Obolensky x Nintender), for 260,000 SKK (approx 27,280 euro). The second expensive jumper foal was Main Balouca (by Baloubet de Rouet x Cardento) which sold to Shane Sweetnam for 230,000 SKK (24,100 euro).
The Swedish Warmblood and Rider Trust, a crowd funding project to support Swedish warmblood breeding and top Swedish riders, acquired Magnus and Camilla Eriksson's Portofino MVG (by Hesselhoj Donkey Boy x Bellagio) for 150,000 SKK (15,700 euro). Therese Nilshagen hand picked this foal as she will become its designated rider. 
Jan Brink went on a shopping spree and bought more jumper foals! He paid 210,000 SKK for Clash (by Catch x Casall), 170,000 SKK for Comme il Kenda (by Comme il Faut x Emmerton), and 100,000 SKK for Glorious Bastard (by Glamourdale x Schwadroneur). 
There was a lot of interest from the Swedis dressage riders. Karin Oljemark and Jeanna Hogberg bought Paradox CML (Totilas x Don Romantic) together for 90,000 SKK. Anna Svanberg purchased Furst Day (by Furst Romancier x D-Day) for 120,000 SKK and Touch of Romance (by For Romance x Royal Touch Stone) for 140,000 SKK.
Thirty-five foals were auctions and they achieved an average price of approximately 12,000 euro per foal.
Source: Tidningen Ridsport
Related Links
2017 Swedish Warmblood Elite Foal Auction with Top Collection on 6 October 2017
Swedish Warmblood and Riders Trust Created. Nilshagen to Receive Foal
Fabulous M, Top Seller at the 2016 Swedish Warmblood Elite Foal Auction
2016 Swedish Warmblood Elite Foal Auction - Stars for the Future at Auction in Flyinge
Deorro Magi, Price Highlight of the 2015 Swedish Warmblood Elite Foal Auction
Kordoba For U, Price Highlight of the 2014 Swedish Elite Foal Auction
Donna Antique, Price Highlight of the 2013 Swedish Warmblood Elite Foal Auction