2017 Masters du Cheval European Final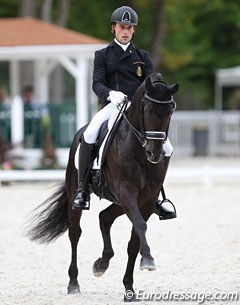 Belgian Justin Verboomen and Italian Nausicaa Maroni became the gold medal winners and first place-getters in the two Grand Prix level classes at the 2017 Masters du Cheval Iberique European Finals. After Barcelona (ESP) in 2013, Paris (FRA) in 2014, Gesves (BEL) in 2015, and Turin (ITA) in 2016, the European Iberian Masters Final took place at equestrian centre Le Pin in Paris, France, on 12 - 15 October.  
The Masters du Cheval Iberique (MCI) is a dressage league for Spanish and Portuguese bred horses, with classes from novice level up to Grand Prix.
Riders from France, Belgium, Czech, Great Britain, Spain and Italy were invited to compete in the 2017 MCI Final and in the team ranking the Belgians ruled the roost, followed by Britain and Italy. The European Finals assembled 160 horses competing in seven different levels.
The Grand Prix class was won by the French based Belgian Justin Verboomen on the 16-year old Lusitano bred Nevado de la Font (by Galopin de la Font x Quilate). He scored 68.800% and edged out Patricia Pellen on the 10-year old Lusitano stallion Castico (by Justiceiro Mac x L Piroga VSA), who finished second with a fraction less, 68.600%. Italian Nausica Maroni and the dark bay PRE bred Embajador SG (by Reclameo VI out of Cubanera), the winners of the 2016 MCI European Final, placed third in the Grand Prix with 68.392%. Seven combinations in total competed in the Grand Prix, which was judged by Mark Ruddock, Gabriela Valerianova, Jean Pierre Tuloup, Nicoletta Milanese and Ariane Boelens. 
In the Grand Prix Kur to Music, judges by Tuloup, Boelens, Milanese, Serge Kaczor and Christine Riviere, Maroni topped the board with 77.20% Verboomen and Nevado de la Font landed second place with 77.13% and he also finished third with the 9-year old Lusitano stallion Desejo (by Lancelot du Coussoul) and fourth with the 17-year old Lusitano Tamino (by Gazoso x Pagode). 
At small tour level Italian young rider team member Ginevra Coperchio and the 10-year old PRE Edipo el Bayo (by Albino el Bayo x Solitario VII) topped the Prix St Georges with 70.789%, ahead of Mathieu De Nois on the PRE bred Faraon Alegria (by Primoso Ram x Simpatico with 67.447%. Coperchio also won the Prix St Georges freestyle with 72.95% ahead of Fabio André Ventura on the Lusitano bred Califa, who was second with 72.62%. Twenty-five combinations competed in the Prix St Georges, 24 in the freestyle. 
Photo © Astrid Appels
Related links
Nausicaa Maroni and Embajador SF Go for Gold at 2016 Masters du Cheval European Final
Silvia Rizzo Achieves Her Goal for 2014, Silver at 2014 European Lusitano Championships
Italian Teams Selected for 2017 European Children, Junior, Young Riders Championships