Eurodressage F.O.C.U.S.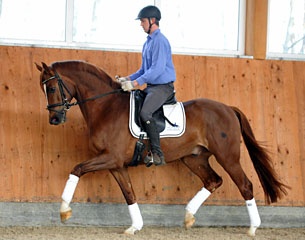 The Westfalian gelding Ein Traum has become the embodiment of a dream come true for breeders Norbert and Stephan Borgmann and his owners Petra and Dieter Hofmann. Under Spanish Olympian Borja Carrascosa the 8-year old made a winning debut at Grand Prix level at the 2017 CDN Ankum in Germany on 13 - 14 October 2017.
Ein Traum's rise to Grand Prix level is the fairytale story of a talented young horse finding its match with the right owner at the Borgmann farm auction in 2013 and with the right rider at Borja Carrascosa's base Gut Auric in Krefeld.
The athletic chestnut gelding Ein Traum is bred by Stephan Borgmann and is by Estobar NRW out of Floriana II (by Florestan x Weinberg x Damokles). Floriana II is the full sister to Steffen Peters' 2006 WEG bronze medal winning U.S. team horse Floriano and she is the dam to the 5-year old licensed stallion AC-DC who became a 2017 Bundeschampionate finalist under Sina Aringer. This dam line has produced numerous Grand Prix horses and licensed stallions all bred by the Borgmanns. Ein Traum was started under saddle by Stephan at the home yard Hof Borgmann in Ostbevern, Germany. 
In the spring of 2013 dressage lovers Petra and Dieter Hofmann were in search of a top quality young dressage horse and found their treasure at the 2013 Hof Borgmann Auction.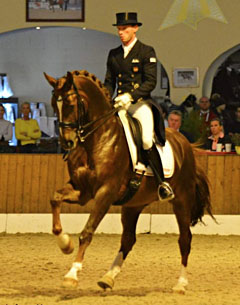 "Their goal was to discover a top talent, a horse of world class potential," said Stephan Borgmann. "By coincidence, Petra had heard of our small farm auction near Warendorf. Petra and Dieter are real dressage experts and they had decided to buy a real diamond in the rough. We showed them the 4-year old Ein Traum and it was their dream come true."
The Hofmanns acquired Ein Traum at the 2013 Hof Borgmann Auction, where he showed good development in his body and training, outstanding rideability and three correct basic gaits.
Petra Hofmann is in charge of the management of the horse and often rode him himself as a youngster. For show exposure, she found extra support in young horse riders Sina Leuthäusser and Stefanie Kerner.
To enable a successful transition to Grand Prix level, Ein Traum was sent in training with the international Grand Prix rider Borja Carrascosa in the summer of 2017. Making their debut at Grand Prix level at the 2017 CDN Ankum, the pair finished third in the Intermediaire II for Developing Grand Prix horses with 70.307% and they won the Short Grand Prix with 71.860%.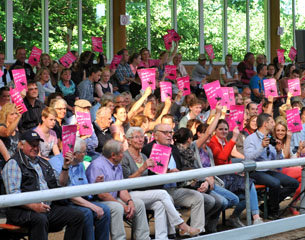 "For a horse of this quality, there is always a stall available in my stable," Borja Carrascosa said at the time. Ein Traum ticked all of Borja's boxes and the special feeling he had in the saddle did not betray him. Ein Traum became the talk of the town after Ankum and is one to watch for the 2018 show season.
Petra and Dieter Hofmann have now decided to acquire their next future star at the new Hof Borgmann Auction in the spring of 2018, where a collection of 25 ridden sport horses under between the ages of 3 and 5 will be up for auction. 
For more information, visit www.hofauktion-borgmann.de
Related Links
Big Stars Premier New Horses at 2017 Ankum Dressage Club Winter Events
AC-DC Wins 2017 Hagen Bundeschampionate Qualifier
AC-DC, Reagan, Baccardi Win 2017 Bielefeld Bundeschampionate Qualifier
Third Top Dressage Horse Auction at the Borgmann Farm
Top Youngsters and Foals for Sale at 2015 Hofauktion Borgmann
Estobar NRW, 2006 Westfalian Licensing Champion