American Dressage News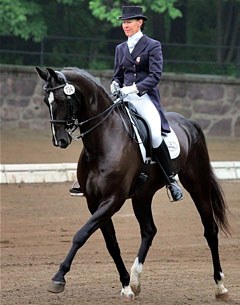 Danish born American Grand Prix rider, judge and trainer Charlotte Bredahl has announced her retirement from an active competition career. The 60-year old Bredahl will now fully focus on her coaching and judging career.
"This year I made the decision to not compete seriously again," Bredahl announced. "It was a hard decision because I have some wonderful horses. I know it is the right decision, because I absolutely love coaching and helping riders."
Bredahl's competition career began in 1980 and she competed 42 horses in the U.S.A. until 2017.
"Of the 42 horses I showed, 17 of them were at the FEI level and 5 at Grand Prix. 4 of them won 8 USDF Horse of the Year titles. 10 of them I owned myself," said Bredahl. "Three of them I still own. Every single horse taught me something, including patience and persistence. Not many sports where you can compete for 37 years and still be completely immersed and still be learning."
Her career highlights include two U.S. team bronze medals. She was a U.S. Olympic team rider on Monsieur at the 1992 Olympics in Barcelona, Spain, where she won team bronze. She went on to earn a Team Silver medal from the 1997 North American Championship with Lugano. 
Since 2012, Bredahl was promoted as a 4* dressage judge. In 2014 she accepted the position of U.S. Dressage Assistant Youth Coach. Charlotte's last international show was in January 2016 at the CDI-W Burbank, where she competed Hamilton at small tour level.
"I feel so lucky to be looking forward to every day I get to work with horses and riders. I also feel incredibly lucky to belong to our very special dressage family," she said.
Photo © Sue Stickle
Related Links
Charlotte Bredahl's Monsieur Passed Away
Williams and Bredahl-Baker Named US Dressage Youth Coach and Assistant Dressage Youth Coach
First 2017 USPRE Sport Initiative for Dressage Clinic with Charlotte Bredahl
Sierra Keasler Picked for USEF Select Athlete's One-on-One Coaching with Charlotte Bredahl