German Dressage News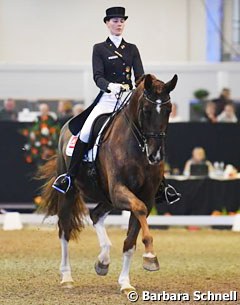 German B-team Grand Prix rider Kathleen Keller has decided to go solo and will be moving away from under the wings of her parents in Luhmuhlen, Germany. The rider will be relocating to a private yard in Appen, Germany, 70 km north of her current base.
Reiter Revue disclossed that after having been based in Luhmuhlen for five years, Kathleen Keller will go solo. Since 2014 she has been running a dressage business together with her parents Dolf-Dietram and Manuela Keller, but those times have ended.
As of 1 December 2017 the 27-year old rider will be taking 12horses with her to Hof Etzer Heide in Appen, Germany, to start on her own. Her parents will continue to train her though.
Dolf Dietram and Manuela Keller will stay in Luhmuhlen until May 2018 when their contract ends. 
"I have been doing this for forty years and somewhere it has to end. I'm going into retirement," Dolf Dietram Keller told Reiter Revue. "The place where I like to be the most is home, and that's where I was the least. Maybe there will be a bit more time for that now. But don't worry, I'm not planning on going to a self-discovery retreat in India either."
Read more on Reiter Revue
Photo © Barbara Schnell
Related Links
Eurodressage Photo Database: Kathleen Keller
Kathleen Keller and Desperados Sweep Small Tour at 2015 CDI-W Neumunster
Mini Mentees Selected for 2017 Mentoring Programme of Deutsche Bank Equestrian Sport Academy
Luttgen, Keller and Werndl Win 2005 German Dressage Championships
Palma e Santos and Keller Win National Classes at 2013 CDI Hamburg