2017 Bolivarian Games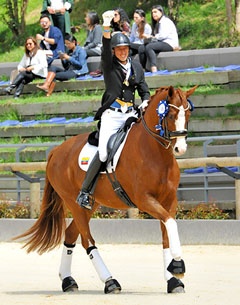 Team Ecuador and U.S. based Ecuadorean rider Julio Mendoza won the two gold medals that were up for grabs at the 2017 Bolivarian Games of which the 18th edition was held at the Escuela de Caballeria Canton Norte in Santa Marta, Colombia, on 18 - 21 November 2017.
The Bolivarian Games are a regional multi-sport event held in honour of Simón Bolívar – known as "El Libertador" - the leader of several independence movements throughout South America, collectively known as Bolívar's War. To this day he is credited with leading the fight for independence in what are now the countries of Venezuela, Colombia, Ecuador, Peru, Panama and Bolivia. The event is open to these 6 countries liberated by Bolívar or those born from these.
The team championship competition on Sunday 19 November was won by Ecuador, which landed the gold medal with a total of 208.6 points. Colombian judge Cesar Torrento served as team trainer for Ecuador. Julio Mendoza and his 12-year old Oldenburg Chardonnay (by Comic Hilltop x Northern Baron) scored 74.04% to win the class and lead his team to victory. Caroline Espinoza Navarro on Emiliano P (66.58%) and Maria Jose Granja on Pegazo (67.98%) were the other two contributing scores for Ecuador.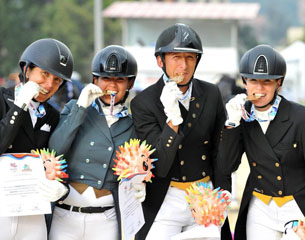 The team silver medal winning Colombian team followed in the distance with 202.76 points. Their team rider Sergio Muñoz Laverde and the 10-year old Hanoverian bred Dark Dancer rode the high score of the day with a 70.83% earning test. Peru scored bronze with 166.64 points. Their best scoring rider was Juan Bautista Ledgard with a 56.86%. Six nations and 16 riders in total competed in the team competition; the podium place-getters were joined by teams from olivia, Venezuela, and Chile.
The final individual competition took place on Tuesday 21 November 2017. The scores of all three rounds counted to calculate the overall results and ranking. The preliminary test on Saturday counted for 25%, the team test on Sunday for 35% and the individual test on Tuesday for 40% of the end result.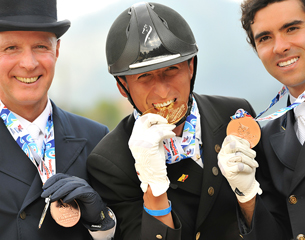 Ecuadorean Julio Mendoza continued his winning streak and also won the Individual test as well as the individual gold medal. Mendoza and Chardonnay won the final test with 73.82% and took the highest step on the podium with a total score of 72.973%. The silver went to Colombian Sergio Munoz Laverde and Dark Dancer who got 68.246% in the individual test but scored the second highest total with 70.377 overall. Colombian Santiago Cardona and the 16-year old Colombian bred chestnut Espartaco scored the bronze with an overall total of 68.255% after posting 68.202% in the final individual test.
Photos © Hector Garrido
Related Links
Scores 2017 Bolivarian Games
Team Ecuador for the 2017 Bolivarian Games Announced
Colombia Sweeps the Board at the 2013 Bolivarian Games