Training Your Horse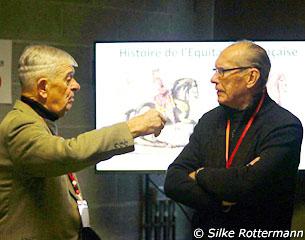 In 2011 UNESCO inscribed "Equitation in the French Tradition" into their world intangible heritage list with the explanation that the "harmonious relationship between horse and rider in mutual respect and lightness" is the goal of its training. While this explanation justifies an inscription, it also fits several other approaches and does not necessarily give a precise indication what to think of when speaking of Equitation in the French Tradition.
In our days in which for long-term, different national riding approaches have pretty much disappeared from dressage sport, many people have only a vague idea what French equitation could be. Looking at the different, more or less internationally renowned representatives under this "flag," one can easily get the impression that there is no uniform approach and this is fitting. And the question what one can understand of Equitation in the French Tradition is indeed not easy to answer.
This became clear, once more, during the "Premières Rencontres Belges de l'Equitation de Tradition Francaise" (First Belgian Meeting for Equitation According to the French Tradition) on 2 - 3 December 2017. This event with numerous animated lectures, demonstrations and lessons at the regional School of Equitation and Breeding in Gesves near Namur made the variety of French traditional equitation obvious.
A Philosophy instead of a Method

On Saturday morning 2 December 2017  more than 130 people from Belgium, Germany and France found their way to the seminar room of the school to join in on the matter with a lecture by organizer Philippe Maurice d'Iscret. He spoke on the "History of French Equitation".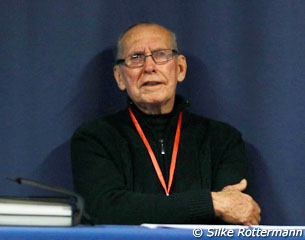 The retired technical advisor of the French federation first gave an overview about the masters from the Italian Renaissance, such as Grisone, Pignatelli and Fiaschi whose knowledge was imported to France by Pluvinel and de la Broue. Those early trainers passed on three important realizations which stamped the way equitation in France evolved over the next centuries: Pluvinel considered the horse as an intelligent and sensitive entity which reacts to praise and could be made supple by applying lateral work, whereas de la Broue made aware that a wrongly started exercise should never be continued while training a horse.
D'Iscret stressed that despite these early big names, the father of all classical equitation, may it be German, French or Portuguese, is Francois Robichon de la Guérinière. "He simplified the procedures of his predecessors and made them more applicable, based on the knowledge about the nature of the horse. That way de la Guérinière created the basis of what we call today 'classical equitation'."
While the principles remain the same, "the horses have changed significantly thanks to a tremendous progress in breeding. When we compare Taine xx, the horse with whom Commandant Lesage won the Olympic Games in 1932, with the horses of today one gets the feeling it isn't the same discipline anymore."
In the course of his lecture d'Iscret dared to declare that Equitation in the French Tradition isn't a method in itself, but a philosophical approach to work horses with "respect for the horse as a living entity, respect towards his natural gaits, to train it with lightness and the absence of any means of force. In that sense each rider constitutes his own methods for each single horse. Equitation in the French Tradition is therefore a doctrine of ideas and it is mirrored in the FEI dressage rules because General Decarpentry was co-responsible for them."
Lightness in Competitions

Unlike similar events in the past, the meeting in Gesves did not fall back on the relevant representatives of one or the other stream of Equitation in the French Tradition for the practical part. Instead it chose to invite advanced competition riders and let them work with renowned trainers in the French Tradition, such as former Cadre Noir chief rider Colonel Christian Carde and Claude Cesario from France or Jean-Paul Musette, former chef d'equipe of the Belgian jumping team and one of the first to invite Nuno Oliveira abroad.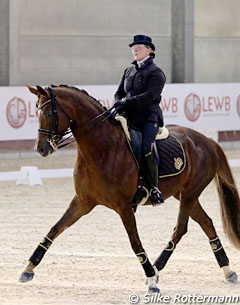 Following Philippe Maurice d'Iscret's historical lookout on the fathers of what became a French doctrine, Belgian international rider and horse dealer Dominique Mohimont entered the arena first and presented her 11-year-old liver chestnut Toureine du Meugon. The French bred mare by Donnerball is competed at Inter I level and showed most of the advanced dressage movements in a style, which Colonel Carde later in discussion with the audience called "normal for competition"; with what one wants to see in our days: A beautiful horse with beautiful gaits which showed most of the movements correctly."
Unlike many of the interpreters of French traditional equitation in our days, Carde, who is a former French dressage champion and ex-national dressage coach, knows the conditions in which competitions happen well. Not only did he mention the fact that nowadays tests are packed with movements within a short time frame which require a horse permanently "on duty". But he did not forget to remind the audience that riders sometimes fear spectators as they often think they are "judges."
Carde who calls himself a "Decarpentrist" within Equitation after the French Tradition, but who was also influenced by Nuno Oliveira, spent a greater part of his own lecture, titled "Lightness: the symbol of the doctrine of Traditional French Equitation", by assessing which role lightness plays in dressage competitions. In that relation he also stressed that the term of lightness is undoubtedly the hallmark of any French approach, but unlike what many think it is not an exclusivity. As a matter of fact "the German School has the same goal and there are more parallels than contrasts to be found."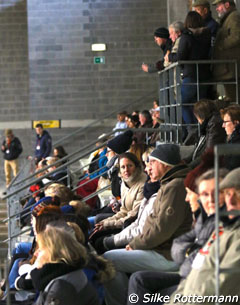 Carde, who also judged internationally for a few years, didn't mince matters though, saying that "there are several problems which prevent lightness in dressage sport today." By comparing the Olympic Grand Prix tests of 1932 with the one at the Rio Olympics, it became obvious that the equine athletes of our days need to show many more movements in less than half the time. Therefore greater control by the rider is required to have the horse ready "at the point."
Carde rebuked the tolerance of certain, very doubtable training methods - which the Frenchman referred to as "not new at all, but leading to success over the past two decades". He listed the judges' tendency to reward spectacular, but incorrect movements the same way like correct ones and the habit of cranking the nosebands as factors preventing more lightness in the competition arenas, even though "there are a few good examples which can give us hope."
Regarding his own equestrian background at the Cadre Noir in Saumur, he was outspoken enough to admit that "their task to prevent the equestrian heritage of their ancestors and at the same time their attempt to compete internationally isn't an easy assignment in our days. The Cadre Noir therefore has to redefine its role on the basis of an updated doctrine."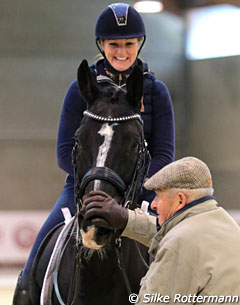 During the two days the numerous auditors always had the opportunity to intervene, pose questions or give critical comments on the subject. That way an interesting exchange took place which did not shy away from essential, but painful questions regarding the state of equitation, the French one, and in general.
In a discussion during Carde's lecture it became obvious that a part of the audience believed that dressage sport and artistic dressage are not only two different animals, but completely incompatible. This brought former international competitor and now Para national coach of Belgium, Anne d'Ieteren, to the scene. She clearly took a stand on this topic: "It is wrong to separate the sport and classical French equitation. Both are very well compatible. If I ride just for fun, then I execute the movements when the horse is ready and somewhere in the arena. In sport the horse permanently has to listen to his rider and be cooperative. But when I respect the horse and make it cooperative, then sport is very well possible after those principles which characterize French traditional equitation."
Sport and Art Hand in Hand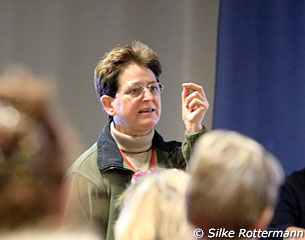 Putting her own words into practise, Anne d'Ieteren presented three of her para-riders, among them Belgium's star Michèle George who had become Paralympic champion the year before in the most demanding grade IV division.
D'Ieteren who trained with legends like George Theodorescu, Georg Wahl and Willi Schultheis surely showed her classical pedigree in her teachings on that day. Not only George on the magnificent breeding stallion Fusion, but also two-time Paralympian Barbara Minecci and newcomer Diana Böttger showed pleasant riding with calm and submissive horses, whose quality was equal to those of any able bodied rider on the international scene. D'Ieteren did not miss to highlight that good riding also means "to be enthusiastic and remain positive. How many riders do smile while on horse-back?" At least her Para riders did on that day.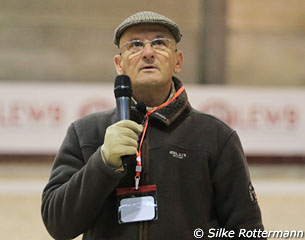 Renowned French classical dressage instructor Claude Cesario had the challenging job of teaching three young students of the School of Equitation in Gesves, whose horses showed certain problems of contact and balance. While impossible to fix them in such very short period of time, Cesario was able to give the talented riders some new ideas which they can work on. Cesario was following a characteristic of French equitation which is to work a lot in walk and let the movements work for the rider, instead of putting them in the center of the training session.
Christian Carde then trained with the siblings Justin and Clarisse Verboomen on their Lusitano horses, both trained and competed up to Grand Prix-level. The sympathetic young riders each cited a problem which they wanted to work on with the Colonel. "Controlling the poll means controlling the balance of the horse," he phrased as key to better transitions from piaffe to passage and vice versa for Clarisse's gelding Tamino, the former GP-mount of her brother. When the grey's neck became the highest point, the transitions indeed became visibly more fluent and the hind legs more active in these movements of highest collection.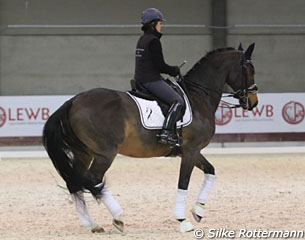 While working with Belgian small tour rider Severine Vanhamme on her 11-year-old gelding Gio and French Grand Prix rider Alexia Dewasme on her 17-year-old gelding Ulver, Carde's focus remained the correct head-neck-angle. The audience could well observe that once the horses were up and open, the movements became freer, more natural and the horses also showed better collection due to a better degree of balance.
"I hate low, deep and round, but I love long and low," Carde elaborated on his working principle of changing between elevation and more collected work while allowing the horse a stretch.
And with it he clearly rejected all the fanaticism within French equitation from those who consider anything else than an elevated horse or any stretching damaging to horses; those who follow the teachings of Francois Baucher. His student Faverot de Kerbrech wrote down his master's "second manner" after which the so- called "Baucherists" of today still work. Unfortunately, and as usual, no representative of this more extre French branch were present in Gesves at the time.
Conclusion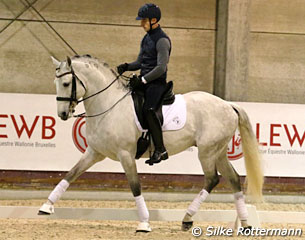 Two days packed with information, lessons, and discussions proved several things: The diversity of what forms the French doctrine of Equitation in the French Tradition is still very much alive and this beyond the borders of France. All streams and approaches have the respect of the horse at the center of attention, even though they differ in technical aspects, in their approach of achieving balance and in their final goals.
Equitation in the French Tradition is compatible with competition riding and is reflected in the FEI rules, if only riders, trainers and judges would make the effort of always respecting them.
Text and Photos © Silke Rottermann
Related Links
History of French Equitation - Part I: Dressage a la Francaise
History of French Equitation - Part II: Modern French Classical Equitation
History of French Equitation - Part III: Tradition Does Not Exclude Love for Progress
French Equitation Inscribed on the UNESCO Intangible Heritage Representative List
Bernard Maurel Appointed Head of French Equitation UNESCO Project and Documentation Department