Danish Warmblood Breeding News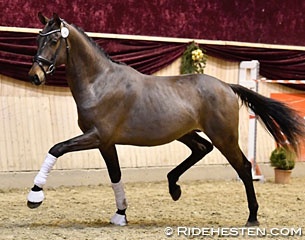 Thirty-one colts were accepted for the 2018 Danish Warmblood Stallion Licensing in Herning, Denmark, in March 2018 following two pre-selection days in Vallensbaek and Vilhelmsborg on 10 and 13 December 2017.
Sixty-two dressage bred stallions were presented at the big pre-selection day at the national sport centre in Vilhelmsborg, Denmark, on 13 December 2017. The licensing committee invited 29 of them to be presented on hard surface and on the lunge line. From this group they accepted 26 of them for the actual licensing in March. 
The licensing committee includes Claus Hansen, Bjarne Nielsen, and Johnny Sorensen. 
Five dressage bred colts were picked at the pre-selection held in Vallensbaek on 10 December 2017. The pre-selection there included 22 dressage and jumper bred stallions and eight in total made the cut. 
With eight offspring selected, Andreas Helgstrand's KWPN stallion Grand Galaxy Win is the top producer for the 2018 Danish Warmblood licensing. 
The selected dressage stallions in Vilhelmsborg are:
Birkedals Aston (by Bogegardens Alphabeat x Solos Landtinus)
Brandtbjergs Avantgarde (by Antobello x Don Schufro)
Dante River Carrus (by Dante Weltino x Sir Donnerhall)
Olympus (by Don Olymbrio x Solos Landtinus)
Olympic Star (by Don Olymbrio x Stedinger)
Straight Horse Sir Romance (by For Romance x Jazz)
Kentucky (by Franklin x Wynton)
Flash (by Furstenball x Temptation)
Straight Horse Cosmo (by Grand Galaxy Win x Romanov)
Got It (by Grand Galaxy Win x Don Schufro)
Hesselhoj Gentleman (by Grand Galaxy Win x Lancelot)
Hesselhoj Gnags (by Grand Galaxy Win x Lancelot)
Gangster Bang (by Grand Galaxy Win x Prinz K3)
Hojvangs Gaipan (by Grand Galaxy Win x Painters Row xx)
GO2 Galay (by Grand Galaxy Win x De Niro)
Highfive Fuglsang (by Grand Galaxy Win x De Niro)
Mr Grey VH (by Grey Flanell x Dalwhinnie)
Treldegards Salamour (by San Amour x Don Schufro)
Gorklintgards Shaolin (by Gorklintgards Santos x Quaterback)
Tophojs Tebaldo (by Temptation x Don Romantic)
Karamels Toto Texel (by Toto Jr x Charmeur)
Hvid's Emperor (by Zack x Akinos)
Karizma (by Negro x Jazz)
Zagori (by Zack x Sir Donnerhall II)
Revolution Nobel (by Franklin x Solos Landwind)
Forever (by Furst Romancier x Desperados)
The selected dressage stallions in Vallensbaek are:
Amarone (by Bogegardens Alphabeat x Solos Landtinus)
Slutterupgaard Sherman (by Charmeur x Sam Sam)
Skovlygards Maserati (by Don Deluxe x Milan)
Valloes Filip (by Franziskus x Baccarat xx)
Scaglietti V (by Sezuan x Lauries Crusador xx)
Photo © Ridehesten
Related Links
Stallion at Stud: Grand Galaxy Win 
Don Olymbrio L Proclaimed Elite Stallion with Danish Warmblood Society
Fredensdal Fifty Cent, Favourite of the 2017 Danish Warmblood Stallion Licensing