The Netherlands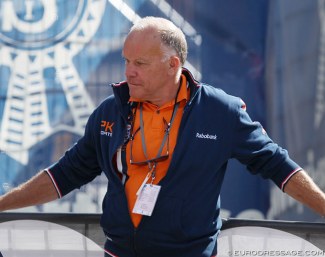 The Dutch equestrian federation (KNHS) has announced that Jan Greve has decided to resign as Dutch team veterinarian. The 70-year old has decided to scale down his activities and just focus on his own business.
Greve has been active as team veterinarian for almost 40 years. He covered all three Olympic disciplines for the KNHS starting with eventing in the late 1970s. He worked for the show jumpers as of 1991 and helped Holland get show jumping team gold at the 1992 Olympic Games in Barcelona. In 1996 his son Willem competed at the European Pony Championships, so Jan resigned as senior jumper vet and took on the pony and youth jumper teams.
Greve became the dressage team vet in the 2000s but resigned from that post right before the 2012 Olympics in London due to ongoing dispute with dressage team trainer Sjef Janssen. Colleague Arie Hoogendoorn took over the medical care of the senior dressage horses. Greve returned after London, when Janssen's contract as team trainer expired. 
"After London I came back to the senior dressage team and fulfilled the job with pleasure, but now it's been enough," said Greve. "I've done it for almost forty years and it has to stop at one point. I have enough to do at home. I still work a bit at the clinic and I'm very busy with the stallion keeping, our sport horses and the rearing of young horses."
Greve will be receiving the KNHS Golden Pin for his dedication to Dutch equestrian sport. The timing of this award giving is still to be determined, as well as Greve's successor. 
Photo © Astrid Appels
Related Links
Eurodressage Photo Database: Jan Greve
Jan Greve Returns as Dutch Dressage Team Veterinarian
Greve Resigns as Dutch Team Vet Due to Conflict with Sjef Janssen
Hank van Campen Replaces Van Dijk as Dutch Youth Team Veterinarian
Emile Welling Appointed Dutch Team Veterinarian