2018 CDI-W Neumunster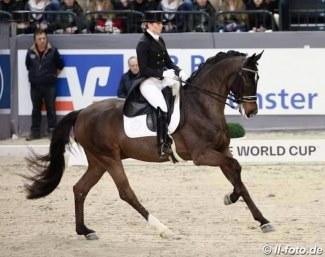 The show organizers of the 2018 CDI-W Neumunster disagree with Morgan Barbançon's statement that their show office team printed out the wrong score sheets for her freestyle to music on Sunday 18 February 2018. They said the rider's forgetfulness to report a changed floorplan was the cause.
Spanish Olympian Morgan expressed her upset that faulty score sheets had been handed out for her freestyle in Neumunster. This led to an interruption and her horse losing focus. According to Morgan, a lower score than hoped for was the result. The show organizers at Neumunster deny that the wrong sheets were printed.
The World Cup qualifying Kur to Music in Neumunster took place on Sunday morning 18 February 2018. Just moments after Barbançon began her freestyle ride on Sir Donnerhall II she was stopped because her choreography did not match the floorplan on the score sheet. Barbançon blamed the mess up on the show organizers printing the wrong floor plan, but the organizers deny it
"The system-admin Daniel Göhlen and judge Ghislain Fouarge controlled that fact," Neumunster press officer Martina Brüske told Eurodressage. "Morgan missed to announce the change of floorplan. It's her respnsibility, not (the) secretary or anyone else."
Neumunster issued the following official statement on Sunday afternoon about this unfortunate event: 
"Only one competitor in the World Cup Freestyle suffered a case of bad luck. Spain's Morgan Barbançon Mestre had changed her freestyle routine at the last minute, but unfortunately had not passed her new sequence onto the FEI-IT Administration in Neumünster. The freestyle routine of each competitor is recorded and given to the judges before the competition as a basis for assessment. The organisers gave the Spaniard the chance to start again with her amended routine. Judge Ghislain Fouarge: "I think she must be very grateful to have been given this chance."
They Printed Out the Wrong Kur
Barbançon insists that the organizers made the mistake, printing out the kur she rode in Stuttgart back in November, and not her newest one, which she had ridden in London in December. 
In an email conversation with Daniel Göhlen, the technician clearly asks Morgan if it's ok to use her London freestyle, to which she say yes. She also sent them to her London music. 
"I have written proof that on Thursday they asked me what kit I was riding and I confirmed the correct one. I haven't changed anything on the website of my freestyle. They printed out the freestyle I rode in Stuttgart and not in London," said Morgan.
In a saved text message conversation Göhlen clearly requests Morgan permission to use her London floorplan, but then he ended up printing her Stuttgart one.
"The show organiser was very understanding; the judges too. Error is human, but this time wasn't from my side," Morgan concluded.
Also read: Barbançon's Neumunster Freestyle Interrupted Due to Secretarial Issues
Photo © LL-foto
Related Links
Scores 2018 CDI-W Neumunster
Barbançon's Neumunster Freestyle Interrupted Due to Secretarial Issues
Langehanenberg Dominates World Cup Qualifier at 2018 CDI-W Neumunster
Eurodressage Coverage of the 2017-2018 World Cup Show Season