Portugal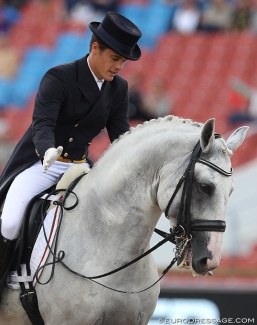 Portuguese Grand Prix team rider Vasco Mira Godinho was assaulted by family members of 2012 Portuguese Olympian Gonçalo Carvalho on Sunday 18 March 2018 at the national dressage competition in Estoril, Portugal.
This is not the first time that Carvalho's family members have resorted to violence. In 2015 they beat up two journalists round the time that Carvalho's horse Batuta tested positive to controlled medication. Two years ago Portuguese Grand Prix rider Miguel Raloa Duarte was assaulted at the festival in Cascais. None of the victims ever pursued in prosecuting their assailants.
Jacoberger has decided to issue a statement about the attack on the 28-year old Godinho:
"We learnt yesterday the sad news that our rider Vasco Mira Godinho, rider of our Grand Prix horse Bariloche JGR, was yesterday savagely and cowardly assaulted by family members (father and brother-in-law) of the former olympic rider Gonçalo Carvalho Conchinhas," Jacoberger stated. "We are absolutely scandalized by these facts of extreme gravity, totally inadmissible in sport, and we hope that these reprehensible deeds will be prosecuted and punished in an adequate manner by the Courts and also at the level of the Portuguese Equestrian Federation, as it happened during an official competition."
Godinho suffered injuries to his face with a laceration of his eye brow and severe bruising from being beaten up with a bar. He was treated in the hospital of Cascais. 
A detailed report of the incident can be read on Equitacao.
Photo © Astrid Appels
Related Links
Portuguese Team Selected for 2017 European Dressage Championships
Bariloche Passes Reinspection, Don Carissimo Withdrawn from 2017 European Dressage Championships
Monteiro, Lopes, Meneres, Caetano Win 2017 Portuguese Dressage Championships
Bartz, Meneres, Castelo, Caetano, Godinho, Cancio, Carvalho Win 2016 Portuguese Championships
Administrative Sanction in Positive Medication Case Goncalo Carvalho's Batuta
Goncalo Carvalho's Batuta Tested Positive to Controlled Medication