Health Care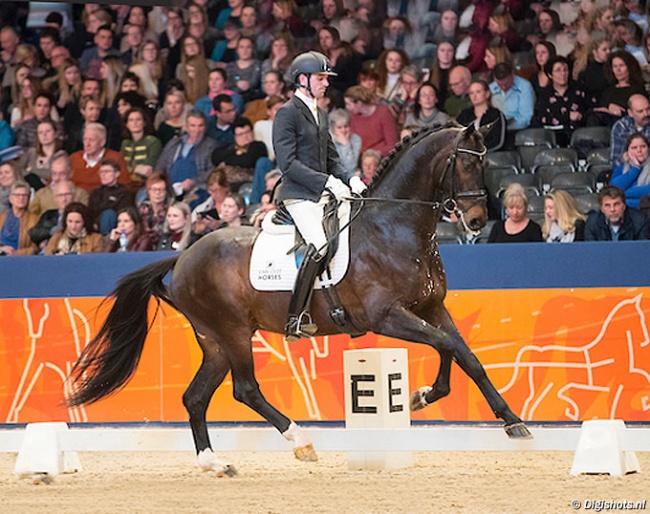 As awareness for Warmblood Fragile Foal Syndrome is slowly spreading in Europe, Dutch stallion owners are taking charge and copying their American colleagues in systematically testing their breeding stallions for the WFFS gene. 
Several weeks ago it became known that the highly popular KWPN stallion Everdale is a carrier of the WFFS gene. Owner Gert-Jan van Olst has now tested his entire stallion roster and the licensed Everdale sons Inspire and Inclusive have also tested positive. Licensed son Inverness, however, is negative! All other Van Olst owned stallions are negative. 
Van Olst has been incredibly forthcoming to breeders and offers to cover the costs of testing the broodmare if they want to breed to a WFFS positive stallion. Only when both mare and stallion are WFFS carriers, is there a risk. Horses with just one copy of the defective gene are considered "carriers" and do not have any symptoms associated with WFFS, but have the ability to pass on the gene to offspring. If a carrier is mated to another carrier, it is possible for the foal to inherit two copies of the defective gene and, if born, exhibit signs of WFFS
Holland Taking Action
Dutch stallion owners are taking systematic action now and are having their sires tested. Eurodressage asked Holland's leading dressage stallion stations about their position and action to control WFFS.
Joop van Uytert confirmed that the Van Haeringen lab will be testing all his stallions. 
"I don't know how long it will take before we have the results," Van Uytert told Eurodressage. "I do this on my own initiative, but I would have preferred that this was European regulated for all breeding stallions."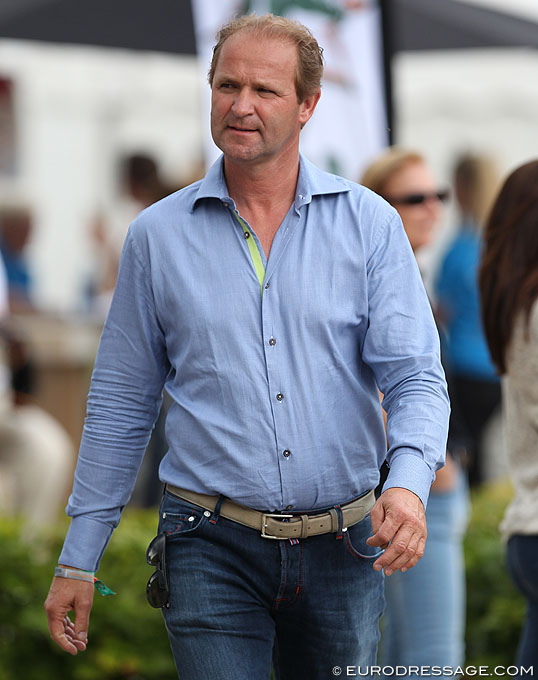 One Dutch breeder has come forward, suspecting that her newborn foal died of WFFS as it showed clear signs of the fragile skin upon birth. This foal is by Total U.S. x Everdale. 
Also the Glock Horse Performance Centre, which stands Holland's most popular dressage sire Toto Jr (by Totilas x Desperados) and which recently bought Total U.S (by Totilas x Sir Donnerhall) from Paul Schockemohle and Joop van Uytert, is testing their stallions. 
"Yes our stallions are being testing in co-operation with Prof Dr. Marianne Sloet of the Universitary Animal Health Department," Glock told Eurodressage. "The results will be released after evaluation with the faculty."
Stallion station Team Nijhof did not reply to Eurodressage's messages.
NRPS Makes WFFS Test Mandatory
The smaller Dutch Riding Horse and Pony studbook (NRPS) is not sitting on the fence like the major studbooks and has immediately made the WFFS test mandatory for licensed stallions. 
"NRPS believes action is required and we are taking first steps," the NRPS stated on 4 May. "Nobody knowns to what extent this defect has spread. It causes unrest with breeder in the middle of breeding season. The NRPS has therefore decided to have all licensed NRPS stallions, stallions and ponies, tested. The stallion owners have been made aware of this."
NRPS will get the results from the Van Haeringen lab after 14 days and will first discuss the results with the stallion owners.
"Owners of potential positive stallions can determine which measures they want to take. NRPS strives to inform all breeders of which stallions are free of the defect, but only in combination with good information and education. The first reactions of the stallion owners are positive.
"We believe it will be only a few isolated cases," said NRPS chair Ronald Funke Küpper. "However if we don't take action now, we'll never find out and the defect will get the opportunity to spread further. We work in the interest of the breeders and breeding in general."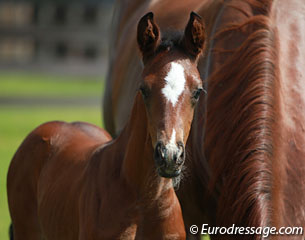 Warmblood Studbook Ireland Wants To Be Pro-Active
The Warmblood Studbook Ireland wants to be pro-active and urges for WFFS testing.
WSI posted that  "WSI is on the forefront of using DNA analyses to protect the integrity and health of our population. Every foal has been parentage tested since our founding in 2009. Likewise every stallion and mare evaluated to be named an Approved Stallion, Approved Mare, or Studbook Mare must have its parentage verified before it can breed within our population. And since 2016 WSI has tested for the genes associated with osteochondrosis using the genomic technology developed by our partner, the KWPN. Our new initiative to address WFFS is another step in our path toward building a healthy, world-class population with the support and participation of our members."
WSI partnered with the KWPN in 2016 to help the small Irish studbook grow and maintain systems that meet the regulatory requirements and the breeders' needs.
"The KWPN partnership also brings new services such as access to the extensive Stallion Database," said WSI. "WSI's revolutionary genomic selection program is administered by WSI leveraging KWPN's deep research and development expertise."
German Studbooks Not Waking Up or in Denial?
Although the American Hanoverian Society is in full swing in getting American Hanoverian licensed stallions tested, the German mother society has not yet made a sound about WFFS. None of the major German studbooks are even openly discussing the matter or in touch with their breeders and stallion owners about WFFS.
Eurodressage contacted the German Hanoverian society last week and did not receive a reply.  
Warmblood Fragile Foal Syndrome (WFFS) has passed under radar because most mares abort their embryos/foals affected with WFFS. Very rarely is a live, affected foal born. Breeders hardly ever seem to question the reason for loss of pregnancy, nor when a newborn foal dies days after. They just refer to it as "breeder's bad luck".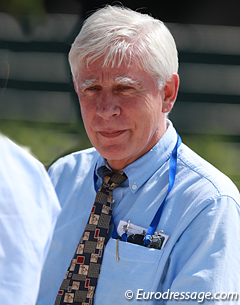 The economic repercussions of having a WFFS positive stallion on a station's roster can be great and German stallion owners seem to be rather in denial or are minimizing the effect and scale of WFFS on the entire breeding population. 
The German Oldenburg society (GOV) posted a statement on their website, expressing their encouragement of breeders and stallion owners to test their horse stock, but only as a recommendation and not a rule. 
"If mare owners are breeding to untested stallions we recommend testing the mare to avoid a possible carrier to carrier breeding. We encourage our stallion owners to test and publish the results of their stallions," the GOV statement read. "Owners of WFFS carrier stallions should require mare owners to produce a negative WFFS genetic test result in order to fulfill a breeding contract. To eliminate every WFFS carrier in the warmblood breed valuable genetics would be lost, we strongly believe that with correct management WFFS will remain exceedingly rare."
Eurodressage also contacted some of Germany's biggest dressage stallion stations: Paul Schockemohle, Gestut Sprehe, Landgestüt Celle and Dressage Performance Centre Lodbergen, and their response has been varied.
"This problem did not yet arrive here in Germany and none of our stallions will be tested," Christoph Hinkel told Eurodressage. He is Paul Schockemohle's wingman at the station in Mühlen, Germany. It will be interesting to see what  the results are of Joop van Uytert's stallions as several of them are co-owned by Paul Schockemohle. 
Dr. Axel Brockmann, managing director of the Landgestüt Celle, however, confirmed that they are looking into testing their stallions. 
"We are in close contact to universities and discuss this topic with other studs as well," said Brockmann. "Protection of animals and being a positive example as a State Stud are reasons enough to test our stallions in the near future."
Also Wolfgang Stagge, managing director of the Dressage Performance Centre Lodbergen, confirmed that they will test their stallions. "We decided to test our stallions as soon as possible," he said.
Gestut Sprehe has not yet replied.
What about Denmark?
The Danish warmblood society is more and more becoming one of the leading dressage breeding studbooks. They have decided to play the role of Indian instead of chief and wait for what the other studbooks decide.
On 4 May the Danish warmblood society posted a statement, which is a direct copy from the the KWPN press release that was first posted without any amendments to make it fit for Danish breeders: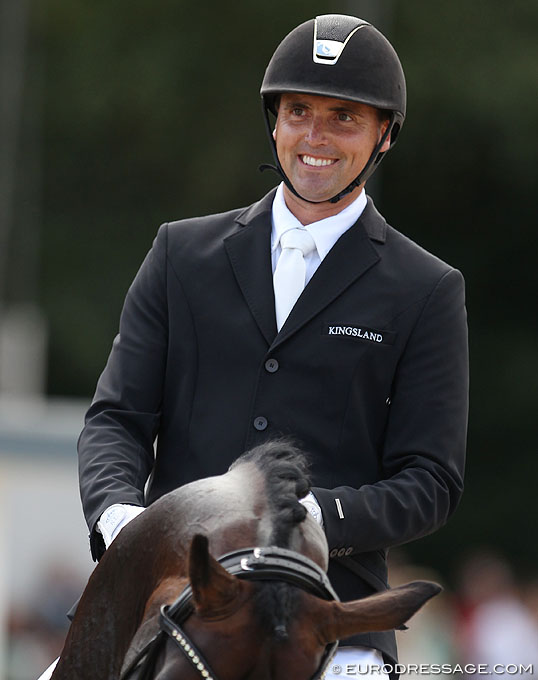 The Danish post read:
"Because WFFS is new in Europe there is no standard screening in the breeding program of European Warmblood breeding. It will be put on the agenda of the World Breeding Federation for Sport Horses (WBFSH). KWPN will soon discuss the subject with the breeding councils. Breeders that are worried can have their mares tested at the Van Haeringen Laboratory in Wageningen and ask the stallion owner if the stallion is tested. We ask breeders that have a foal with WFFS to report this to KWPN."
DWB added the caption: "Healthy foals are what we all dream of and aim to breed. In Denmark we urge our breeders to always have an eye on the inbreeding percentage when breeding a mare to a stallion, since increased inbreeding = increased risk of hereditary defects coming into effect. By taking care when choosing (a) breed(ing) sire for your mare that in the coming foal the same horse should not appear more than once within the first 4 generations, you decrease the risk of hereditary defects and lower reproduction success rates."
DWB's project leader Christina Brogaard Lund told Eurodressage, "we don't suspect this to result in many foals, stallions or mares being tested to be carriers, but will of course follow this closely. We are quoting the KWPN regarding their views and find their wording very correct, and our breeders are of course  welcome to report their findings to us."
Eurodressage has contacted Denmark's two largest stallion stations - Helgstrand Dressage and Blue Hors Stud - to check if they are testing their stallions.
Blue Hors' director Esben Moller told Eurodressage that, "we actually discussed it with our vet a few days ago and will test the stallions next week." Andreas Helgstrand is waiting for clearer regulations and not testing until then. "So far we haven't done anything at all because there are no rules from EU or Denmark so far," Andreas told Eurodressage. "I know about the problem, but is is still very very seldom (rare). For sure we will test our stallions if the rules say so."
Related Links
Everdale Confirmed WFFS Carrier, Van Olst Offers Free Testing to Its Breeders
Kathleen Kirsan: "Cleaning Up Warmblood Fragile Foal Syndrome"
Mary Nuttall: "Breeders Beware of Warmblood Fragile Foal Syndrome"
U.S. Breeders and Stallion Owners on Alert for Warmblood Fragile Foal Syndrome
Statement from KWPN-NA Regarding Warmblood Fragile Foal Syndrome
Statement of The American Hanoverian Society Board regarding Warmblood Fragile Foal Syndrome