Germany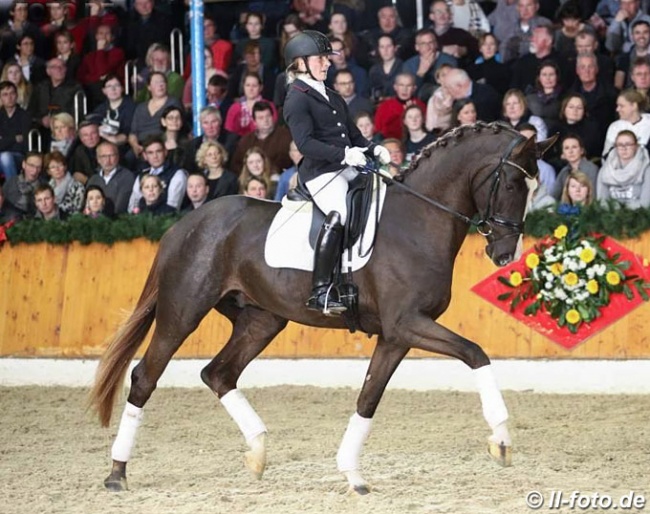 Sezuan's Donnerhall became the high scoring stallion at the 14-day stallion suitability test held in Neustadt/Dosse on 2 - 15 May 2018. 
A big mount of 43 stallions was initially entered for the tests but there were nine no-shows. Thirty-four began the tests, 6 dropped out, so 28 stallions in fact completed the fourteen days. 
No less than three jumper stallions performed poorly in the dressage phase and didn't even score the required 7.5 to pass. However, if one discipline score is 8.0 or higher, they pass nontheless. Yet another Quantensprung failed to impress the judges. The Brandenburger licensed Quirinal (by Quantensprung x Hotline) failed with a 7.2 total score (7.8 dressage, 6.2 jumping). Also Dalmore (by De Niro x Rigamento)  could not impress with his insufficient 7.23 total.
Schockemohle's Mecklenburger licensed Sezuan's Donnerhall (by Sezuan x Sir Donnerhall) stood out according to the judges and scored 8.68 in total, with a whopping 9.34 for dressage and 7.8 for jumping. The colt got 10 for character, 9.5 for willingness, 9 for walk and trot, 10 for canter, 9 for rideability, 7 for free jumping and 9.25 for rideability under the guest judge rider. 
The second best scoring stallions were jumpers: the 2017 Oldenburg Jumper Licensing Champion Cavoiro H (by Casallco) and a nameless Balou de Rouet with 8.5. Scotch (by Silvio) earned 8.30. 
Two more stallions scored an overall above 8.0: Valencio (by Van Gogh) earned 8.15 with 7.88 for dressage and 8.08 for jumping and the jumper Forino (by For Pleasure) posted 8.0. 
The April Munster 3-day sport test winner D'Alessandro (by Don Frederic x Stedinger) got 8.53 for dressage but with only 6.78 for jumping, his overall went down to 7.98 points for the 14-day suitability test. A nameless Goldberg x  got 8.38 for dressage but only 6.83 for jumping (total 7.88).
Photo © LL-foto
Related Links
D'Alessandro and Caracciola MT, High Scorers 2018 Munster Sport Test
Jovian and For Final, High Scorers at the 2018 Stallion Sport Test in Verden
Daytona and Da Costa, High Scorers at 2018 Munich Stallion Sport Test
Zoom and Duracao, High Scorers at Second 2018 Munster Stallion Sport Test
Dante Quando and Bonds, High Scorers at 2018 Stallion Sport Test in Munster