2018 Bundeschampionate Qualifier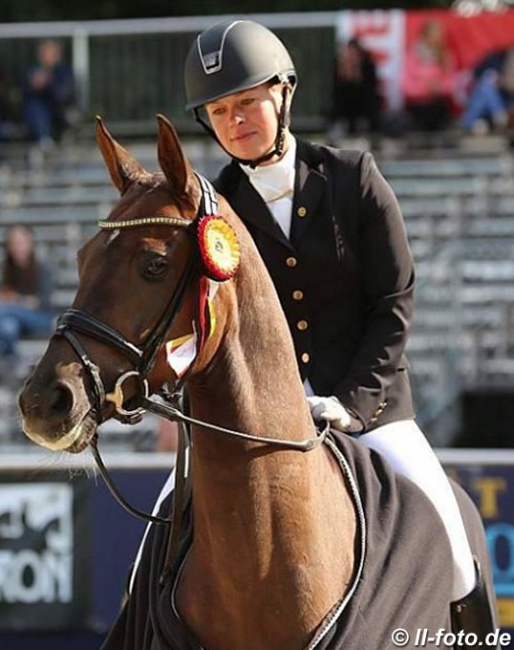 The 5-year old Drama Queen and the 6-year old Bonita Springs became the winners of the Bundeschampionate qualification classes held during the Grafschafter Horse Sport Festival in Haftenkamp, Germany, on 19 - 20 May 2018. 
Judges Daniel Weinrauch and Reinhard Richenhagen assesses fifteen 5-year olds and favoured Sabrina Gessmann aboard Helen Langehanenberg's home bred Westfalian mare Drama Queen (by Deveraux x Louis Le Bon). They scores a winning 8.0 and were the only pair to crack the qualification score. Lukas Fischer and Helmut von Fircks' Westfalian gelding Baron von Nymphenburg (by Bordeaux x Spielberg) landed second place with 7.8. 
In the 6-year old division judges Ute von Platen, Carola Straube Thiel, Jurgen Bockmann and Anke de Boer had twenty-two pairs in the M-level dressage horse test and put professional Kira Wulferding on Ulla Katzorke-Hellweg's Rhinelander mare Bonita Springs (by Boston x Fidertanz) first with a strong 8.8. Norwegian Isabel Freese landed second place on her employer Paul Schockemohle's Oldenburg stallion Top Gear (by Totilas x Don Frederico) with 8.7. 
Results - 2018 Bundeschampionate Qualifier - Haftenkamp
5-year olds
1 Sabrina Geßmann - Drama Queen (by Deveraux / Louis le Bon) - 8
2 Lukas Fischer - Baron von Nymphenburg (by Bordeaux  / Spielberg) - 7.8
3 Anna­Lena Kracht - For Romance II (by Furst Romancier x Sandro hit) - 7.7
4 Tanja Fischer - Dominique MJ (by Damon Hill / Gribaldi) - 7.6
5 Jan­Niklas Mürmann  -  Vento (by Vivaldi / Lauries Crusador xx) - 7.5
6 Sabrina Geßmann  - S Rockyna (by Sir Donnerhall I / Feuerschein) - 7.4
6 Franziska Niermann - For Friendship N (by Foundation / Sir Donnerhall) - 7.4
8 Christin Hilger - High Cloud (by Hochadel / Wolkentanz I) - 7.3
9 Meike Schmidt - Tabalugo (by Totilas / Sandro Hit) - 7.1
9 Joke­Marie Brüning  - Blütenwind ML (by Basic / Dollmann) - 7.1
11 Nadine Seebauer-  Dèjá­vu (by Don Index / Chico's Boy) - 7
11 Lia Eileen Teichmann - Future Star (by Foundation / Scolari) - 7
11 Jan­Niklas Mürmann  Dr. No (by Don Larino / Rouletto) - 7
14 Lydia Jordan - Fürst Willi (by Fürst Romancier / Royal Blend) - 6.9
15 Nadine Seebauer - Sir Amour (by Sir Donnerhall I / San Amour) - 6.7
6-year olds
1. Kira Wulferding -  Bonita Springs (by Boston (NLD) / Fidertanz) - 8.8
2 Isabel Freese - Top Gear (by Totilas / Don Frederico) - 8.7
3 Therese Nilshagen -  Dominy (by Diamond Hit / Pour Plaisir) - 8.1
3 Stefanie Wolf - Matchball OLD (by Millennium / De Niro) - 8.1
5 Eva Möller -  Schatztruhe (by Sir Donnerhall ) - 8
5 Lars Ligus - Dr.Sambuco (by Dr.Jackson D / Samba Hit) - 8
5 Nadine Husenbeth - Faviola (by Foundation / Weltmeyer) - 8
5 Annika Feldhaus -  Bliss (by Bordeaux (NLD) / Likoto xx) - 8.0
9 Isabel Freese - Bourani (by Bordeaux (NLD) / Don Davidoff ) - 7.7
10 Annika Korte - Zolla (by Zonik / Don Frederico) - 7.6
10 Stefanie Wittmann - Dolcetto (by Diamo Gold / Stedinger) - 7.6
10 Carina Bachmann - Quadrophenia (by Quasar de Charry / Hochadel) - 7.6
13 Lena­Alexandra Torloxten R- Robbie Williams (by Royal Classic / Fürst Piccolo) - 7.4
13 Tanja Fischer -  Fürstenkrone OLD (by Fürst Fugger / Rohdiamant) - 7.4
13 Anna­Sophie Fiebelkorn - Le Vivaldi (by Vivaldi / Sandro Hit) - 7.4
16 Sabine Egbers - Didavi (by De Niro / Wolkentanz) - 7.2
16 Andrea Müller­ Kersten -  Belaggio (by Belissimo M / Ehrentanz) - 7.2
8 Christin Hilger -  Lord Fauntleroy (by Lord Loxley) - 7.1
19 Julia Funke-  Landon Donovan (by Londontime / Davignon) - 7
20 Dries van Dyck -  Sir Sansibar (by Millennium / Cadeau) -  6.8
21 Eva Möller -  Jopie (by Johnson) - 6.7
Christin Hilger -Rock Emotion (by Rock Forever I / Don Gregory) - RET
Related Link
Eurodressage coverage of the 2018 Bundeschampionate