2018 Nordic International Sales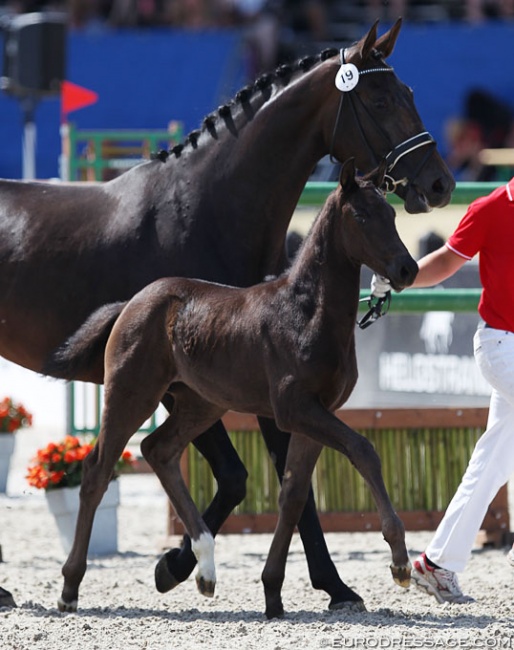 The black Danish warmblood filly Fellini (by Franklin x Sezuan) became the top selling foal of the 2018 Nordic International Sales which took place on Saturday evening 26 May 2018 during the Equitour Aalborg in Uggerhalne, Denmark. 
The 2018 edition beat the previous, inaugural auction with a higher turnover and average sales price as two foals sold over 100,000 euro. 
Henrik Hansen was the breeder of the two top selling foals. The price highlight was the black filly Fellini (by Franklin out of Souvenir (by Sezuan x Fassbinder)) which sold for 115,000 euro to a local buyer.
The second most expensive foal was Faretti II (by Franklin x Don Frederico) which sold for 102,000 euro to a Danish buyer. Faretti II is the full sister to last year's Nordic International Sales price highlight Faretti I. 
The third most expensive foal was Brix Falcon (by Franklin x Furstenball). Bred by Ditte Brix Fransen, he sold for 80,000 euro to Poland. 
Fontana Lightfoot (by Franklin x Michellino) fetched a price of 75,000, just like the unnamed colt by Franklin x Belstaff. 
Fairy (by Franklin x Don Romantic) achieved an auction price of 50,000, while an unnamed Danone x Sir Donnerhall foal sold for 47,000 euro. Valvera (by  Valverde) was auctioned for 40,000 euro. 
The average sales price for a foal at this auction was 40,158 euro. 90% of the foals in the auction collection were sold.
Related Links
Excellent Foals up for Auction at 2018 Nordic International Sales
2018 Nordic International Sales: Looking for a Top Quality Foal?
2018 Equitour Aalborg To Stage Second Nordic International Sales
Faretti, Price Highlight of the 2017 Nordic International Sales