2018 Bundeschampionate Qualifier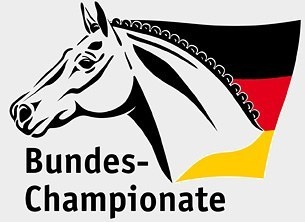 The 5-year olds Bentley and Friend for Life and the 6-year old Bon Amour became the winners of the Bundeschampionate qualification classes held at the regional dressage competition at Julibellenhof in Prietzen, Germany, on 7 - 10 June 2018. 
Nine 5-year olds competed in the L-level dressage horse test judged by Friedrich Lueken, Julia Graalfs and Cornelia Albrecht. Julia Kay steered Klays Bülow's German Sport horse bred stallion Bentley (by Bordeaux x Quaterman) to victory with an 8.0 total score. She had to share the highest honour with Lena Waldmann who also scored 8.0 on Gestut Bonhomme's Hanoverian gelding Friend for Life (by Fiorissimo x Sir Donnerhall). Julia Kay was third with Silke Pelzer's Oldenburg stallion Sir Napoleon vom Rosenhof (by Sir Donnerhall x Harvard) on 7.8.
Fourteen 6-year olds contested the M-level dressage horse class, judged by Ralph Schmidt, Julia Graalfs and Cornelia Albrecht. Alexandra Bimschas and Ambros Rinser's Bavarian stallion Bon Amour (by Benetton Dream x Stedinger) aced the class with 8.2. Mareike Mimberg and Paul Theis' Hanoverian gelding DeeJay (by Destano x Harvard) were right on the heels of the winner with 8.1.  Czech Libuse Mencke and Jeacco van Pas' Mecklenburger stallion Sandokan (by Surprice x Johnson) followed in third place with 8.0. They tied with Christin Hilger on Uwe Brandes' Oldenburg gelding Rock Emotion (by Rock Forever x Don Gregory), who also posted 8.0.
Results - 2018 Bundeschampionate Qualifier - Prietzen
5-year olds
1.  Bentley - Kay,Julia -   8    
1. Friend for Life  - Waldmann,Lena - 8    
3. Sir Napoleon vom Rosenhof -  Kay,Julia -  7.8    
4. High Cloud - Hilger,Christin -  7.6
5. Ballantines  -  Flamm,Christian  - 7.2
6. Foreman  - Thompson,Patrick  - 7.1
7. Best before midnight -  Desender,Bart -  6.9
7. Phantastica -  Fiedler,Stephanie - 6.9
9. Esquinzo von Velen - Jensen,Sven -  6.6
6-year olds
1. Bon Amour -   Bimschas,Alexandra -  8.2    
2. DeeJay -   Mimberg,Mareike  - 8.1    
3. Sandokan -  Mencke,Libuse -  8    
3. Rock Emotion -  Hilger,Christin  - 8    
5. Renegade S -  Voigtländer,Pia-Katharina -  7.7                              
6. Davinci  -   Matos,Pedro - 7.6
7. Deduschka Moros -  Waldmann,Lena -  7.4
7. Just noble - Brattig,Jessica - 7.4
9. Royal Rubiniro -   Lüders,Ronald -  7.3
9. Sparkley -   Sachs,Isabelle -  7.3
11. Lord Fauntleroy -   Hilger,Christin -   7.2
12. Zara K - Christensen,Martin- 6.9
13. Quantum Surprise -  Moreira,Joao - 6.8
14. Fleur de Lys -   Bimschas,Alexandra - 6.6
Related Link
Eurodressage coverage of the 2018 Bundeschampionate