KWPN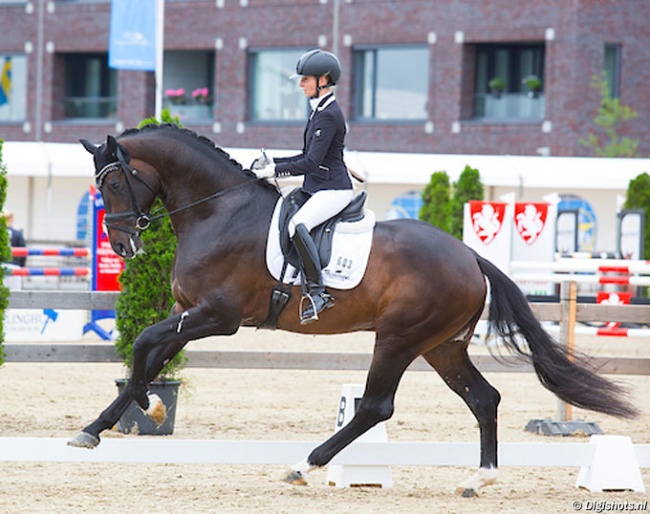 Andreas Helgstrand has announced the WFFS test results of his German based breeding stallions. The highly popular KWPN stallion Jovian, as well as the Hanoverian top priced auction horse For Sure have both tested positive to Warmblood Fragile Foal Syndrome (WFFS).
Jovian (by Apache x Tango) is one of the most talked about young breeding stallions in Germany, Holland and Denmark this year after impressing many breeders at stallion shows with his extravagant gaits and after becoming the high scorer at the stallion sport test in Verden. He has been one of the most used young dressage stallions this 2018 breeding season in Europe !
The Hanoverian licensed stallion For Sure (by Finest x De Niro x Weltmeyer) is owned by Helgstrand in partnership with Dressage Grand Ducal. He sold at the 2017 Hanoverian stallion licensing in Verden for 360,000 euro.
The other German based Helgstrand stallions (Don Deluxe,  Kremlin MD,  So Unique, and Valverde) are negative.
"Because we find that our breeders want knowledge about whether our stallions are carrying the WFFS, we have already got our stallions in Denmark tested and now also our stallions at Helgstrand Germany in Hagen have been tested," said Helgstrand. "There are already breeds like Friesian and Quarter horses, where genetic disorders have been registered and therefore it is not unusual that a genetic disorder now has been found in Warmbloods. Therefore, horses with the WFFS gene should not be considered ill, but as owner you just have to focus on not to combine two horses in the breed, both carrying the gene."
"It is all about keeping the best horses in the breed and that is why we just recommend mare-owners to test their mares for the WFFS gene, and if the mare is a carrier, we recommend not to use a stallion which is also a carrier," Helgstrand added.
Related Links
Eight Stallions Scheduled to Stand at Helgstrand Hengste Germany
Jovian and For Final, High Scorers at the 2018 Stallion Sport Test in Verden
Swedish Owned Jovian Sold to Helgstrand
Springbank II, Atterupgaards Botticelli WFFS Carriers, Helgstrand Stallions Partly Tested