2018 European Pony Championships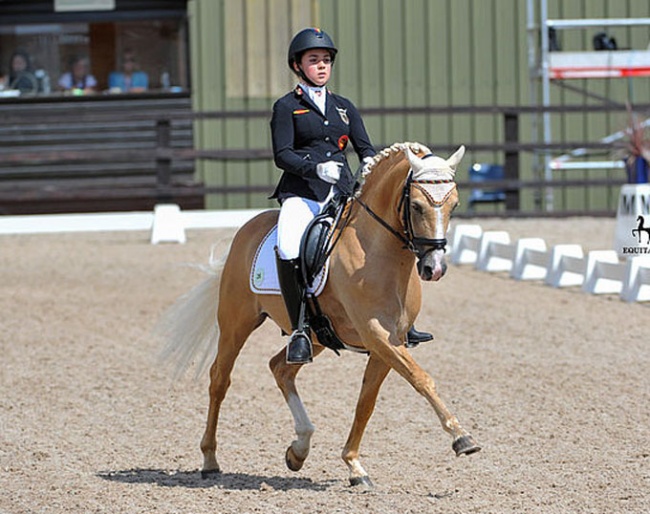 Team Germany took a strong start at the 2018 European Pony Championships in Bishop Burton, U.K. on Wednesday 8 August 2018 with Jana Lang topping the board in the Team Championship test after the first group of riders have gone.
After eight years the European Pony Championships have returned to Bishop Burton. The venue successfully hosted the Euro Ponies in 2010 and now the event returned to Yorkshire.
The Team Championship test decides the team medals and the class is split over two days. The class is judged by an experienced panel which includes Carlos Lopes, Elke Ebert, Jacques Van Daele, Isobel Wessels,and Yuri Romanov.
German Jana Lang and Nadine Krause's 12-year old Oldenburg bred Cyrill (by Champion de Luxe x Power Man) were on best form and received the high score of the day: 74.514%. Her individual marks, however, ranged greatly and she scored between 72.857% and 77.143%.
Team mate Julia Barbian and her 10-year old Rhinelander bred pony Der Kleine König (by Dornik's Donovan x Don't Worry) followed in a provisional second place with 74.343% with her scores fluctuating between 4%. These two German scores have put the country first in the team ranking. 
"Of course course I'm very happy," German team trainer Conny Endres stated at the end of the day. "Even because there is still room for improvement for both. They haven't shown all they got but there are more tests coming. This time it was hard to decide on the starting order of the team riders. We have four totally equal pairs which all have been winning this year, but someone has to make a start. I decided for Jana and Cyrill because they have the most experience and can guarantee a secure round."
Denmark and Holland Follow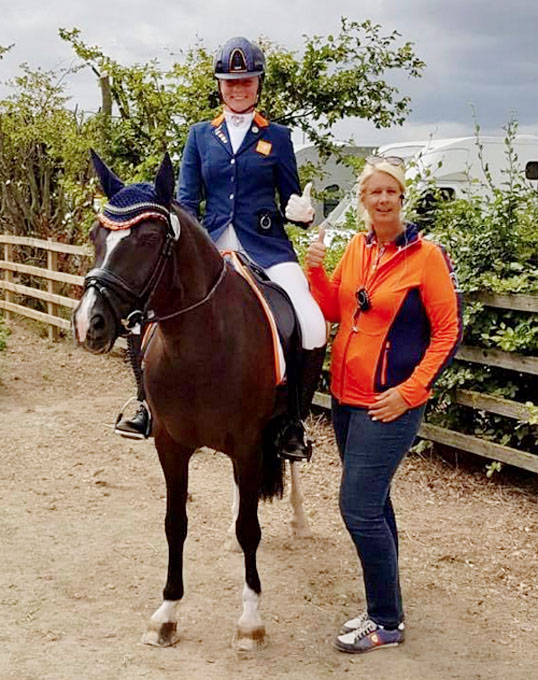 Denmark's team new comer Maja Emilie Leth took a very strong start aboard the 10-year old Danish Sport Pony mare Goldfever Hella Bella (by Triple Tree's Prince Perfect x Diamant II) and placed third with 71.714%. Team Denmark is currently standing third with Frederikke Gram Jacobsen's 70.371% as second contributing score. Jacobsen rode the 15-year old Westfalian mare Gee Gee (by Going East x Nansen) to a sixth place so far.
"The two first riders did their job great, all what we could have wished for," Danish chef d'equipe Rigmor Kristensen told Eurodressage. "We really look forward to today. The Danish team is withh all new riders at this Europeans and they are so prepared for it!"
Team The Netherlands are currently in silver medal position with Fleur Prinsen as their strongest rider on day one. Prinsen and the 10-year old Westfalian gelding Next Black Magic (by Nabucco R x Pour L'Amour) earned a 71.429% to finish fourth. Fellow Thessa Gilbers, who stepped into the Dutch team as the alternate rider after the withdrawal of Evi van Rooij's King Stayerhof's Jango, landed fifth place with 71.257%.
"I'm very happy about yesterday," Dutch team trainer Monique Peutz told Eurodressage. "Thessa Gilbers did really well and exceeded the expectations. She has a very young pony but rode a very beautiful, focused test. Fleur Prinsen rode cleverly and had a nice contact. She went super in the canter and ride a nice, constant test in trot. There is more to get out of the walk. Kiki and Micky are in super form and I hope they show that in the ring today."
Room for Other Stars to Shine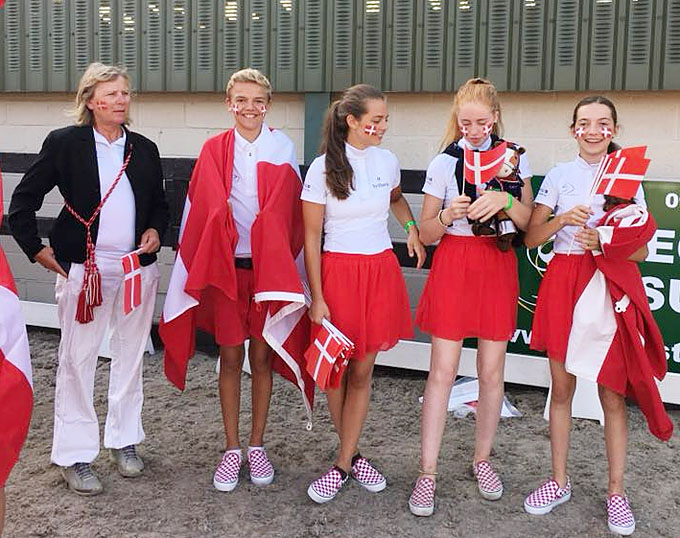 For the home team, Isobel Lickley spearheaded the British effort aboard the 15-year old Rhinelander Valido's Sunshine (by Valido x Marieton's Jasper). The pair placed sixth with 70.371%. Megan Barratt and the 14-year old Valido's Starlight (by Valido x Capri Moon) were ninth with 69.714%.
For the riders from the "smaller" dressage nations Austrian Felicita Simoncic made a splash on the 11-year old Boogie de l'Aube (by Don't Worry x Varello). The pair posted 69.914% to land a provisional 8th place.
Brand new Belgian Pony Champions, Marieke van Nespen and the 13-year old Dutch New Forest pony Orchid's Borneo II (by Justice HR x Brummerhoeve's Boss), completed the top 10 with her 69.200% score.
TV and Cow Challenges
It was tough luck for Ireland's Tara Hayes on the 12-year old Welsh cob Thorneyside Kestrel (by Thorneyside The Gladiator x Thorneyside Flyer), whose pony became spooky when it started to rain and the TV camera men started to cover up their equipment with plastic when it started to rain, instead of having done this before the class started with showers predicted.
Furthermore, the team test for the group 1 riders started four hours later than planned, at 12 'o clock instead of 8 AM in the morning, because an extra ring familiarisation was planned. On Tuesday the special tv- camera stands were still missing in the arena and the ponies were not able to get used to them during the official familiarisation moment on Tuesday.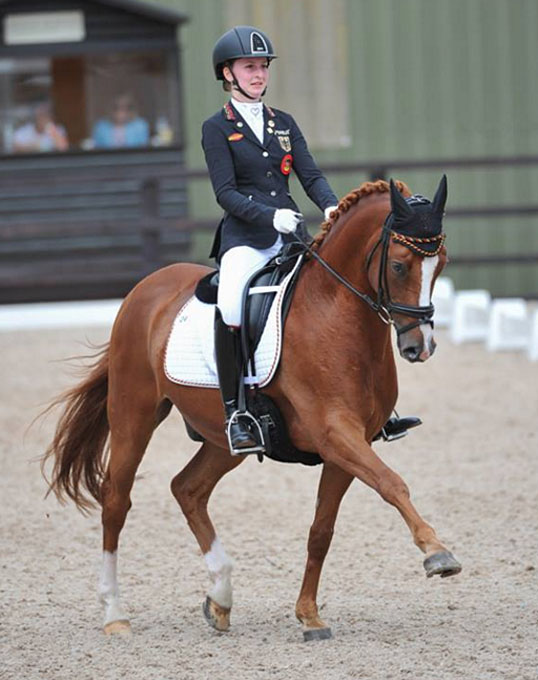 In addition, the organisation of Bishop Burton had forgotten that their cows, which stand in the stable building next to the show ring, had to be turned out into the field at the same time as the class was scheduled, so the team test was postponed until noon.
The team championship test continues on Thursday 9 August 2018 after which the team medal ceremony will take place. 
Photos © Equitaris (more photos on Equitaris' homepage) - Private
Related Links
Scores 2018 European Pony Championships
Eurodressage Coverage of the 2018 European Pony Championships