2018 Central American and Caribbean Games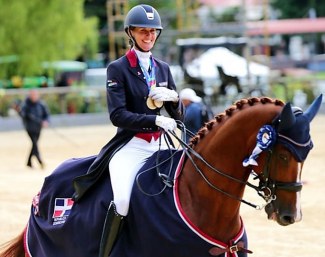 Team Mexico and Dominican Republic's Yvonne Losos de Muniz were the gold medal winners at the 2018 Central American and Caribbean Games held in Barranquilla near Bogota, Colombia, on 23 - 26 July 2018.
The Central American and Caribbean Games are the oldest continuing regional games. The first Central American & Caribbean Games were held in 1926 in Mexico and they are organised by CACSO (in English), which is recognised by the International Olympic Committee (IOC). There are 31 countries invited by CACSO to participate in these four-year Games. Equestrian sports first made an appearance at the Central American and Caribbean Games in 1935.
Mexico in Charge of Team Competition
The Mexican team, consisting of Mariana Quintana (Benzema), Bernadette Pujals (Heslegards Rolex), Mónica Burssens (Elfentanz), and Enrique Palacios (Lorenzo) bagged the gold after they bested the ranking with all scores from the Prix St Georges and Intermediaire I totaled. 
Team Mexico posted a team total of 411.648 points, followed by the Dominican Republic on silver with 397.852 points, while Guatemala got bronze on 397.264 points.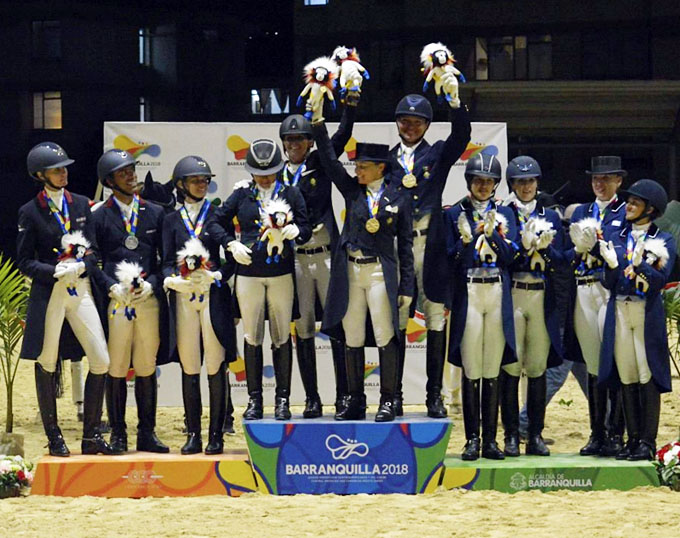 Mexico's push for gold was achieved by Mariana Quintana becoming their best rider in the Prix St Georges with a 68.941% score and third place, followed by Pujals on fourth place (68.265%) and Burssens on fifth place (68.088%). In the Intermediaire Mexico's effort was led by Burssens with a second place finish on 70.618%, while Quintana scored 68.912 (3rd) and Palacios got 66.824% (5th). 
The team of the Dominican Republic consisted of just three riders - Yvonne Losos de Muñiz (Fredensdal's Zig Zag), Stephanie Engstrom Koch (Zen) and George Fernandez (Gorktlingaard's San Tiago) and their silver glory was spearheaded by the international Grand Prix rider and Olympian Losos de Muniz who won all three rounds. 
Guatamela ended up with the bronze and relied heavily on the top rides of Esther Mortimer on the 14-year old Hanoverian Adajio (by Alabaster x Eldorado) with a second place in the Prix St Georges (72.000%), and of Alexandra Dominguez Thomas on the 9-year old Dutch warmblood mare Etanga, who landed fourth place in the Intermediaire I with 66.941%. Their other two team mates were Vivian Andrea Schorpp Pinot (Zedrick Dyloma) and Isabel Arzu de Arroyo (Macchiato)
Individual Gold for Yvonne Losos de Muniz
For the individual championship, the scores of the Prix St Georges, Intermediaire I and Inter I kur to music were totaled.
The 50-year old Yvonne Losos de Muniz from the Dominican Republic won the individual gold by totaling the highest score after three rounds aboard Kathy Priest's 10-year old Danish warmblood gelding Fredensdal's Zig Zag (by Zack x Don Schufro). She posted winning marks of 74.088%, 72.647%, and 71.400%.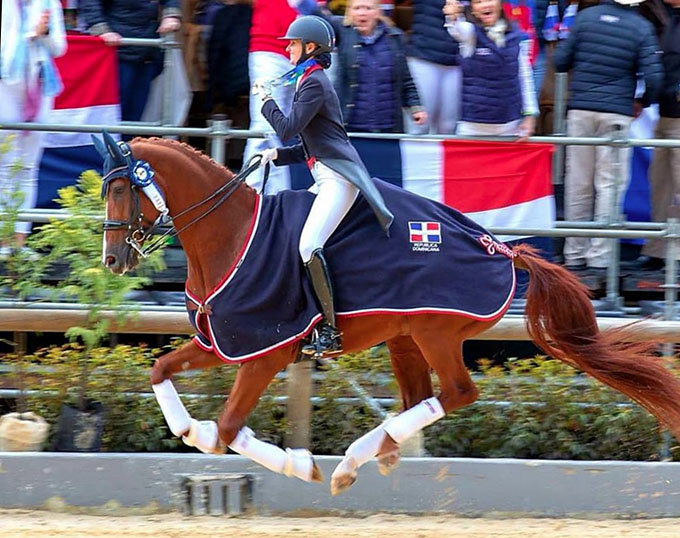 The individual silver went to Mexican Monica Burssens on the 10-year old Oldenburg bred Elfentanz (by Fidertanz x De Niro). She was fifth in the Prix St Georges (68.088%), second in the Intermediaire I (70.618%) and second in the Intermediaire I Kur to Music (70.900%). 
Guatemalan Esther Mortimer and Adaijo scored the bronze after a second place in the Prix St Georges (72.000%),  a sixth in the Intermediaire I (66.676%) and a fourth in the Inter I Kur (70.000%). 
"Even after twelve medals it's impossible to get used to the overwhelming emotion that fills my heart every time I take that step up to the podium for my country and my people," said Yvonne Losos de Muniz after winning gold and silver in Bogota. "None of this would be possible without Fredensdals Ziz Zag, one of the most noble and spectacular horses I have ever worked with. Our entire country thanks his owner and my dear friend Kathy Priest for allowing me the priviledge of riding him at these Games."
Related Links
Scores 2018 Central American and Caribbean Games
Colombian Team for 2018 Central American and Caribbean Games Named
Mexican Team for 2018 Central American and Caribbean Games Selected
Dominican Republic Team for 2018 Central American and Caribbean Games Named