Denmark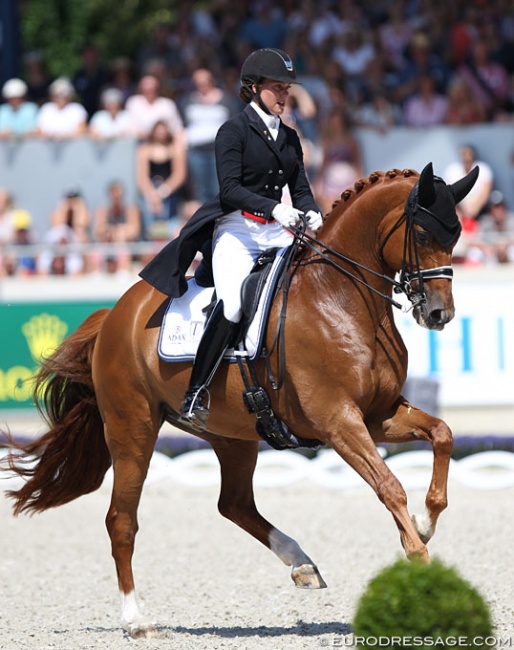 Cathrine Dufour and Atterupgaards Cassidy will not be competing at the 2018 World Equestrian Games in Tryon, U.S.A. The pair has officially withdrawn from the Danish team as the horse has sustained an injury. 
Dufour's withdrawal is a big blow to the Danish team as the pair is the anchor and strongest scoring duo for Denmark. At the 2017 European Championships, Dufour and Cassidy won double bronze. At the 2018 CDIO Aachen the duo became the Aachen Grand Champions as overall highest scoring combination after three rounds. 
The 15-year old Danish warmblood gelding Atterupgaards Cassidy has sustained a minor injury in the paddock and will not be fit before departure to the 2018 WEG, which start on 12 September 2018. 
"The minor injury means that there is a training stop so close to leaving for the World Equestrian Games. He has been in the shape of his life this season, so of course this is really annoying and I'm totally disappointed not to be able to take part in WEG," said Dufour. "But I want to do everything for Cassidy and that means that his welfare is absolutely priority. I wish my team mates and fellow riders the best of luck and hope they have a fantastic show. This time I will follow it from home and will be rooting fully for the Danish team."
Anna ZIbrandtsen and Arlando will be substituting for Dufour. They will join Daniel Bachmann Andersen on Blue Hors Zack, Anders Dahl on Selten HW, and Betina Jæger Jensen on Belstaff.
Photo © Astrid Appels
Related Links
Eurodressage Coverage of the 2018 World Equestrian Games
Isabell Werth Wins Kur, Cathrine Dufour 2018 CDIO Aachen Grand Champion
Dufour to Ride New Kur in Gothenburg, Seeking World Cup Wild Card
Dufour Proves She'll Make 2018 a Bit More Difficult for Werth
Sweden Wins Nations' Cup, Dufour and Cassidy on Top at 2018 CDIO Compiègne
Cathrine Dufour and Coach Rune Willum Part Ways
Dufour Does the Double and Wins Kur Gold at the 2013 European Young Riders Championships
Triple Gold for Cathrine Dufour at 2012 European Young Riders Championships