2018 Danish Pony Championships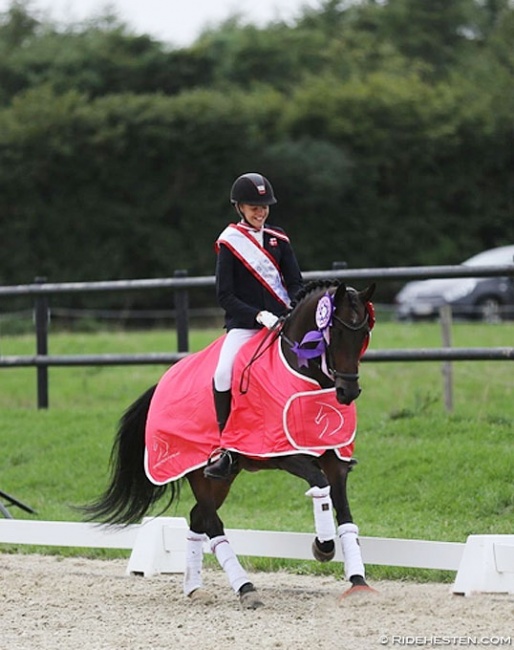 Brand new European championship silver medal winning Alexander Yde Helgstrand continued his August success month at the 2018 Danish Pony Championships at the Hovgaard Riding Club, where he won gold and the national title on his second pony Claire. 
The 2018 Danish Pony Championships on 17 - 19 August 2018 were poorly timed one weekend after the European Pony Championships. This resulted in all four of the Danish Euro Team combinations and therefore strongest pairs in the country not competing at the Nationals. 
Thirty-five pairs were entered for the Danish Championships and the top 15 after two rounds rode the freestyle finals on Sunday.
Alexander Yde Helgstrand is in the luxury position of having two top FEI ponies to ride, so for the Nationals he chose his second pony, the 12-year old Danish bred Roegild's Claire (by Notre Bac x Julio Mariner xx). While his triple European silver medal winning Adriano B rested up at home, the dark bay mare Claire was on form and won the team championship test with 71.410%, placed second in the individual (71.016%) and won the Kur to Music (74.450%) to total a winning overall of 216.876 points. 
The silver medal went to Dagmar Sofie Oxlund on routinier Campari W, a 16-year old German Riding Pony stallion by Champagner W x Derano Gold. She was second in the team test (70.940%), first in the individual (71.260%) and second in the kur (73.650%) to finish in second place overall with 215.850 points. 
Thilde Rude Hare and the 9-year old German bred Morgenstern's Dakar (by Don't Worry x The Braes My Mobility) finished with bronze on 213.088 points. The pair posted 69.487% in the team test, 70.976% in the individual and 72.625% in the Kur to Music. 
Photo © Ridehesten
Results - 2018 Danish Pony Championships (top 15 only)
1. Alexander Yde Helgstrand - Claire - 71.410 - 71.016 - 74.450 --- 216.876
2. Dagmar Sofie Oxlund - Campari W - 70.940 - 71.260 - 73.650 --- 215.850
3. Thilde Rude Hare  - Morgensterns Dakar - 69.487 - 70.976 - 72.625 --- 213.088
4. Mathilde Kalstrup Jensen - Cake Royal - 69.487 - 69.919 - 72.550 --- 211.956
5. Liva Addy Guldager Nielsen - D'Artagnan - 70.256 - 68.049 - 72.375 --- 210.680
6. Silke Andersen - Nyholts Dundee - 69.957 - 70.163 - 69.675 --- 209.795
7. Camilla Juul Møller - Noerlunds Vincente - 68.291 - 70.325 - 71.175 --- 209.791
8. Cecilie K. Hansen - Prince of Glory - 68.077 - 68.821 - 72.500 --- 209.398
9. Mathilde Sofie Jepsen - Tachmann's Cookie - 69.786 - 68.902 - 70.400 --- 209.08
10. Stine Juhl Kikkenborg - Spotlight Barnaby - 68.547 - 68.415 - 70.600 --- 207.562
11. Ingeborg Cederholm - Heidewinde's Jarno - 68.718 - 68.862 - 68.850 --- 206.430
12. Benedikte Rantzau Ulrich - AJ Don't Forget About Me - 68.932 - 68.089 - 67.825 --- 204.846
13. Amira Aasted Jespersen - Top Tilas - 70.385 - 66.585 - 67.425 --- 204.395
14. Emilie Balling Nissen - Divino van Stal Romano - 68.803 - 66.992 - 68.050 --- 203.845
15. Helena Katrine Ejlersen - Mini Cooper - 69.573 - 68.537 - 65.575 --- 203.685
Related Links
Sara Aagaard Hyrm Wins 2017 Danish Pony Championships
Louise Christensen Wins 2016 Danish Pony Championships
Van Deurs Petersen Wins 2015 Danish Pony Championships
Sandra Aagaard Hyrm Wins 2014 Danish Pony Championships
Victoria Vallentin Wins 2012 Danish Pony Championships
Vallentin Wins 2011 Danish Pony Dressage Championships
Maya Jørgensen Wins 2010 Danish Pony Championship
Skodborg Merrald, Kasprzak, and Bendix, 2007 Danish Dressage Champions
Sofie Jeppesen Wins 2004 Danish FEI Pony Championship