2018 Bundeschampionate Qualifier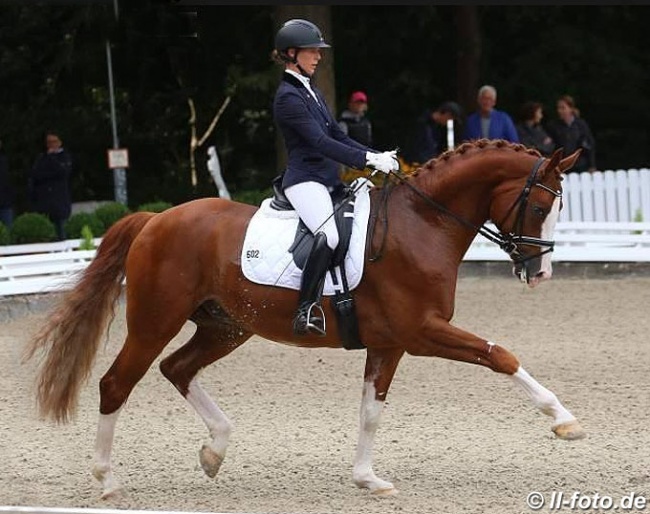 The 5-year old Darley's Springtime and the 6-year old Leo Löwenherz became the winners of the Bundeschampionate qualification classes held at the 2018 Westfalian Regional Championships in Freudenberg, Germany, on 19 July 2018. 
Only a small group of horses gathered in Freudenberg for the BuCha classes with just nine 5-year olds and five 6-year olds. 
In the 5-year old division professional Claudia Rüscher steered Frank Benedyczak's Westfalian gelding Darley's Springtime (by Daley Thompson x Romantik-Boy) to victory with an 8.0 total score. The chestnut gelding scored straight 8s for walk, trot, canter, submission and general impression. Jürgen Höfler and Christoph Lampe's Oldenburg gelding Fürst Rudi (by Fürst Romancier x Sandro Hit) were the runners-up with 7.6. The bay gelding got 7.5 for walk and trot, 8 for canter and 7.5 for submission and general impression. 
In the 6-year old category Niklaas Feilzer rode Klaus Wagner's Rhinelander stallion Leo Lowenherz (by Licosto x Rockwell) into the winner's circle with 8.3. The chestnut stallion got 9 for trot, 8 for walk, canter and submission and 8.5 for general impression. Christoph Kleimeyer and Diana Distell-Schubert's Rhinelander gelding Famous (by Furst Piccolo x Don Bedo) were second with 7.4. The dark bay gelding received 7.5 for trot and canter, 8 for walk, 6.5 for submission and 7.5 for general impression. Charlotte Corinna Koeppen and Charlotte Lämmer's Feiner Frosch L (by Furst Donnerbube x Dramaturg) tied in second place with 7.4. Her dark bay Westfalian gelding received 7 for trot, 8 for walk and canter, 6.5 for submission and 7.5 for general impression. 
Photo © LL-foto
Results - 2018 Bundeschampionate Qualifier - Freudenberg
5-year olds
1. Claudia Rüscher - Darley's Springtime (by Daley Thompson / RomantikBoy) - 8
2. Jürgen Höfler - Fürst Rudi (by Fürst Romancier / Sandro Hit) - 7.6
3. Matthias Alexander Rath -  Fürst Furioso (by Bretton Woods / Fürst Heinrich) - 7.4
4. Maike Büdenbender - Rock For Romance (by Rock Forever I / Sandro Hit) - 7.3
5. Kira­Antonia Leavers - Free Willy (by Fürstenball / Laurentio) - 7.1
5. Jana Freund - Lord Cristobal (by Lord Loxley I / Coriander) - 7.1
7. Pawel Dabrowski - Die oder Keine (by Don Juan de Hus / Cassini II) - 6.8
7. Katharina Hannes - Franciano H (by Fidertanz / De Niro) - 6.8
9. Dries Van Peer - Fred Feuerstein WS (by Franziskus / Second Set xx) - 6.2
6-year olds
1. Niklaas Feilzer - Leo Löwenherz (by Licosto / Rockwell) - 8.3 
2. Christoph Kleimeyer - Famous (by Fürst Piccolo / Don Bedo) - 7.4
2. Charlotte Corinna Koeppen -  Feiner Frosch L (by Fürst Donnerbube / Dramaturg) - 7.4
4. Julia Knickenberg - Dunkins (by Destano / Don Gregory) - 7.1
5. Christina Wessling -  Dillenia D (by Demirel / Louis le Bon) - 7
Related Link
Eurodressage coverage of the 2018 Bundeschampionate