2018 Asian Games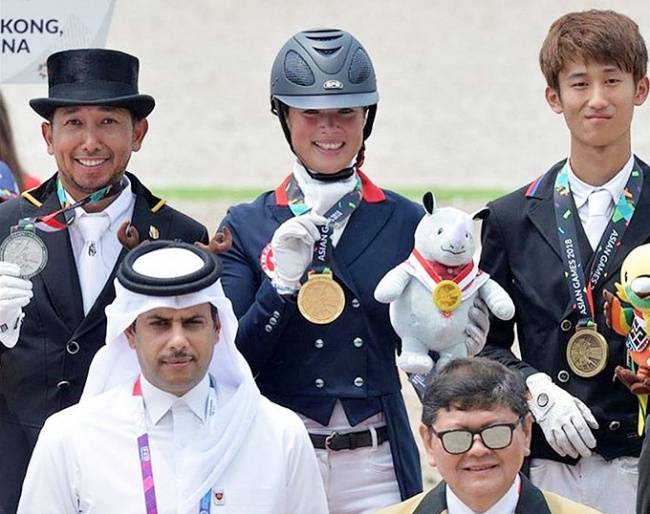 Hong Kong's Jacqueline Siu Wing Ying outflanked Malaysia's Qabil Ambak to win the individual gold medal in the Intermediaire I Kur to Music at the 2018 Asian Games in Palembang near Jakarta, Indonesia. 
The individual medal finals were contested over the Kur to Music and were held on Thursday morning 23 August 2018.
Siu Outflanks Ambak for Gold
Malaysia's Qabil Ambak had been wielding the axe of power in the Prix St Georges and Intermediaire I, but the British based Jacqueline Siu made a clear push for power in the freestyle and topped the board with 77.045% for the individual gold medal.
"Today was definitely the hottest and most humid day, so challenging conditions but I was super proud of Fuerst on Tour he gave me everything today. We both love competing in the freestyle so that helped us raise our performance," Siu told Eurodressage.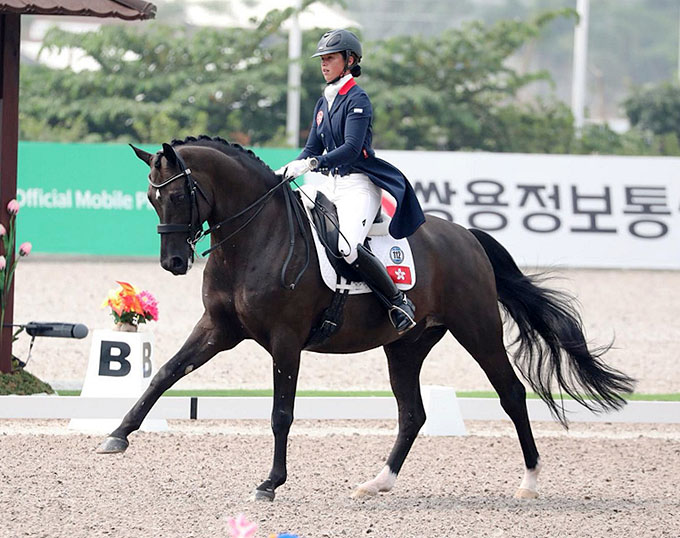 The 35-year old Siu, who trains with Carl Hester in the U.J., rode to Joost Peeters' arranged music with the 13-year old Rhinelander gelding Fürst on Tour (by Furst Heinrich x Rubioso N). The black gelding has been acquired by the Hong Kong Jockey Club specifically for Siu to ride at the 2018 Asian Games. Under German Anna Abbelen the horse was the 2014 European Junior Riders Champion and won team gold at the 2016 European Young Riders Championships.  
"I used a kur made for me a few years ago by Joost Peters, it's my favorite and the music still gives me goosebumps every time," said Jacqueline. "Amanda Bond (former British Dressage CEO and now executive manager of Equestrian Affairs at the Hong Kong Jockey Club) established a performance program for elite Hong Kong Equestrian athletes. It is a very exciting chapter in Equestrianism in Hong Kong and I am extremely grateful for the opportunity to be involved."
As Jacqueline Siu now prepares for her Grand Prix start on Ferrera at the 2018 World Equestrian Games, Furst on Tour gets a well earned break.  "I think Fuersty deserves a nice relaxing holiday after this," she said. "After that I'm sure he will love to be back in the show ring and the center of attention again!"
Ambak Finds the Silver Lining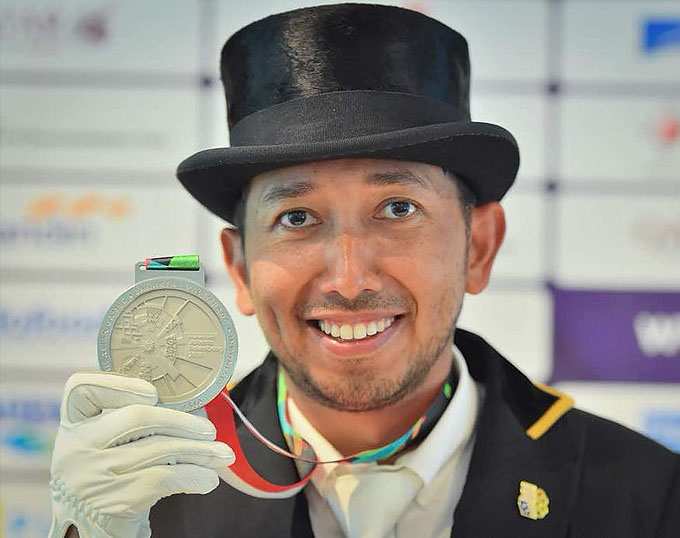 Hopes were high for Malaysian Qabil Ambak to score a first ever individual gold medal in dressage for his country Malaysia and after winning both the Prix St Georges and Intermediaire I, he was the clear favourite for the champion's sash and gold medal.
The 38-year old Ambak and his 12-year old Hanoverian bred Rosenstolz (by Rotspon x De Niro) finished second in the freestyle with 76.620% and scored silver nonethless. Qabil is an 11-time South East Asian Games gold medalist and at the intercontinental Asian Games, he already won bronze at the 2006 edition in Doha and the 2010 edition in Guangzhou. Gold was the goal, but silver the result.
"I was a bit disappointed not winning the gold and lost by 0.4 percent, but in overall was happy with the entire performance after being away from riding eight years," Ambak told Eurodressage. "It's my fifth Asian Games winning a total of three silvers and 4 bronze medals in total. In the kur my horse was a bit tense and I was under a lot of pressure after leading the past two days, but I'm happy to finish on the podium."
Ambak's main passion lies in show jumping, but in 2017 he switched back to dressage as the 2017 South East Asian Games were hosted in Malaysia. He had then last competed in international dressage at the 2010 Asian Games in Guangzhou, China. Since then he has been focusing solely on show jumping. Qabil took over the rode on the black Rosenstolz from his sister Quzandria Nur, who has put her competition career on the back burner after having given birth to her first child. Qabil is trained by Danish Dennis Fisker. 
For Ambak the Asian Games are not over yet. He will be competing in the show jumping leg as well!
"I'll be switching to show jumping in two days when the event starts," he quipped.
Kim Rises Above Scandal to Bag Bronze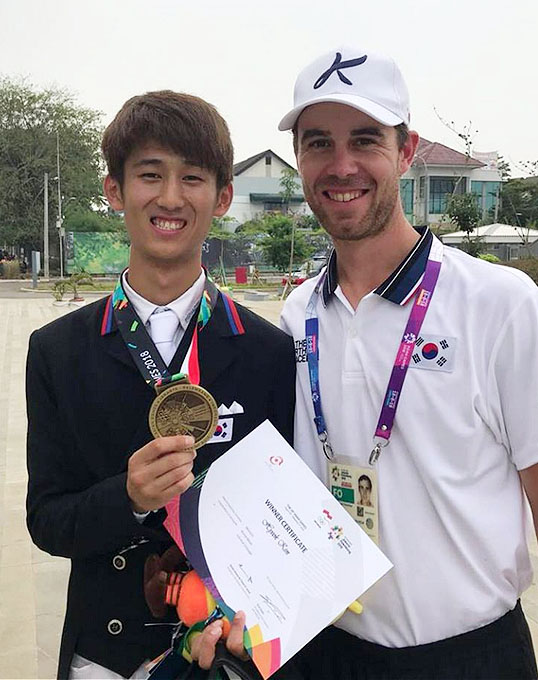 South Korean Hyeok Kom rose above the major scandal in which the Korea Equestrian Federation got involved to further solidify his country's success at the 2018 Asian Games. After winning team silver, Kim added an individual bronze medal to Korea's tally. 
Aboard the 11-year old Hanoverian Degas K (by De Niro x Walt Disney), Kim scored a solid 75.705% to finish third in the freestyle. He was also third in the Intermediaire I, which serves as qualification round for the Inter I Kur to Music. 
The 23-year old Kim has been training in Germany with Grand Prix rider Benjamin Werndl since 2017 and his dedication and efforts have paid off. 
The Korea Equestrian Federation (KEF) received a major blow two years ago when its scandalous involvement with Soon Sil Choi, whose influence-peddling ways led to the impeachment of former President Geun Hye Park, became public. An investigation brought to light that the federation fabricated key documents and violated its rules by providing special financial support to Choi's daughter, Yoora Chung, who was based in Denmark. Electronics giant Samsung paid for some $3.25 million worth of horses and equestrian training for Chung, although some reports list the amount up to $21 million. The federation fell into a leadership vacuum and lost major corporate sponsorships. Chung was a member of the 2014 Asian Games Korean team.
"It was difficult four years ago because I trained a lot," Kim told the Thai portal The Nation. "But I didn't think about those events today. I am better than four years ago and those events have made me stronger."
The 2022 Asian Games will be hostedin Hangzhou, Zhejiang, China from 10 - 25 September  2022.
Photos © private
Related Links
Scores: 2018 Asian Games
Qabil Ambak Wins Intermediaire I at 2018 Asian Games
Japan Wins Team Gold at the 2018 Asian Games