2018 Dutch Young Pony Championships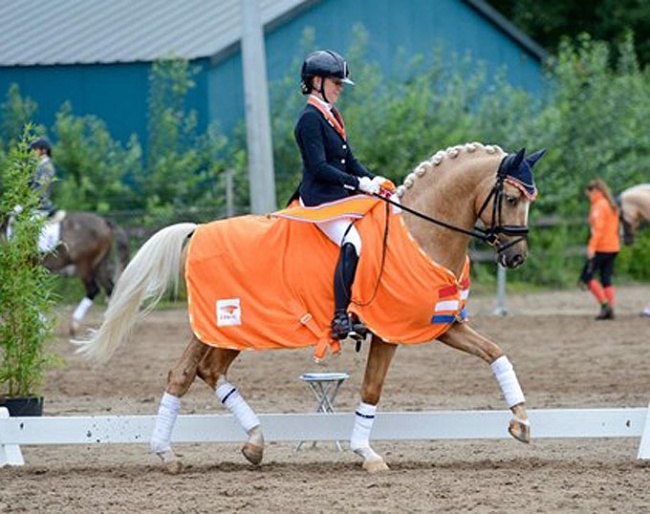 The 4-year old Nespresso, the 5-year old Spoorzicht's Red Flyer, and the 6-year old Don Davino became the champions in their age division at the 2018 Dutch Young Pony Championships held at equestrian centre Het Hippisch Verband in Putten, The Netherlands, on 18 August 2018. 
The Dutch Young Pony Championships are based on a series of qualifiers held nation wide, followed by the actual Championships in which the ponies go in a first round under their own rider. The judges this year were Jan Peeters and Helen Rotteveel. The five highest scoring ponies are test ridden by two guest judge riders. Three former pony riders were asked to serve as guest rider this year: Bo Oudhof, Lotte Meulendijks and Annelotte Felix. 
In the 4-year old division Lilli van den Hoogen and the Westfalian bred Nespresso (by FS Numero Uno x Dont Worry) was the preferred choice of test riders Lotte Meulendijks and Bo Oudhof. After placing second in the first round, Nespresso won the test round and finished on top with 88.88 points. Carmen van Delden and the Belgian bred German Riding pony stallion Notting Hill C-Two DVB (by FS Numero Uno x FS Champion De Luxe) led the first round, but dropped to the reserve champion's position in the second round with 86.25 points. Skye Plasmen and the NRPS registered Domingo du Bois (by Don Cremello du Bois) were third with 81.88 points. 
In the five year division Bo van Nimwegen took a strong start on the Dutch Welsh pony Spoorzicht's Red Flyer (by Orchard Wildeman x Woldhoeve's Silco), winning the first round with 89 points and then receiving 95 and 100 points from test riders Bo Oudhof and Lotte Meulendijks. The dark bay won the division with 93.88  points, the high score of the championship. Eline Agterberg and the Welsh pony Amalia's Lucas (by Vlagberg's Carway x Leunveld's Lord) were the runners up with 84 points, while Isa van der Arend and the New Forest pony stallion Make My Forest (by Elshof's Marnix x Oosterbroek Sergio) landed third place with 82.38 points in total. 
Last year's champions in the 5-year old division, former Dutch FEI pony rider Kim Noordijk and the Dutch Riding Pony bred Don Davino (by Don Carino du Bois) also reigned supreme in the 6-year old division. The palomino reclaimed the title after winning the first round and then receiving 90 and 95 points from the test riders. He totaled 89.63 points. Last year's reserve champions, Robin Heiden and the New Forest Pony Oosterbroek Fenix (by Orlando) were again second on a total score of 84.13 points, while Gwendolyn Krieger and the Dutch Welsh B-section pony Heidepeel's Constantijn (by Equus Raspoetin x Henshof Rafael) landed third place with 83.38 points.
Photo © Arlette Beukenkamp
Results - 2018 Dutch Young Pony Championships
4-year olds
1. Nespresso (Westfalen) – Lilli van den Hoogen, 88.88
2. Notting Hill C-Two DVB (DRP) – Carmen van Delden, 86.25
3. Domingo du Bois (NRPS) – Skye Plasmen, 81.88
5-year olds
1. Spoorzicht's Red Flyer (NWPCS) – Bo van Nimwegen, 93.88
2. Amalia's Lucas (NWPCS) – Eline Agterberg, 84.00
3. Make My Forest (NNFPS) – Isa van der Arend, 82.38
6-year olds
1. Don Davino Horse Point (NRPS) – Kim Noordijk, 89.63
2. Oosterbroek Fenix (NNFPS) – Robin Heiden, 84.13
3. Heidepeel's Constantijn (NWPCS) – Gwendolyn Krieger, 83.38
Related Links
Houdringe's Raspoutin, Don Davino, Castenrayseweg's Dreamboy Win 2017 Dutch Young Pony Championships
Oosterbroek Fenix, Odonker S, Pippin's Pride Win 2016 Dutch Young Pony Championships
Dreamboy, Pippin's Pride, Den Ostriks Marah Win 2015 Dutch Young Pony Championships
Pippin's Pride, Den Ostrik's Marah, Morningsky Win 2014 Dutch Young Pony Championships
Don Ducky C-Two, Morning Sky, Boldermans Brasil Win 2013 Dutch Young Pony Championships
Roetsenest Enzo, Kielshoop Honeybee's Valentino, El Diego Win 2012 Dutch Young Pony Championships
Nero van den Hout, Tiesto and Hertenshof Nairobi Win 2011 Dutch Young Pony Championships
Tiesto, Heidehofs Don Diego, Champ of Class, 2010 Dutch Young Pony Champions
Heidehofs Don Diego, Guardian B and JDJ Keimpe Win 2009 Dutch Young Pony Championship