2018 U.S. Dressage Championships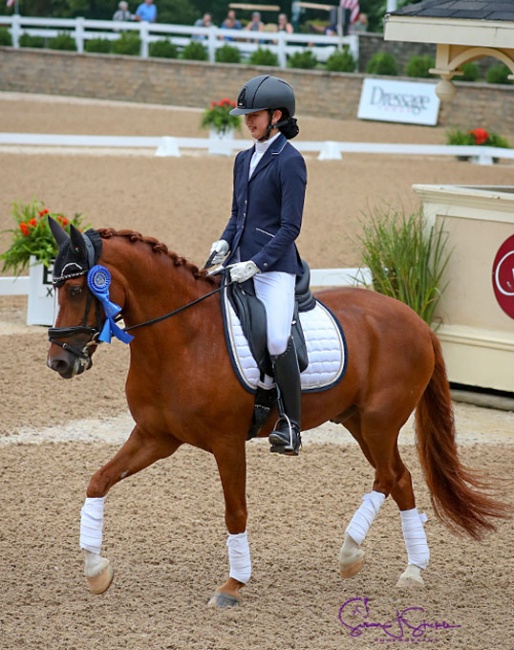 Junior rider Emma Asher, small tour rider Heather Blitz, and Under 25 rider Codi Harrison won the titles in their respective divisions at the 2018 U.S. Dressage Championships in Wayne, ILL, on Saturday 25 August 2018. The Children's division kicked off that day with the first of two rounds.
Yang in the Lead in Children Championship
Miki Yang and Garden's Sam took the lead in the U.S. Children Dressage National Championship by winning the first of two tests. Yang (Los Altos Hills, Calif.) and Four Winds Farm's 11-year-old New Forest Pony gelding had a smooth test to score 68.397% to win the FEI Children Team Test.
"I was really happy with how it went. 'Sam' usually gets a bit tense inside the arena but today I felt like he was there for me and I was there for him," said Yang. "He was just really honest, and it was a really clean test and I was really happy with it. I am really, really happy to be here. Everything is just so well put together; everybody is so nice and welcoming. I am just really, really happy to be here."
Averi Allen (Pleasant Hill, Mo.) and Lady Lilliana, Mary Adams's nine-year-old Friesian Sporthorse mare, placed second. "I was thrilled with how she handled everything. We have had troubles in the past; she gets a little lazy and can't keep the canter. I felt like through the test she was pretty good; we have been working on keeping the canter through the whole thing. She was just really good," said Allen. "This is my third year here and every year I come here, I love the facility, everyone is so nice, it is so beautiful here. It is just really nice to be here."
Kylee Kment (Palmyra, Neb.) and Manatee, Jami Kment's 15-year-old Thoroughbred gelding, placed third. "He was amazing today. His contact today was so consistent; I was so proud of him. We just went in there and did our best. I'm so blessed to be here," she said. "It is amazing. It is so beautiful. I am very thrilled because my horse, who is a Thoroughbred, can sometimes get a little hot, but everyone is like, 'It is okay, you will be great.' It is so encouraging."
Emma Asher is the 2018 U.S. Junior Riders Champion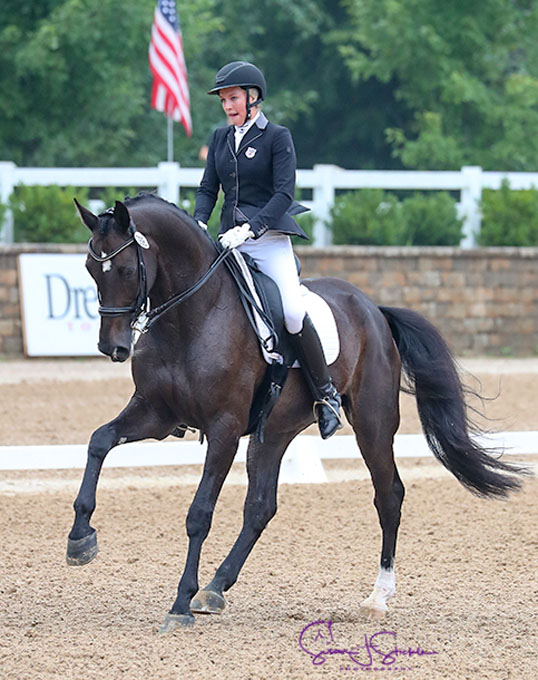 Emma Asher and Traneenggaards Akondo won the FEI Junior Individual Test to clinch the USEF Junior Dressage National Championship. Asher (Greenwood Village, Colo.) and Seeley Equestrian Ventures' 16-year-old Danish Warmblood gelding, delivered a strong test to score 71.029%.
"It's really gratifying. I competed all season in Wellington, so it really shows a lot of progress [for me] and for the whole sport and the division competing against real competition," said Asher. "'Akondo' felt really good today. He was really up in front of my leg and listening and much more supple than yesterday. He really improved from the warm-up because in the warm-up he was a bit fiery and wasn't listening very well, but he really came back and stayed with me for the test, which was great."
Melanie Doughty (Cocoa Beach, Fla.) and Fascinata, a 10-year-old Rheinlander mare, were the reserve champions. "My mare was a bit tired, but she really listened to me and was on it in the arena. I am really proud of her," said Doughty.
 Mackenzie Peer (Overland Park, Kan.) and Daquan, Beth Nay's 10-year-old KWPN mare, were third overall. "My ride felt super," said Peer. "Obviously there are always a couple little mistakes, but I am just really proud of her for holding it together. This was our first big show so I am just really proud of her for trying her best and being with me."
Blitz and Quatero are the 2018 U.S. Small Tour Champions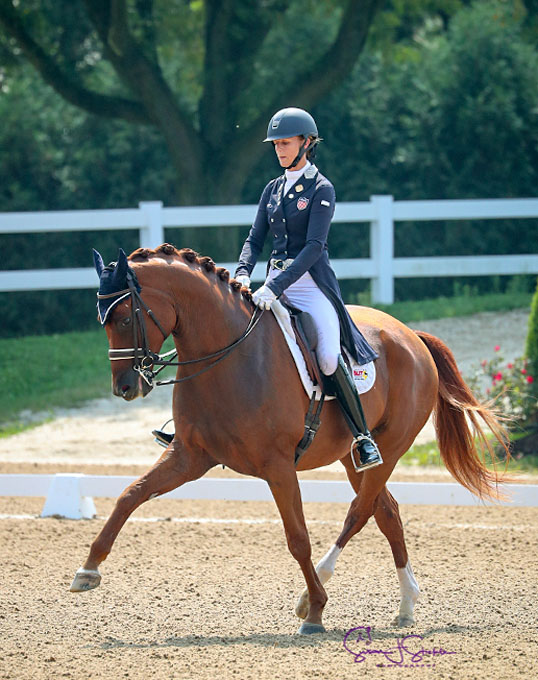 Heather Blitz and Praestemarkens Quatero held on to the lead from day one and maintained their form to win the USEF Intermediaire I Dressage National Championship. Blitz (Wellington, Fla.) and her nine-year-old Danish Warmblood gelding had an up-tempo freestyle that clinched the win in the national championship.
"It feels amazing. I am going to live on this high for a while now. I am glad it is over because I was really nervous about it. I had some tough competition here, not only [Baumert and Kelly-Baxley] but the rest of the class. We had a really competitive small tour and I am really proud to have ridden to the top of that. It never gets old winning; I love it," Blitz explained. "I use Marlene Whitaker for my freestyles and she is a genius! She heard some music and immediately thought of my horse. I always take her advice, and he is a very high-power, high-energy horse, and my music is the same – it is high energy and it is on. I love classical [music] but I didn't want to go to classical. You just kind of hear what you see when you hear that music and when you see that horse, the energy matches and it just encourages more and more forward and ground-covering movement."
Jennifer Baumert (Wellington, Fla.) and Handsome, Betsy Juliano LLC's 13-year-old Hanoverian gelding, were the reserve champions.  "Terry Gallo did my freestyle. She came out with the trot music, which is Titanium, and I instantly knew that was the song; it adds a lot of power like Handsome does and it just has a lot of energy. Like Heather, [the music] just kind of makes me ride his trot to the best trot it can be," said Baumert.
Jodie Kelly-Baxley (Destin, Fla.) and Caymus, Beth Godwin's 11-year-old KWPN gelding, placed third.  "My music is from the movie The Greatest Showman. This past fall leading up to me needing a freestyle, I had been listening to a lot of music," said Jodie. "I heard a lot of suitable music for him but nothing spoke to me. I am not super musical, but Marlene Whitaker also does mine and she is a magician because I don't hear the change in music very well. It really has to hit me over the head and really speak to me; I went to see the movie and I was sitting in the movie like, 'Oh my gosh, this is it!'"
All of the top-three finishers in this division are members of the USEF Development Program supported by The Red Husky Foundation.
Harrison Wins 2018 U.S. Under 25 Championship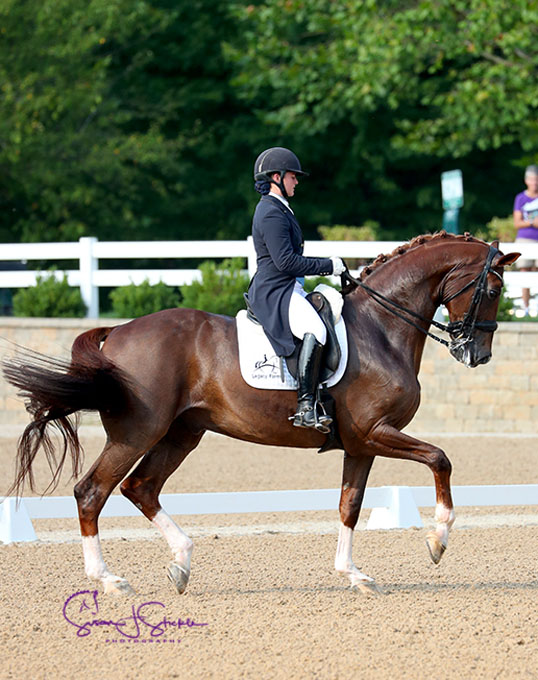 Codi Harrison and Katholt's Bossco lead from start to finish to win the USEF Young Adult 'Brentina Cup' Dressage National Championship presented by Dressage Today. Harrison (Loxahatchee, Fla.) and her 11-year-old Danish Warmblood gelding performed an entertaining freestyle to country music to win the class and the championship.
"I am very excited. I am so proud of him. I had no idea to expect coming in, so I am thrilled. For him to give me every ounce that he had and to stay so with me for the show, it is great because it is one of the first times we have really had that. I am so happy and we had such a competitive field; I am honored," said Harrison. "I think it is a really good transition from the Young Riders to the Grand Prix because you have all the Grand Prix elements without the degree of difficulty, kind of a modified division, and it is fun to have a division with people your own age and that this year is so competitive. I think it is a great ease into the Grand Prix and a middle step rather than a big jump."
Molly Paris (Charlotte, N.C.) and Countess, her 16-year-old Danish mare, were the reserve champions. "I have been doing this for two or three years now and every year it gets better and better. You learn from it so much by progressing in it, learning the movements, and learning how to actually ride a Grand Prix test without the stress of being against your Olympic team, which is kind of scary. It has been super good for me, a good stepping stone to Grand Prix, so I think that is a really important thing for all of us," said Paris.
Discover Dressage™ US Equestrian/United States Dressage Federation Emerging Athlete Program member Kerrigan Gluch (Wellington, Fla.) and HGF Brio, Hampton Green Farm's 13-year-old Andalusian stallion, placed third. ""I think the youth programs in general for the U.S. have gotten much bigger in the past few years. Over the years, it brings more and more riders, which then makes our division even bigger. I think having that pipeline of kids that keep coming is really special and crucial for having young people on the senior teams or Olympic team," Gluch stated.
Photos © Sue Stickle
Related Links
Scores: 2018 U.S. Dressage Championships
Boehning, Blitz, Harrison, Jorst Rule Day Two of 2018 U.S. Dressage Championships
Jones, Blitz, Harrison In the Lead as 2018 U.S. Dressage Championships Kick Off
Boehning and Jones Win First Titles at 2018 U.S. Dressage Championships