Danish Warmblood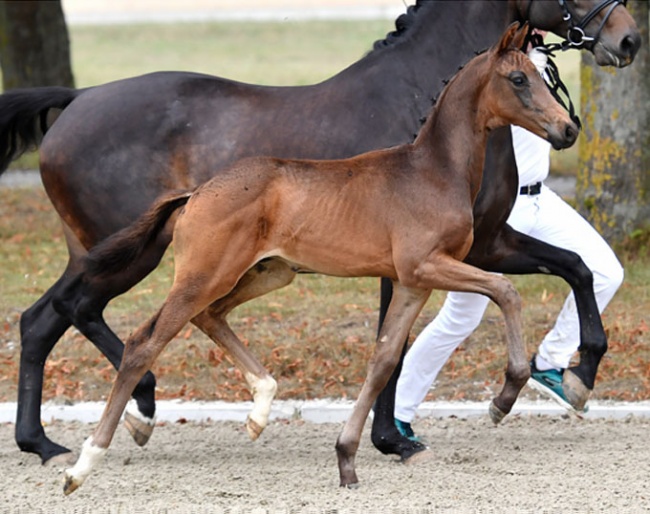 The 2018 Danish Warmblood Elite Foal Auction in Vilhelmsborg, Denmark, on 25 August 2018 became a huge success with a new record price highlight and new record average score. 
Helgstrand Dressage shopped big time at this auction. They acquired the price highlight Netstutteriets Fazza (by Franklin x Zack). Andreas Helgstrand paid 121,000 euro for this foal out of one of the three full sisters to triple World Champion Sezuan.
Helgstrand also purchased the 2018 Danish Warmblood Colt Foal Champion Diaz Skovvang (by D'Avie x De Noir) for 40,000 euro.
The 2018 Danish Warmblood Filly Foal Champion Remember Me (by Don Olymbrio x Sezuan) sold for 80,000 euro to Danish team rider Anna Zibrandtsen. She also bought Franklini (by Franklin) for 35,000 euro.
Not just dealers, stallion owners and dressage riders purchased foals at this auction. Breeders also bought foals from their colleagues. Breeder Henrik Hansen purchased the jumper foal Call of Duty (by Cornet Obolensky x Baloubet du Rouet ) together with Jack Munch Christiansen. They paid 26,000 euro for him and Call of Duty became the most expensive jumping bred foal of the auction.
Lissau's Gauguin (by Franklin x Sandro Hit) sold for 21,000 euro. The same price was paid for jumper foal Hamilton Vest (by Halifax Van Het Kluizebos x Chaman).  
Two foals sold for 20,000 euro: Hecas Guardiola (by Glasgow-W VH Merelsnet x Cabachon) and Stenagers Spectre (by Sir Donnerhall I x Wilkens). 
The collection included 64 foals and they sold for an average of 15,962 euro. 
Related Links
Remember Me and Diaz Skovvang Named 2018 Danish Warmblood Foal Champion
Uniquely Bred Dressage Foals in 2018 Danish Warmblood Elite Foal Auction Collection
Vianna, Price Highlight of the 2017 Danish Warmblood Elite Foal Auction
Lissau's Ginger, Best Seller of the 2016 Danish Warmblood Elite Foal Auction
Tophojs Tebaldo, Top Seller of 2015 Danish Warmblood Elite Foal Auction
Strandagergaards Sirocco, Price Highlight of the 2014 Danish Warmblood Elite Foal Auction
Atterupgaards Jazzper, Top Selling Foal at 2012 Danish Elite Foal Auction
Future Jazz RV, Price Highlight 2011 Danish Elite Foal Auction