KWPN Foal Auctions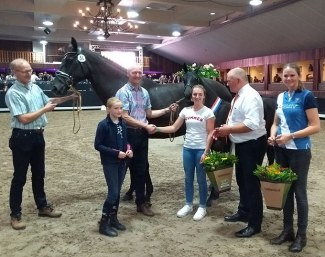 The 2018 KWPN Foal Champion Nina Ricci became the top seller of the 2018 Midden-Nederland KWPN Foal Auction held at the Nieuwe Heuvel equestrian centre in Lunteren, The Netherlands, on 5 September 2018. 
Nina Ricci (by Franklin x Uphill) sold for 37,000 to Dutch youth rider Mercedes Verweij. 
The bronze medal winning foal at the 2018 KWPN Foal Auction was also auctioned in Lunteren. Nyandro JZ (by Geniaal x Jazz) sold for 20,000 euro to a Dutch client. 
Dutch under 25 rider Charlotte Kruininger purchased the colt Nitron San (by Improver VDT) for 18,000 euro.
The best selling jumper foal was Nirriena (by Quabri d'Isle) which sold to Ireland for 14,500 euro.
The Swedish Bosson family acquired the colt Nightdream CC (by Toto Jr x Charmeur) for 11,000 euro. Dubai customers paid 16,000 euro for Nina AF (by Desperado x Florencio). Brits bought Nemosch (by Toto Jr x Houston) for 8,500 euro. A Kuwait buyer paid 11,000 euro for No Limit (by Totilas x Metall). 
The average price for a foal at this auction was 8,300 euro.