Hanoverian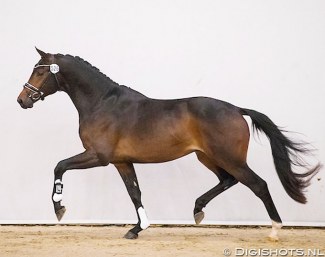 The show jumper colt Balou's Barkeeper H became the high scorer of the 14-day Stallion Suitability test held in Adelheidsdorf, Germany, from 14 till 27 September 2018.
Twenty-eight stallions participated  in this testing, two of them dropped out and two were sent home. 
The overall high scorer was Balou's Barkeeper H (by Balou de Rouet x Calypso II x Graphit). The chestnut Hanoverian stallion, bred and owned by Marcel Heithaus, scored a total of 8.33 points, with 7.54 for dressage and 8.45 for show jumping. He got 6 for trot, 7.5 for canter and walk, but 9 for rideability, 9.25 for character and 9.25 for rideability under the test rider. 
The second best scoring stallion of only two that achieved an overall of 8.0 or more was the 3-year old Hanoverian Fontaine (by Finest x Samarant x Ginsberg), bred by Norbert Fockenberg. He scored a total of 8.08 with 8.76 for dressage and 7.25 for show jumping. He also got 9.0 and 9.25 for character, 8.5 for trot and walk and 9.5 for canter. His jumping in freedom only earned him 6.5 but he got 8.25 for rideability under the test rider. 
The highest dressage score was achieved by the Dutch warmblood stallion Kardam's Whisper (by Toto Jr x Sir Sinclair x Democraat). Owned by Gaston Glock, the KWPN stallion got a total over 7.9 but with 9.16 for dressage and 6.03 for show jumper. The stallion earned 9.5 for trot and canter, 8 for walk, 9.5 for ridebaiity, 4.5 for jumping in freedom and 9.75 for rideability under the test rider. Kardam's Whisper was not accepted by the KWPN licensing committee last year.
Dressage stallions Bel Amour (by Belatnis) got 7.95 overall (8.43 for dressage), a nameless Farrell x Lord Loxley got 7.60 (8.29 for dressage), while Eurovision (by Equitaris) got 7.85 (8.54 for dressage) and Escolardor (by Escolar) received 7.28 (8.5 for dressage).
Photo © Digishots
Related Links
Diaconcello, High Scorer at 2018 Adelheidsdorf 14-Day Suitability Test
Dia Corrado, Top Scorer of 2017 Adelheidsdorf 14-Day Suitability Test
High Motion, Top Scorer of the 2017 Adelheidsdorf 50-Day Stallion Performance Test