2018 Irish Dressage Championships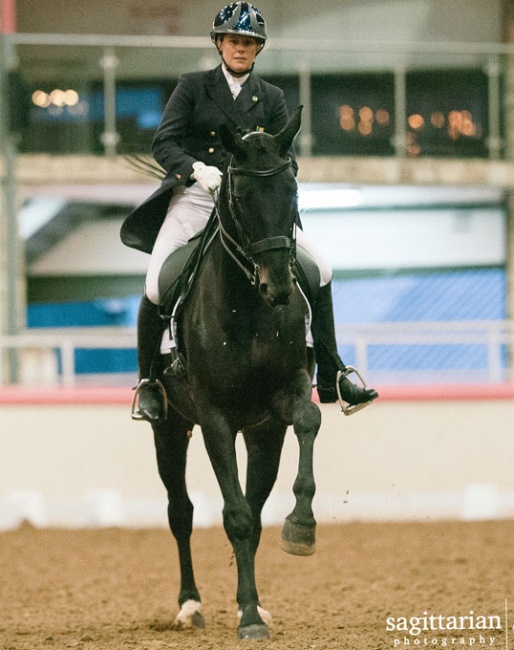 Heike Holstein wrote herself into Irish sporting history by becoming the first rider to win twelve Irish dressage championships at the Dressage Ireland national championships in Cavan Equestrian Centre on 27 - 30 September 2018.
An emotional Heike paid tribute to her mother, the legendary dressage trainer Gisela Holstein, "I'm very honoured to have Mum who can help me so much".
 It was truly a family occasion as Holstein scored 67.02% to secure the win in the Grand Prix championship on her nine-year old home-bred mare Sambuca (by Samarant out of Astoria).
"Four years ago she won the preliminary national championship" said Heike "I think she is great.  She is one of the best horses I have had.  She is a star.  She loves the atmosphere and she is getting better all the time. She was a bit tricky when she was younger.  I think she is going to be great."  
The married mother of two young children and three-time Olympian secured her record haul of twelve national titles despite not being able to compete at every national dressage championship since 1990 due to international duty and family commitments.  Heike won her first national championship in Powerscourt, Co. Wicklow in 1990.  She added eleven more at Birr Castle, Co. Offaly (1991), Castletown, Co. Kildare (1992 & 1993), Tattersalls, Co. Meath (1994), Marlton Stud, Co. Wicklow (2005), Necarne Castle, Co. Fermanagh (2007) and Cavan Equestrian Centre, Co. Cavan (1997, 1998, 2003, 2004 & 2018). 
British-based Irish international riders Dane Rawlins (Espoire)[64.05%] and Katy Price (Bon Viveur)[62.53%] secured a podium finish in the Grand Prix championship placing second and third respectively. 
Heike also won the Intermédiare II championship with the best Irish-bred national championship award winner Sambuca. Defending national champion Anne Marie Dunphy and Urbanus won the Grand Prix Kür freestyle championship.
At small tour level Dubliner Kevin Acres and Saint Emilion II scored 67.94% to win the Prix St-Georges championship.  Heike Holstein and Chameur had a less than ideal preparation for the national championships with the gelding having been off for months due to surgery on a hidden wolf tooth.  Despite only a few days riding they scored a double, winning the Intermédiare I and Prix St-Georges freestyle championships and placing second in the the Prix St-Georges championship. 
Results - 2018 Irish Dressage Championships - Cavan
FEI Pony Championships
1. Thorneyside Kestrel - Tara Hayes  - 65.909
2. Belsasser - Robyn O' Neill - 65.530
3. Blokland's Hoeve's Amor - Finn Curran -  64.621
Pony Riders - Kur to Music
1. Thorneyside Kestrel - Tara Hayes -  70.250
2. Blokland's Hoeve's Amor - Finn Curran - 67.625
Prix St Georges
1. Saint Emilion -  Kevin Acres -  67.941
2. Chameur - Heike Holstein -  66.765
3. Erb Welt - Petra Larkin - 66.029
4. Zazou - Alana Cazabon -  65.515
5. Hotshot - Sarah Mellor - 65.147
6. Variant H - Elizabeth Frayling -  65.074
7. Her Highness Willow - Anne Marie Dunphy -  64.338
8. Beezies Big Brother - Simone Hession - 63.971
9. Cadens - Rachel Dowley -  63.603
10. Aramis - Alana Cazabon - 62.353
11. Has to be Fun - Ruaidhri O' Cianain -  61.103
Intermediaire I
1. Chameur - Heike Holstein - 68.971
2. Captain Negro C - Belinda Brereton - 67.206
3. Saint Emilion -  Kevin Acres -  66.912
4. Beezies Big Brother - Simone Hession -  65.809
5. Variant H - Elizabeth Frayling -  64.338
6. Erb Welt - Petra Larkin- 64.044
7. Cadens - Rachel Dowley -  63.603
8. Bounce Back George - Sonya McCormack -  63.382
9. Aramis - Alana Cazabon -  62.206
Her Highness Willow - Anne Marie Dunphy - RET
Prix St Georges Kur to Music
1. Chameur - Heike Holstein - 75.313
2. Cadens - Rachel Dowley  - 72.563
3. Hotshot-  Sarah Mellor -  68.688
4. Has to be Fun - Ruaidhri O' Cianain -  66.063
5. Beezies Big Brother - Simone Hession -  64.688
6. Erb Welt - Petra Larkin -  63.313
Intermediaire II
1. Sambuca - Heike Holstein  -  67.941
2. Espoire - Dane Rawlins -  67.500
3. Highlight - Sorrell Klatzko-  65.221
4. Captain Negro C - Belinda Brereton -  64.926
5. Bon Viveur - Katy Price - 64.559
Grand Prix
1. Sambuca - Heike Holstein -  67.029
2. Espoire - Dane Rawlins -  64.058
3. Bon Viveur - Katy Price - 62.536
4. Urbanus - Anne Marie Dunphy - 60.254
5. Highlight - Sorrell Klatzko - 57.029
Grand Prix Kur to Music
1. Urbanus - Anne Marie Dunphy - 70.625
2. Highlight - Sorrell Klatzko -  65.313
Related Links
O'Neill, Holstein, Dunphy, Blake Farrell Win 2017 Irish Dressage Championships
Stuart, Dowley, Dunphy Win 2016 Irish Dressage Championships 
Cazabon-Sullivan, Reynolds, Tong Win 2015 Irish Dressage Championships
Judy Reynolds Wins 2014 Irish Dressage Championship
Roland Tong Wins the 2013 Irish Dressage Championships
Hamilton Dominates Star-Studded 2011 Irish Dressage Championships 
Sarah Mellor Wins 2010 Irish Grand Prix Championship
Truesdale Wins 2009 Irish Dressage Championships
Heike Holstein, 2007 Irish Dressage Champion