2018 Austrian Dressage Championships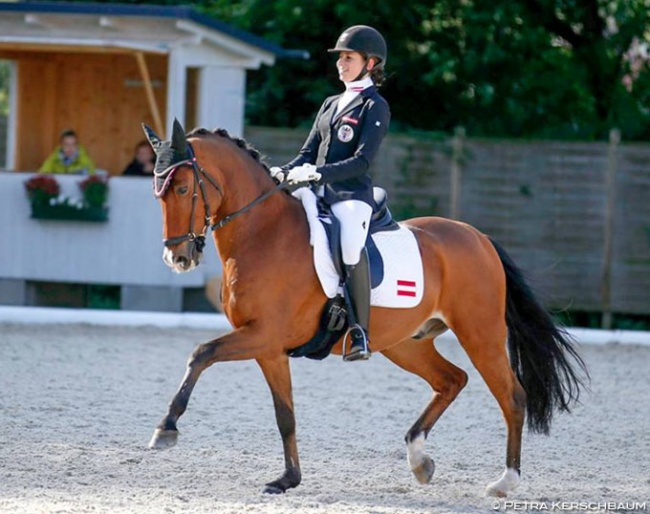 Pony rider Stallmeister, children's rider Oskar Ochsenhofer, junior rider Victoria Wurzinger, young rider Chiara Pengg, Under 25 Grand Prix rider Karoline  Valenta, and senior Grand Prix rider Belinda Weinbauer became the winners of their division at the 2018 Austrian Dressage Championships held at the Steyr Riding Club in Steyr, Austria, on 27 - 30 September 2018. 
The 2018 Austrian Championships were action packed with well filled fields across the divisions. Sixty-eight riders and 96 horses competed in 167 tests and the event was attended by hundreds of spectators. 
Stallmeister Finishes Pony Time with Title
In the pony division Pia Stallmeister built up a minimal, overall point advantage to claim the national title in the FEI pony dressage division aboard routinier Maximus, a 16-year old Holsteiner bred German riding pony (by Horsegate Minstrel x Capitol I) owned by the Pengg family. The 16-year old Pia is in her last pony year but never went to the European Championships despite being the best in her country. She scored a winning 71.795% in the first round and placed second in the second round with 70.691%. The silver medal went to Felicita Simoncic on the 11-year old Boogie de l'Aube (by Don't Worry), who slowly crept closer in the final ranking to that first place. She was second in the team test (70.342%) and was first in the second test with 71.829%. The bronze medal went to Lilly Messner on the 10-year old Helios B (by Der Harlekin B) after posting 69.53% and 70.569%.  
"I got nervous today (final day). I'm truly happy that I could grab the title in my final pony year," said Stallmeister.
Ochsenhofer Keeping His Hands Still and Goes for Children's Gold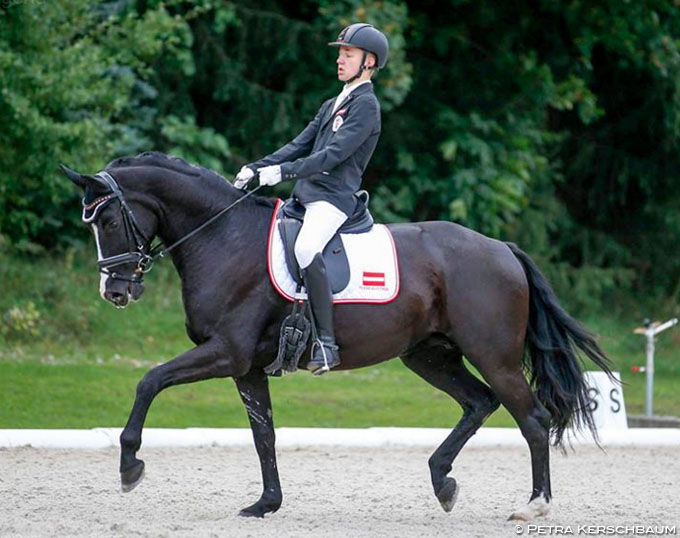 In the children's class, six combinations battled it out for the title and 14-year old Oskar Ochsenhofer crossed the finish line first with the 12-year old Hanoverian mare Sanibel (by Samarant). The combination, who trains with Peter Gmoser and Belinda Weinbauer, aced the two rounds in a winning way with 70.476% and 70.132%. Corinna Gebhard and the 6-year old Hanoverian Bellagio G (by Bonard de Charry) scored silver with 67.571% and 67.456%, while Leonie Kohlbach ended up with bronze on the 16-year old Hanoverian Lennox Lightfire (by Likoto xx) on 66.952% and 66.228%.  
"A hard fought victory, but Sanibel is a very very good horse. I have been riding the horse of my elder sister Lilli for a while now. Sanibel is so expereinced, I just have to sit her properly and make sure I don't do too much with my hands. There is still much room for improvement for me, and then we will automatically score 2% higher," said a thrilled Oskar.
Third Title for Victoria Wurzinger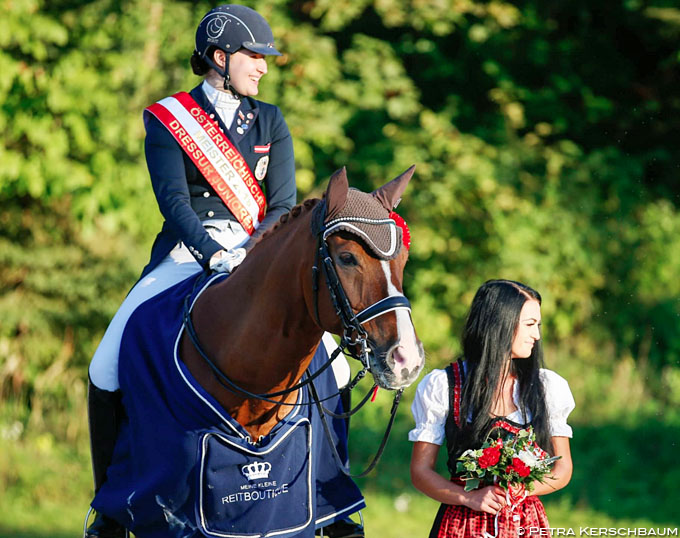 Junior rider Victoria Wurzinger grabbed her third Austrian Dressage Champion's title in her still young career; two of them are in the junior division, one as a pony rider. Aboard Sissy Max-Theurer's 12-year old Rhinelander bred Bvlgari (by Belissimo M) she was unbeatable in her division and achieved a very clear lead over the competition with winning scores of 73.468% and 74.474%. Helene Grabenwöger and the 10-year old Hanoverian Der Fuchs (by De Niro) and Paul Jöbstl and the 13-year old Oldenburg bred Coco Procol Harum (by Cheenook) were breathing down each other's neck and had a big battle for silver and bronze, ending up just 0.015 points apart fro one another. Grabenwöger got silver with 69.640% and 69.825% while Jöbstl scored 69.099 and 70.351%.
Pengg with Familiar Face Alassio's Boy to Young Rider Gold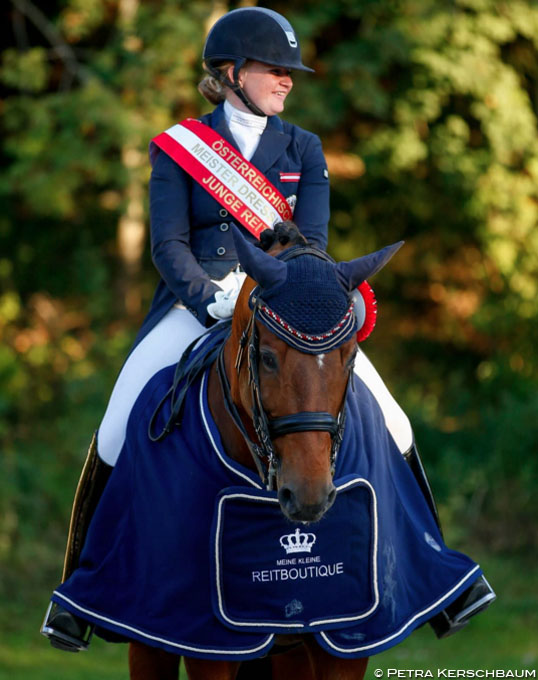 Not her 2018 European Championship ride Feliciano, but Franziska Fries' former youth rider's partner Alassio's Boy, a 16-year old Bavarian stallion by Alassio, took Chiara Pengg to the Austrian Young Rider's Champion title. The 18-year old Pengg did one international show with the big bay stallion this year, and opted for him at the Nationals. Her choice paid off but it wasn't an easy win as Nicola Ahorner made her come back to the show ring on the 14-year old Oldenburger mare Rhapsodie (by Rubin Royal) and landed the silver with a fraction of a point less in the overall ranking. Pengg scored 68,289 % and 68,632% to total 136,921 points, while Ahorner got 136,474 points with 68,132% and 68,342%.  Ahorner has not competed at any internationals this year as she focused on school. Florian Artner and the 12-year old Rhinelander gelding Fasten Seat Belt (by Furst Piccolo) got bronze with 66,816% and 66,211%.
Valenta Finishes Strong 2018 Season with U25 Title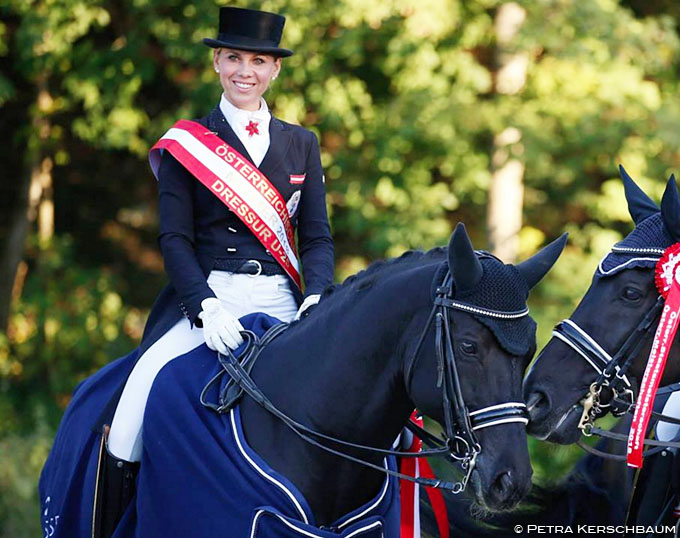 Karoline Valenta has finished a very strong 2018 show season with the national title in the Under 25 Grand Prix division. On her long-time equine partner Diego, a 12-year old Hanoverian by Desperados, she scored 71.947% and 71.349% for the gold. Franziska Fries and the 13-year old Dutch bred Atomic (by Florencio) landed silver with 70.079% and 69.698%, while Karoline Valenta's brother Oliver got bronze on the 11-year old Oldenburg bred Fantast (by Faustinus) with 69.00% and 69.628%.
"Defending my title also means saying goodbye to me,. As of next season I'll be riding Diego in the big tour and I'm looking forward to it," said the 25-year old Karoline, who also finished her Masters in Business Administration this year.
Weinbauer Claims Third Senior Grand Prix Title 
Austria's number one Grand Prix rider of the moment, Belinda Weinbauer won her third national senior Grand Prix title in her career, this time on a new horse, the rising Grand Prix mount Fraulein Auguste MJ, which she has been competing at CDI small tour level in 2017 but kept home from internationals this year. Just eight combinations contested the senior Grand Prix Championship this year.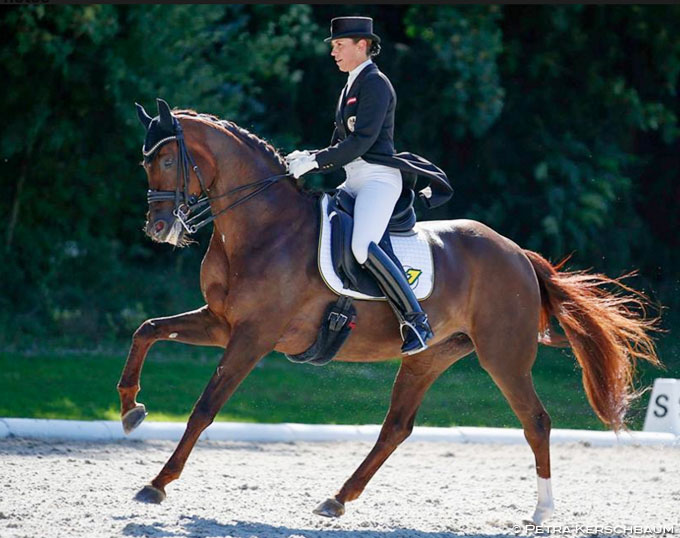 As the Austrian Equestrian Federation had set the WEG qualification standard at an unrealistically, unachievable level for its riders, Austria was not represented in dressage at the 2018 World Equestrian Games in Tryon. Weinbauer took sweet revenge by winning yet another Nationals and gold medal with the 12-year old Fraulein Auguste MJ (by Florencio), scoring 71.120% in the Grand Prix and 76.025% in the Kur to Music.  The silver medal went to Astrid Neumayer on the 18-year old Brandenburger bred Rodriguez (by Rubinstern Noir) with 70.500% and 73.800%. It was her third reserve champion's title on Rodriguez who will now be retired from sport. The bronze went to Sissy Max-Theurer's in house rider Stefan Lehfellner on the 13-year old Oldenburg Fackeltanz (by Florencio) with 68.660% and 71.325%.
"I'm ecstatic about this third title," Weinbauer commented. "Especially because I took a risk by choosing my rising star Auguste. It was her third Grand Prix and her first freestyle in her life. She showed the potential that is in her."
Results - 2018 Austrian Dressage Championships
Pony Riders
1. Maximus - Stallmeister Pia - 71,795 - 70,691 --- 142,486
2. Boogie De L'Aube - Simoncic Felicita - 70,342 - 71,829 --- 142,171
3. Helios B - Messner Lilly -  69,530 - 70,569 --- 140,099
4. Antares  - Gebhard Corinna - 68,846 -  69,106 --- 137,952
5. Chapeau - Lembacher Katja - 68,162 - 67,886 --- 136,048
6. Da Vinci  - Jöbstl Fanny - 67,265 - 67,520 --- 134,785
7. Daiquiri - Jöbstl Florentina -  64,915 - 65,000 --- 129,915
8. Domino Dancing  - Lahofer Clarissa - 63,761 -  63,984 --- 127,745
9. Der kleine Prinz - Stallmeister Paul - 63,504 - 63,984 --- 127,488
10. Mika's Bavarois - Buchinger Claudia - 62,863 - 61,585 --- 124,448
11. Bruintje - Neufeld Katja - 62,607 - 59,797 --- 122,404 
Children
1. Sanibel - Ochsenhofer Oskar- 70,476 - 70,132 --- 140,608
2. Bellagio G - Gebhard Corinna - 67,571 - 67,456 --- 135,027
3. Lennox Lightfire - Kohlbach Leonie - 66,952 - 66,228 --- 133,180
4. Heidewinde's Wesley - Hofer Emma - 65,476 -  66,228 --- 131,704
5. Sansita EMK - Schwarzlmüller Anna-Katharina - 64,143 - 66,711 --- 130,854
6. Son Salieri - Schernberger Lena - 65,857 - 64,211 --- 130,068 
Junior Riders
1. Bvlgari - Wurzinger Victoria( - 73,468 -  74,474 --- 147,942
2. Der Fuchs - Grabenwöger Helene -  69,640 - 69,825 --- 139,465
3. Coco Procol Harum - Jöbstl Paul- 69,099 -  70,351 --- 139,450
4. Northland's Crocket - Url Paul -  69,189 -  69,868 --- 139,057
5. Juno JF - Frick Jonas -  68,243 -  67,368 --- 135,611
6. Lehmann - Hohenwarter Daria - 68,288 - 67,061 --- 135,349
7. Larifari  - Erbstein Elena - 66,757 - 67,588 --- 134,345
8. Loriot - Fadrany Katharina- 64,730 -  65,482 --- 130,212
9. Riviero  - Wratschgo Lena -  65,135 - 64,868 --- 130,003
10. Flint - Hasibeder Antonia -  64,459 - 65,044 --- 129,503
11. Irish Coffee  - Hiemesch Stefanie - 65,135 - 63,246 --- 128,381
12. Dynero - Fuschelberger Carina - 64,009 - 63,553 --- 127,562
13. Witzigmann - Fellner Lisa - 62,342 - 57,851 --- 120,193
14. Tuesday - Bartl Selina - 64,234 - 55,877 --- 120,111 
Young Riders
1. Alassio's Boy - Pengg Chiara - 68,289 - 68,632 --- 136,921
2. Rhapsodie  - Ahorner Nicola Louise - 68,132 - 68,342 --- 136,474
3. Fasten Seat Belt - Artner Florian - 66,816 - 66,211 --- 133,027
4. Don Carino  - Werner Clemens - 64,947 - 64,737 --- 129,684
5. Fiderfantasy - Mogeritsch Mariella - 64,132 - 64,895 --- 129,027
6. Highlight R - Knuchel Anna - 62,316 - 66,316 --- 128,632 
Under 25 Grand Prix
1. Diego - Valenta Karoline - 71,947 -  71,349 --- 143,296
2. Atomic  - Fries Franziska - 70,079 -  69,698 --- 139,777
3. Fantast - Valenta Oliver -  69,000 - 69,628 --- 138,628
4. Don Rolando - Zorn Yvonne -  63,368 - 59,535 --- 122,903 
Senior Grand Prix
1. Fraeulein Auguste MJ - Weinbauer Belinda - 71,120 - 76,025 --- 147,145
2. Rodriguez - Neumayer Astrid - 70,500 - 73,800 --- 144,300
3. Fackeltanz  - Lehfellner Stefan -  68,660 - 71,325 --- 139,985
4. Delilah Royal - Haim-Swarovski Evelyn -  66,640 -  71,200 --- 137,840
5. Chico  - Zach Timna -  65,300 - 72,150 --- 137,450
6. Dresscode Black - Hartung Amanda - 64,700 - 70,750 --- 135,450
7. Epomeo - Ficenc Stephanie -  65,500 - 69,275 --- 134,775
8. La Panthera - Gaulhofer Fritz - 64,400 - 68,200 --- 132,600 
Related Links
Hohenwarter, Thonhauser, Wurzinger, Porsche, Gmoser, Valenta, Weinbauer Win 2017 Austrian Championships
Ahorner, Lorenz, Weinbauer Win 2016 Austrian Dressage Championships
Ahorner, Wurzinger, Pointinger, Max-Theurer Win 2015 Austrian Dressage Championships
Ahorner, Lorenz, Pointinger, Max-Theurer Win 2014 Austrian Dressage Championships
Max-Theurer Claims Eleventh Consecutive Title at 2013 Austrian Dressage Championships
Lorenz, Valenta, Zach, Max-Theurer Win 2012 Austrian Dressage Championships
Max-Theurer Untouched to Ninth Austrian Grand Prix Champion's Title
Max-Theurer Wields the Axe of Power at 2010 Austrian Championships
Scores: 2009 Austrian Dressage Championships
Fifth Consecutive Austrian Dressage Champion's Title for Max-Theurer
Victoria Max-Theurer, 2006 Austrian Dressage Champion