Trakehner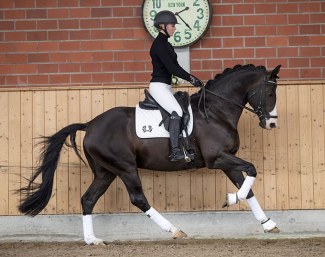 Greenwich Park became the top selling horse of the Trakehner sport horse and foal auction held during the 2018 Trakehner Stallion Licensing in Neumunster, Germany, on 19 - 21 October 2018. 
The licensed stallion Greenwich Park (by Saint Cyr) sold for the top knock down price of 130,000 euro. bred by Bernhard Langels and owned by Jana von Rönne, the stallion sold to Austria.
Ten riding horses were being sold at this auction and they achieved an average price of 41,050 euro. The second most expensive horse was Ancelotti (by Cadeau), which sold to Austria for 55,000 euro. A Hessian based client bought Nanunana (by Kasimir) for 40,000 euro. 
Sixteen colts, who did not receive the licensed status this weekend in Neumunster, were auctioned and fifteen were in fact sold. The best seller was Obama (by Millennium) which sold to Hessia for 53,000 euro.  The second most expensive non-licensed 2.5 year old colt was Bacchus (by Millennium) which sold to Austria for 20,000 euro. All other colts sold for less than 14,500 euro.
Eighteen foals were originally listed for the auction, but only 14 of them appeared for auction. Remarkable drop-out was the colt Dalerion (by Easy Game), the full brother to the German WEG team gold medal winning Dalera BB. He was expected to become the top bid of the auction.  The most expensive foal of the auction was the colt Herzsturm (by Rhenium). Bred by Franz-Jürgen Altmiks, this black colt sold for 15,000  euro. Two foals sold for 13,000 euro: Ildiko (by Rhenium), who sold to to Jessica von Bredow-Werndl in partnership with Albert Raith, and Humorist (by Ivanhoe) moves to Baden Wurttemberg. The average price for a foal was 9,642 euro.
Related Links
2018 Trakehner Stallion Licensing to Auction Foal with World Champion's Blood
Inzaghi and Iniesta, Price Highlights of 2018 Trakehner Foal Auction
Instagram Top Seller at 2016 Trakehner Elite Foal Auction
Kaiser Milton, Champion of the 2017 Trakehner Stallion Licensing