Danish Warmblood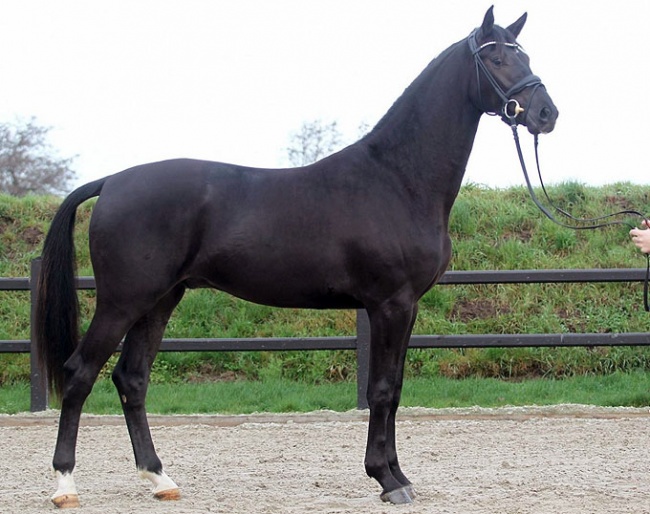 Ninety-six stallions have been entered to participate in the two pre-selection days for the 2019 Danish Warmblood Stallion Licensing which will take place in Herning at the beginning of March 2019.
The Danish warmblood society annually hosts two pre-selection days in Denmark: one in Vallensbaek and one at the DWB headquarters in Vilhelmsborg. Twenty stallions will appear in Vallensbaek on 9 December of which  9 are dressage bred, while 76 will go to Vilhemsborg on 12 December, of which 56 are dressage bred.
There will also be a pre-selection in Norway on 10 December. 
The best represented sire of the 55 entered dressage colts is Hesselhoj Donkey Boy (by ERA Dancing Hit x Milan). He will present his first crop and six colts are entered, amongst them the 2016 Danish Dressage Foal Champion Bøgegårdens Santiago Bernabeu.
Entered for the pre-selection are:
Vallensbaek
Darwin (by Hesselhoj Donkey Boy x Solos Landtinus) - Breeder: Lisbeth B. Andersen  - Owners: Dorthe og Hans Jørgen Hoeck
Staerkjaers Dream Catcher (by Dream Boy x Belissimo M) - Breeder & Owner: Kenn og Jeanette Stærkjær of Stutteri Stærkjær
Eddie Pax (by Escolar x Sandro Hit) - Breeder & Owner: Stutteri Pax of Dorrit Axel and Thomas Pensbo
Follow Your Heart (by Follow Me x Don Frederico) - Breeder: Henriette Bregendorf og Brian Hisselholm Jensen  - Owners: Dressurstald Willum Thomsen og Tina Nielsen
Fantino Selection (by Fursten-Look x Sandro Hit) -  Breeder: Stutteri Selection v/ Nanna Nobel  - Owners: Anette & Christian Gjørup
Faustino (by Furst William x Lancelot) -  Breeder: Lisbeth B. Andersen  - Owners: Sophie Feldt & Bjørn Feldt  
Baunehøjens Gulliver (by Governor x White Talisman) - Breeder & Owner: Stald Baunehøj
Genesis Lightfoot (by Grand Galaxy Win x Sam Sam) -   Breeder: Annette Lyngs & Torben Damsbo  - Owners: Sophie Feldt & Bjørn Feldt
Alløs Z (by Zalabaster x Master) - Breeder & Owner: Fam. Worre-Jensen 
Vilhelmsborg
Acruador VRAA (by Efekt x Painters Row xx) - Breeder & Owner: Rolf Hahn
Elversøes Jason (by Antobello x Benetton Dream) - Breeder & Owner: Pia Melgaard Elversøe
Amperio (by Ampere x Imperio) - Breeder: Stutteri Højagergård - Owner: Danish Performance Horses
Askari Plekaer (by Apache x Florestan) - Breeder: Anne Mette Rossen & Lars Langendorff - Onwers: Priess & Helgstrand Dressage
Brooklyn Fly (by Belantis x Gribaldi) - Breeder:  Klaus & Ida Brieghel - Owners: Susanne & Søren S. Blicher
Blue Chip (by Bon Coeur x Akribori) - Breeder: Volkhard Folkers - Owner:  Blue Hors
Boateng (by Buckingham x Stedinger) - Breeder:  Christian Hinxlage - Owner: Helgstrand Dressage
Bitter Lemon (by Borsalino x Danone) - Breeder: ? - Owner:  Priess Horses 
Ducati De Lux (by Hesselhoj Donkey Boy x Zack) - Breeder: Christian Nygaard Hansen & Nikolaj Hansen - Owner: Ib Kirk
Hesselhof Downtown (by Hesselhoj Donkey Boy x Zack) - Breeder & Owner: Dorthe & Hans Jørgen Hoeck 
Skovdals Dexter (by Hesselhoj Donkey Boy x Romanov) - Breeder: Bjarne Skovdal - Owner: Steffen Kristensen & Barnow Dressage
Hvid's Parzival (by Hesselhoj Donkey Boy x Akinos) ) - Breeder & Owner: Hvid Horses  
Vandkaers Duke (by Hesselhoj Donkey Boy x Prinz K3) ) - Breeder & Owner: Svend Erling Sørensen
Teglovnens Dr. Diamond (by Dr Watson x Floriscount) - Breeder: Heinrich Schumeier - Owner: Stutter Teglovnen
Hera's Zorell (by Dream Boy x Weltmeyer) - Breede & Owner:  Nanna Let Wittenhoff & Simon Johansen  
Dream Catcher Kilen (by Dreamline x Carano) - Breeder & Owner: Åse & Henning Urup  
Dreamy Hit Kilen (by Dreamline x Sandro Hit) - Breeder & Owner: Åse & Henning Urup
Kamar's Extreme Noir (by Escolar x De Noir) - Breeder & Owner: Stald Kamar - Owner: Morten Kappel  
Aagaardens Lionell (by First Choice x Krack C) - Breeder & Owner: Hanne Aagaard of Stutteri Aagaarden
Fruerings Saigon (by First Choice x Solos Landtinus) - Breeder: Jan Storggard - Owner: Steffen Kristensen & Barnow Dressage
Tophojs Falchetto (by Floriscount x Solos Landtinus) ) - Breeder: Anette Nilausen & Niels-Jørgen Johansen - Owners: Helgstrand Dressage & Stutteri Tophøj
Five Star Nexen (by Floriscount x Sandro Hit) - Breeder & Owner: Stutteri Nexen
Fire Dream (by For Romance x Desperados) - Breeder: Gerrit Wittmeyer - Owners: Helgstrand Dressage  & Søren Grønborg  
Figaro D (by Franklin x Bogegardens Laurino) - Breeder: Jørn Damm - Owners: Helgstrand Dressage & Søren Grønborg
Franzisco (by Franklin x Don Schufro) - Breeder: Helle Brauner - Owners: Helgstrand Dressage & Søren Grønborg
Abregas D (by Franklin x Romanov) - Breeder:Jørn Damm - Owners:  Helgstrand Dressage & Søren Grønborg  
Stengaards Fulton (by Furstenball x Milan) - Breeder & Owner:   Familien Servé
Gjeteruds Flambeau (by Furstenball x Zack) - Breeder: Kjersti Vik - Owner: Ole Jørgen Jørgentvedt
Hvid's Severin (by Fursten-Look x Zack) - Breeder:  Hvid Horses  
Lorence de Jeu (by Glamourdale x Jazz) - Breeder: Emmy de Jeu - Owner:  Helgstrand Dressage
Gunfire V (by Governor x Sir Donnerhall) - Breeder:  Iben Leere Kamp- Owner: Priess Stutteri
Leandor (by Governor x Rousseau) - Breeder: H. Bekman - Owner:  Blue Hors
Giovanni Bell (by Grand Galaxy Win x Don Romantic) - Breeder:  Tina & Nicolai Jepsen - Owners:  Helgstrand Dressage & Sølyst
JJ Glory Day (by Grand Galaxy Win x Deemster) - Breeder:JJ Horses - Owner: Ole Jørgen Jørgentvedt
Quebec (by Quaterback x Stedinger) - Breeder:   Bodil Eg - Owner: Pia Feldbak
Rock Star (by Radisson x Rouletto) - Breeder:  Verena & Matthias Pütz - Owners: Helgstrand Dressage & Søren Grønbor
Bogegardens Santiago Bernabeau (by Bogegardens Santiago x Bogegardens Laurino) - Breeder & Owner: Stina & Jørgen Schmidt
Norballes Just Do It (by Bogegardens Santiago x Michellino) - Breeder: Helle Juhler - Owners: Stina & Jørgen Schmidt  
Mjelgaard's ZZ Top (by Bogegardens Santiago x Solos Landtinus) - Breeder: Hanni & Peter Christiansen - Owner: Peter Christiansen
Schwalbenkönig Macohl (by Sezuan x Schwadroneur) - Breeder: Frank & Thomas Bach Jensen - Owners: Helgstrand Dressag & Thomas Bach Jensen
Strandagergards Spotify (by Sezuan x Don Romantic) - Breeder & Owner: Jens Jørgen Abildskov  
Saxon (by Sir Donnerhall x Graf Anhalt E) - Breeder & Owner: Helene Geervliet
Sir Helmut (by Sir Donnerhall x Benetton Dream) - Breeder:  Jaqueline Tenambergen - Owner: Blue Hors
Hesselhoj Skyfall (by Sir Donnerhall x UNO Don Diego) - Breeder & Owner:   Dorthe & Hans Jørgen Hoeck
Ranger (by Skovens Rafael x Temptation) - Breeder;  Lena & Ulrik Kristensen - Owner: Priess Horses
Teglovnens Sky Dancer (by Spörcken x Dancier) - Breeder:  Werner Strohsahl - Owner: Stutteri Teglovnen
C Cadeau (by St. Schufro x Richman) - Breeder & Owner:  Gitte & Kurt E. Christensen
Knudsmark's St. Romantic (by St. Schufro x Don Romantic) - Breeder: Christa Christensen & Thue Uhre - Owner: Blue Hors
Brandtbjergs Sacramento (by St. Schufro x Zack) - Breeder: fam. Buhl - Owner: Blue Hors
Vestervangs Transition (by Temptation x De Noir) - Breeder: Kaj & Martin Klavsen & Kirsten Svendsen - Owner: Ib Kirk og Stutteri Svalegård
 Tjornelys Torino (by Temptation x Marlon) - Breeder: Jørgen Kaspersen - Owner: Susanne & Søren S. Blicher 
Korsgards Triton (by Temptation x De Noir) - Breeder & Owner: Niels P. Balling 
Maskedals A Kind of Magic (by Vincent Maranello x Totilas) - Breeder & Owner: Helle Møller Andersen & Per Christensen
N.N. (by Zack x Furst Heinrich) - Breeder: ? -  Owner: Blue Hors ApS 
Aagaardens Zanton (by Zack x Don Romantic) - Breeder: Brian Grønkjær Bak - Owner: Stutteri Aagaarden  
EVO Dungey (by Don Olymbrio x Hotline) - Breeder: Stutteri Evo - Owner: Helgstrand Dressage &Stutteri Evo 
Related Links
Francisca Lightfoot and Bogegardens Santiago Bernabeu, 2016 Danish Warmblood Champion Foals
Dutch Warmbloods Rule 2018 Danish Warmblood Stallion Licensing