KWPN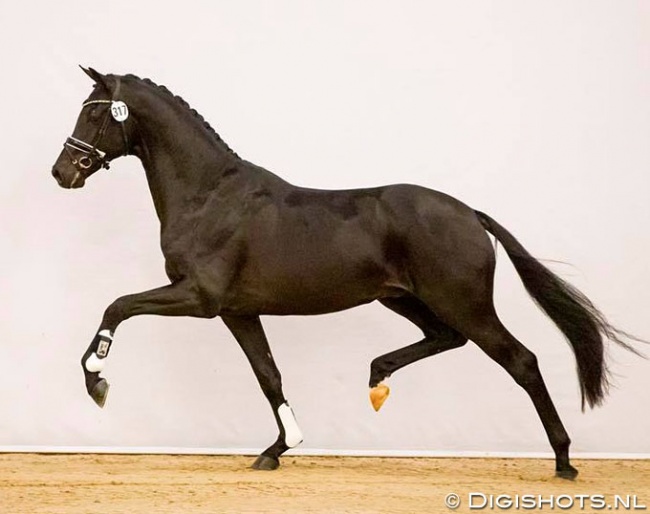 After the first two days of pre-selection for the 2019 KWPN Stallion Licensing, the Dutch warmblood licensing committee has accepted thirty-nine colts so far for the licensing in February. 
The KWPN Stallion Licensing pre-selection days are held in Ermelo, The Netherlands, and after the pre-selection of the jumpers last week, the dressage colts are up for inspection on 4 - 8 december 2018. No less than 258 dressage bred colts will be assessed over five days.
On the first day 18 colts received a positive verdict from the licensing panel chaired by Bert Rutten. Apache has three sons through to the next round, including the 8-year old small tour competed Cum Laude (out of Weltmeyer dam). Other sires with more than one offspring through were Sir Donnerhall (2), Vivaldi (2) and Zonik (3).
On the second day 49 colts were presented and 21 passed, amongst them four colts by Bordeaux and four by Desperado. Dream Boy has three offspring selected, Charmeur two.
So far accepted for the second phase of the 2019 KWPN Stallion Licensing are:
Limoncello (by Ampere x UB40)
Larentino (by Apache x Stedinger)
Liverpool (by Apache x Ferro)
Lebenicio (by Benicio x Johnson)
Leonardo da Vinci (by Johnson x Ferro)
Le Roi SW (by Morricone x Florencio)
Lionell VE (by Negro x Tenerife)
Rico (by Rosengold x Sandro Hit)
Quinto ter Ille (by Sir Donnerhall x Tuschinski)
Linvasion (by Sir Donnerhall x Krack C)
n.n. (by Totilas x De Niro)
Lugano GLN (by Trafalgar x Burggraaf)
n.n. (by Veneno x Fidermark)
Ville Valo SV (by Vivaldi x Stoiber SN)
Lamborghini Pomona (by Vivaldi x San Remo)
Lance (by Zonik x Uphill)
L.A. Zonik (by Zonik x Goodtimes)
Ladignac (by Zonik x Apache)
L'Avenue (by Bordeaux x Connaisseur)
Livius Utopia (by Bordeaux x Vivaldi)
Legend (by Bordeaux x Florencio)
Le Formidable (by Bordeaux x Ferro)
Leandro VL (by Charmeur  x Bretton Woods)
Let's Go Sollenburg (by Charmeur  x Vivaldi)
Cocktail (by Crosby x Dimaggio)
Llyr Hefo (by Cupido x Ampere)
DNA (by Dancier x Wolkentanz)
Le Dante SV (by Dante Weltino x  Jazz)
Limited Weltino STH (by Dante Weltino x San Amour)
Legend B (by De Niro x Jazz)
Leonardo AF (by Desperado x Florencio)
Lakota (by Desperado x Goodtimes)
Liberty (by Desperado x Jazz)
Lucky Luke (by Desperados x Jazz)
Leandro (by Don Romantic x Krack C)
Let There be Rock LH (by Dream Boy x Bon Bravour)
Look at Me M (by Dream Boy x Flemmingh)
Latte Macchiato TC (by Dream Boy x Jazz)
Lest of Lantana (by Sir Donnerhall x Hemmingway)
Cum Laude (by Apache x Weltmeyer)
Photo © Digishots
Related Link
Governor, Top Producer for 2019 KWPN Stallion Licensing Pre-Selection Days