2018 CDI-PJYR Aachen Indoor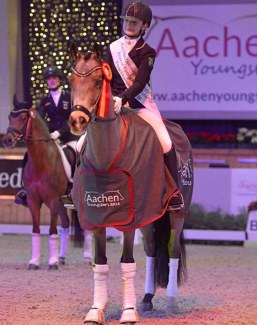 Pony rider Johanna Kullmann, junior rider Romy Allard, and young rider Kirsten Biermann became the allround winners of the 2018 Aachen Dressage Youngsters, the international indoor competition for youth riders on 7 - 9 December 2018. 
Seventeen combinations competed in the pony division and Johanna Kullmann and her 14-year old Westfalian bred Champ of Class (by Champion de Lue x Dornik B) topped the leader board on each individual competition day as well as in the final ranking. Scoring 71.095% in the team championship test, 72.387% in the individual test and 75.125% in the kur to music to total 218.607 points, Kullmann stayed overall two percent ahead of the second placed allround combination, Shona Benner on the 8-year old Weser Ems bred Der Kleine Sunnyboy (by Der Feine Lord x Valentino). Benner totaled 216.594 points. Danish Frederikke Gram Jacobsen was the only "foreign" rider to break through the German wall of five pairs in the top six. Jacobsen and the 15-year old Westfalian bred Gee Gee (by Going East x Nansen) landed third place with 212.012 points.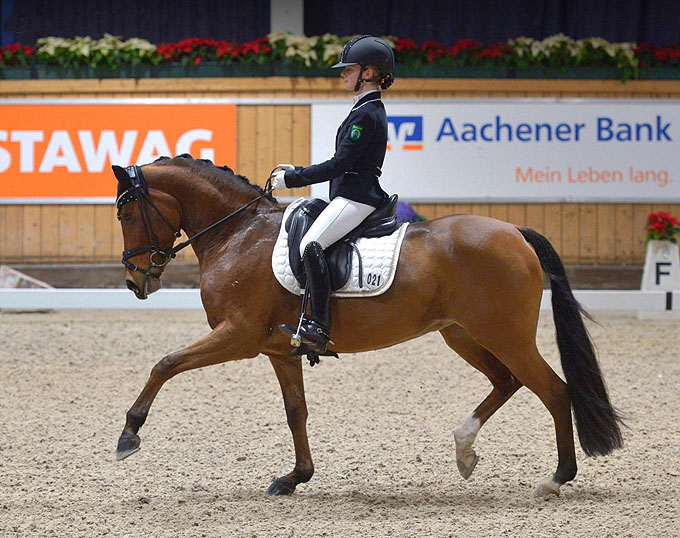 "Aachen is a fantastic place to compete: the competition and preparation areas, stables and of course the team are perfect," said Kullmann who is trained by Rosi Kemper. "I competed 2 ponies. It was my first international competition with Orchid's Syria and I rode Champ of Class. They were great. Orchid's Syria won the team test and became second in the individual test. Champ of Class became second in the team test, won the individual test and also the freestyle. Unfortunately I was only allowed to start with one of them in the Kur."
The junior division was the largest one of the 2018 CDI-PJYR Aachen Indoor with 25 pairs competing. European Championship silver medal winner Romy Allard and her 9-year old Oldenburg mare Summer Rose OLD (by Sir Diamond x Rubinstein) topped the overall board with 220.003 points after winning the team test with 73.030% and the individual test with 72.598%. They were third in the freestyle with 74.375%. Elisabeth von Wulffen and the Richter family's 12-year old Westfalian gelding Babylon (by Belissimo M x Florestan) were second overall with 217.172%. The new duo improved each day moving from third to second to first place on the weekend. Pony rider Lucie-Anouk Baumgurtel has begun gaining mileage in the junior division on her 9-year old Hanoverian mare Sweetheart (by Scolari x Hohenstein). She finished third overall with 215.213 points. 
"Aachen Youngstars is one of my favourite competitions of the year, because the atmosphere is amazing," said Allard who trains with Anna Abbelen. "The conditions are perfect and it was an honour to ride there. The competition went nearly perfect. Sissi was very calm, as always, and it was so much fun to ride her. Of course I had a few expectations about this weekend but I didn't expect to win it. Therefore I am especially happy about our success. Sissi and I tried to improve our expression in the trot and canter work and we especially improved our walk pirouettes."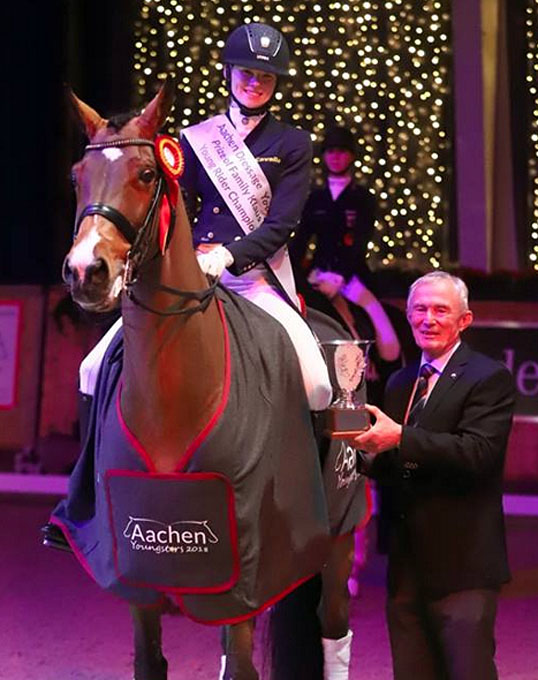 Twenty-two young riders brought small tour level action to the Aachen indoor arena. Kristin Biermann and the 14-year old Dutch warmblood Zwetcher (by Sir Sinclaire x Jetset D) were solid and aced the overall ranking with 225.027 points after placing second in the team test with 73.333% and winning the individual and Kur to Music with 74.069% and 77.625%. Lia Welschof and her 11-year old Hanoverian Linus K (by Locksley II x Prince Thatch xx) were second overall with 217.650 points, while Linda Erbe and the 8-year old German Sport Horse bred Fierro (by Furst Wettin x Eskadron) were third with 214.436 points. 
Photos © Aachen Dressage Youngsters
Related Links
Scores: 2018 CDI-PJYR Aachen Indoor
Treffinger and Top Queen H on Song at 2017 CDI-PJYR Aachen
Rohmann and Holzknecht Top Divisions at 2017 CDI-PJYR Aachen