Finland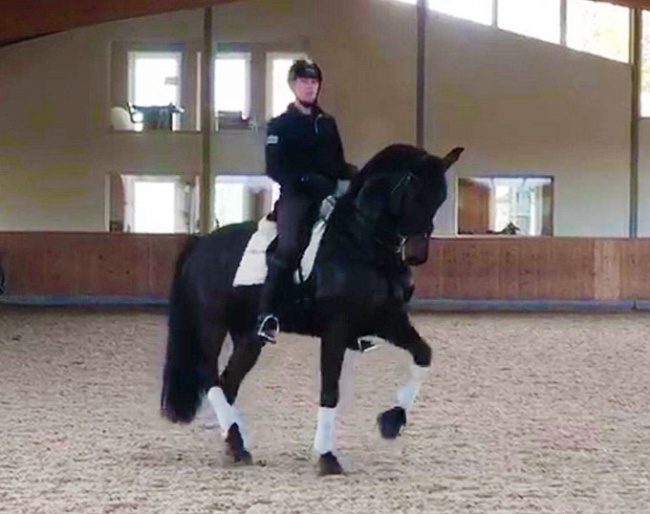 For Finnish Grand Prix rider Henri Ruoste the year 2018 gave many reasons to celebrate. Not only has he been able to sell some exciting horses with business partner Jochen Arl, but he has also been able to build his own thriving sales and training business at Gut Bertingloh in Menden, Germany, while at the same time welcoming his first child with partner Senta Kirchhoff. 
2018 a Year of Success
One of the most successful horses this year, which Ruoste trained and sold with Jochen Arl is Flora Keller's Famoso OLD. Henri schooled the horse the beginnings of the Grand Prix work after which Benjamin Werndl took over the ride. The new pair became the reserve champion at the 2018 Louisdor Cup Finals for Developing Grand Prix horses in Frankfurt last week.
Other stars that were shaped at Bertingloh are Steffen Peters' Rosamunde, Agnete Kirk Thinggaard's Jojo AZ, as well as Anna Kasprzak's Rock Star, who is following in Don Perignon's footsteps, Laurence Vanommeslaghe's Ibanero van de Vogelzang, Hiroyuki Kitahara's Olympic hopeful Huracan, and Tinne Vilhelmson's up and coming Grand Prix horse Etoine.
Ruoste relies on Jochen Arl's scouting ability to find, buy and train international calibre dressage horses. Arl sourced American bronze WEG team medal winning horse Salvino for Adrienne Lyle and Steffen Peters' 2017 World Cup Finals' ride Rosamunde, for instance. He also has the Tokyo Olympic hopeful Equestricons Lagerfeld K in training with Spanish Borja Carrascosa at the moment. 
Focus on Sales and Competition in 2019
Bertingloh has become the nursery for Grand Prix horses. With no less than 17 Grand Prix level trained horses in his barn at this moment, Ruoste has top material to work with and welcomes buyers from all over the globe interested in professionally trained stars for the future.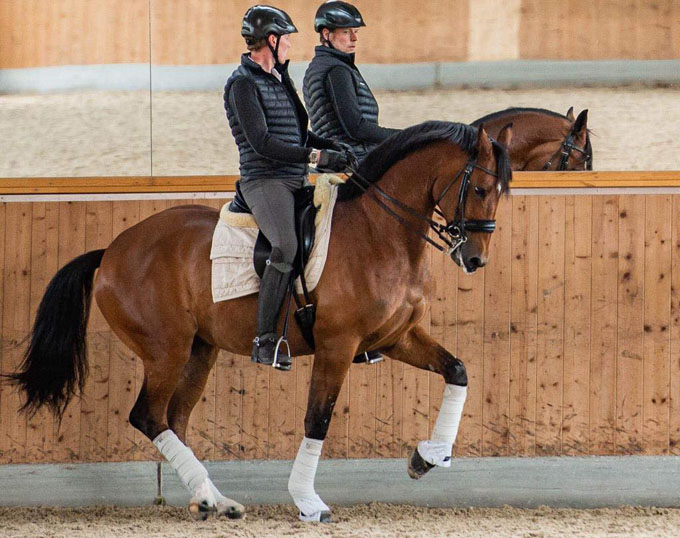 This year, Henri has been competing two Grand Prix horses on the international show circuit: with the 13-year old Hanoverian Roccabar (by Riedinger) he won the April CDI in Aachen and with the 10-year old Danish warmblood Rosetti (by Romanov) he achieved high placings at the CDI's in Helsinki and Randboel. 
With a small team of young riders assisting him in the daily work at Bertingloh, Henri will have more time to compete as of 2019. 
"I want to try for the Finnish team for the 2019 European Championships in Rotterdam and aim for the Olympic Games in 2020," said the sympathetic Fin, who will begin his campaign in 2019 with the CDI Le Mans Indoor in February. "I feel that my business is now more settled. I can take care of my studentss and with Gonzalo Castillo Arroyo as an assistant rider, I feel I have more time to compete again."
Bertingloh is the training ground for a group of riders from all nationalities, amongst them Japanese Hiroyuki Kitahara (Huracan), Palestinian Christian Zimmermann, Korean Chi Su Kim, and German Anna Athens. 
Kontestro, Star for the Future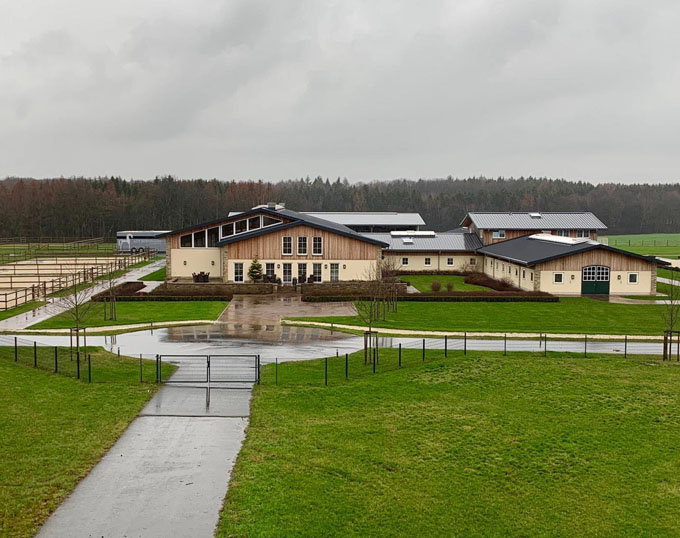 Henri has especially high hopes for his new power house, the 8-year old Belgian warmblood gelding Kontestro (by Contendro x Cassini). Jochen Arl discovered the big bay in Belgium, where he was originally trained by Nick van Laer for a future career in eventing. However, the stellar mover has so much power and athleticism in the tank that a path in dressage is the right road. The impressive bay arrived at Henri's a year ago and is now playing with the Grand Prix work at home. He is a clear star for the future and Henri aims to make his show debut with him in 2019.
Ruoste has several international calibre Grand Prix horses for sale in the barn and is always scouting for more budding talent.
"The difference with other sales yard is that at Bertingloh we have a big group of Grand Prix level trained horses for sale," said Ruoste, "and not just fresh young horses. We have proven ourselves by selling many nice horses and getting the appreciation from the owners. With my team set up at Bertingloh, there is now extra time to scout for more diamonds in the rough and to compete them this year."
Discover Gut Bertingloh at www.gut-bertingloh.de
Photos ©  private
Related Links
Freshman Victory for Henri Ruoste's Roccabar in 2018 CDI Aachen Grand Prix for Kur
2012 KWPN Licensing Champion Etoine Sold to Antonia Axson Johnson
Carrascosa and Equestricons Lagerfeld K Off to a Flying Start in the Grand Prix Ring
Jochen Arl Shifting Gears, Putting Henri Ruoste in Drivers' Seat of Horse Sale Business