KWPN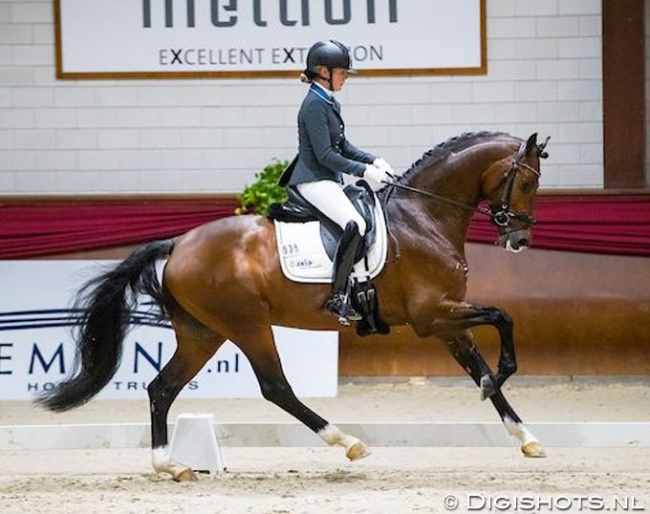 The 4-year old Jameson, the 5-year old In Style and the 6-year old Hermes became the winners of the third and last qualifier for the 2019 KWPN Stallion Competition Finals which will be held in 's Hertogenbosch on 1 February 2019.
The third qualifier out of three took place in Zuidbroek, The Netherlands, on 28 December 2018.  The KWPN Stallion competition is mandatory for Dutch warmblood licensed stallions born in 2014 and 2015. 
For the third time in a row, Marieke van der Putten and RS2 Dressage's Jameson (by Zack x Negro) won the L-level division, this time with 93 points. The black stallion, who was the 2017 KWPN licensing champion, scored 9.5 for trot and 10 for canter. Judge Frenk Jespers praised Jameson for his good movement mechanics in trot and canter and self carriage. Renate Van Uytert-van Vliet placed second aboard Johnny Depp (by Bordeaux x Jazz) on 89 points. She was also third on Just Wimphof (by De Niro x Riccione) who was the 2017  KWPN spring performance test winner. 
At M-level Van Vliet moved into the winner's circle aboard In Style (by Eye Catcher x Lorentin). The bay stallion scored 89 points after receiving 9s for trot, canter, harmony and general impression. Van Vliet has even more to celebrate as she is 21 weeks pregnant with her first child with husband Joop van Uytert. Bart Veeze and Theo Driessen's Imposantos (by Wynton x Krack C) landed second place with 88 points. Emmelie Scholtens and the beautiful Indian Rock (by Apache x Vivaldi) were third with 86 points. 
At Z-level Dinja van Liere scored her third victory aboard Hermes (by Easy Game x Flemmingh). The pair totaled 85 points and edged out Italian Riccardo Sanavio on the Austrian owned and German bred Trafalgar (by Totilas x Lord Loxley) who finished second with 84 points. Van Liere completed the top three with Geniaal (by Vivaldi x Biotop)
Photo © Digishots
Results - 2018-2019 KWPN Stallion Competition - Zuidbroek
4-year olds/L-level
1. Marieke van der Putten - Jameson - 93
2. Renate van Vliet - Johnny Depp - 89
3. Renate van Vliet - Just Wimphof - 87
4. Franka Loos - Jayson - 81
4. Kirsten Brouwer - Joyride - 81
6. Theo Hanzon - Johnny Cash - 80
6. Gerrel Vink - Jheronimus - 80
8. Bart Veeze - Jerveaux - 79
9. Emmelie Scholtens - Jamaica - 79
10. Eric van den Wildenberg - Jones - 78
11. Dinja van Liere - Joop TC - 75
12. Eva van der Linde - Jerenzo Texel - 74
Kim Koolen - For Ferrero - ELI
5-year olds/M-level
1. Renate van Vliet - In Style - 89
2. Bart Veeze - Imposantos - 88
3. Emmelie Scholtens - Indian Rock - 86
4. Joyce Lenaerts - Iconic B - 83
5. Diederik van Silfhout - Impression - 80
6. Femke de Laat - Intro K - 78
6. Charlotte Fry - Inclusive - 78
6. Laura Reija Belaert - Imagine - 78
9. Diederik van Silfhout - Il Divo - 77
10. Franka Loos - Inverness - 76
10. Nicky Snijder - I'm Perfect STH - 76
6-year olds/Z-level
1. Dinja van Liere - Hermes - 85
2. Riccardo Sanavio - Trafalgar - 84
3. Dinja van Liere - Geniaal - 84
4. Jennifer Sekreve - Hitmaker - 80
5. Remy Bastings - Hennessy - 75
Related Links
Jameson, Imposantos, In Style, Hermes Win Second Qualifier for 2019 KWPN Stallion Competition Finals
Jameson, Imposantos, Hermes Win First Qualifier for 2019 KWPN Stallion Competition Finals