2019 CDN Munster Indoor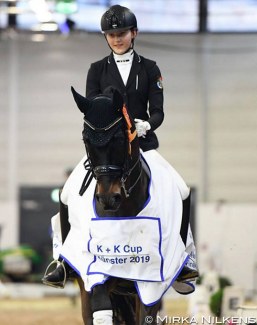 Junior rider Emma Gömmer and young rider Alexa Westendarp became the winners of the "Preis der Zukunft" (Prize of the Future) which is held annually at the CDN Munster K+K Cup, the first big national indoor show of the new year in Germany. The 2019 CDN Munster Indoor featured a team championship warm up test and then the Individual Test on Sunday 13 January 2019 to determine the winner of the Preis der Zukunft.
Brand new faces graced the top of the ranking in the junior riders' division, which felt like a  fresh breeze clearing through the field. The 16-year old Emma Gömmer, who rode in Munster for the very first time, wielded the axe of power, winning the warm up round as well as the finals test. Aboard her 16-year old Oldenburg gelding Sir Robin Off Loxley (by Sandro Hit x Donnerschwee) she scored a winning 71.886% to claim her first big victory in her junior career. New comer Emely van Loon captured second place aboard the 10-year old Baden Wurttemberger bred FBW Despereaux (by Don Diamond x Abanos) on a score of 70.746%. Another new comer at the level, Lily Bendig and the 9-year old Hanoverian gelding Boscolo (by Ballettmeister x Conteur) were third with 70.088%.
"It is out of this world how that went," said a gobsmacked Gömmer who lives all the way in the south of Germany. "This our biggest achievement together so far."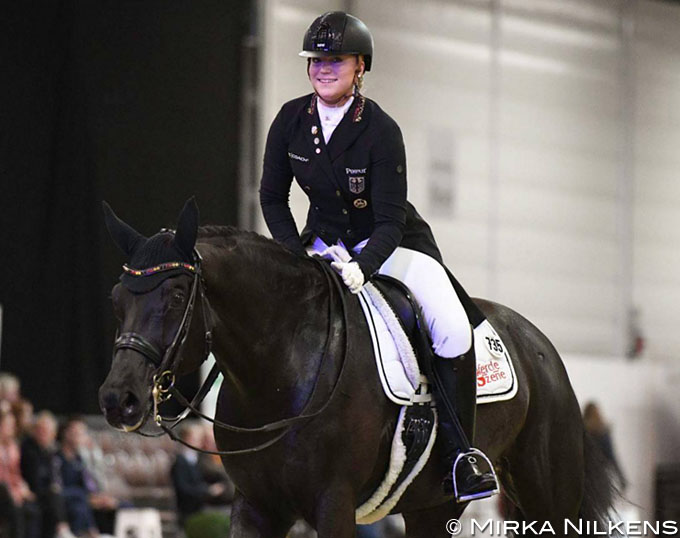 In the young riders' division it were the familiar faces that got the highest scores from the judges. Last year's winner Alexa Westendarp was on repeat, this year winning with her second ride, the 8-year old Hanoverian mare Four Seasons (by Furstenball x Fidertanz) with whom she won team gold at the 2018 European Young Riders Championships last July. In Munster the pair grabbed the victory on a score of 73.377%. Westendarp has chosen for a professional career in horses and is currently working as an assistant trainer at Hof Kasselmann. Her father Johannes is a renowned dressage horse breeder and trainer. Alexa's German team mate Lia Welschof saddled her second horse Linus K, a 12-year old Hanoverian by Locksley II x Prince Thatch xx, and finished second in Munster with 72.237%. 2015 German team rider Rebecca Horstmann and her 11-year old Oldenburg Friend of Mine (by For Compliment x Rubinstein) were third with 71.754%
"She is so much fun. She is sweet that she presents herself so well as such shows, how pretty she is and how well she moves. In our barn she's called Black Beauty," said the 21-year old Alexa Westendarp about her home bred mare Four Seasons. "Four Seasons developed so much. Last year I rode her in her first S-level test in Munster here, in which she did well. Then we were selected on the team for the Europeans, and now we won here," she gushed.
Photos © Mirka Nilkens
Related Links
Scores: 2019 CDN Munster Indoor
Erbe and Westendarp Win Preis der Zukunft at 2018 CDN Munster
Welschof and Rothenberger Win the Preis der Zukunt at the 2017 CDN Munster Indoor
Rothenberger and Abbelen Shine in Preis der Zukunft at 2016 CDN Munster
Kienbaum and Piotrowski In Front in Preis der Zukunft at 2014 CDN Munster
Christin Schütte Wins 2007 Preis der Zukunft at CDN Münster