Westfalian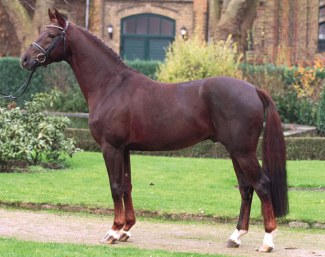 The 20-year old Rhinelander licensed stallion Fiano has passed away in December following a heart attack. 
Fiano was owned by the Westfalian state stud and only recently left his long time home in Warendorf. In August 2018, the liver chestnut sent to Crawinkel, Germany, where he became part of the wild life and nature protection project "Thuringeti".
The Thuringeti project has 600 horses living in freedom on 2,500 hectares of land. Fiano was not immediately released into the wild but was turned out daily and stayed in a box at night. In December, Fiano succumbed to a heart attack after returning from the paddock to his box. A necropsy revealed this cause of death.
Heinz Bley, managing director of the Thuringeti project, told Reiter Revue that "we are very sad that Fiano was with us so short. He was a fun stallion with a good character and would definitely have made a few nice foals." 
Fiano was vy Fidermark x Fruhlingsball x Fidelio x Lucino and was bred by Eberhard Schulte-Böcker. 
He was a premium stallion at the 2001 Westfalian Stallion licensing. He did his stallion performance tests in 2002 and scored 8.04 points in the 30-day testing and 146.03 index points in the 70-day test. He competed at the 2004 Bundeschampionate for 5-year olds and was shown just up to M-level. His last competition was in 2011 under Rebekka Rösler. 
Fiano sired only one licensed son, Frappucino, who never bred. Fiano's most successful offspring in sport is First Edition (Dominique Bunse).
Related Links
Westfalian Fiano Joins Nature Protection Project Thurengeti