2018-2019 KWPN Stallion Competition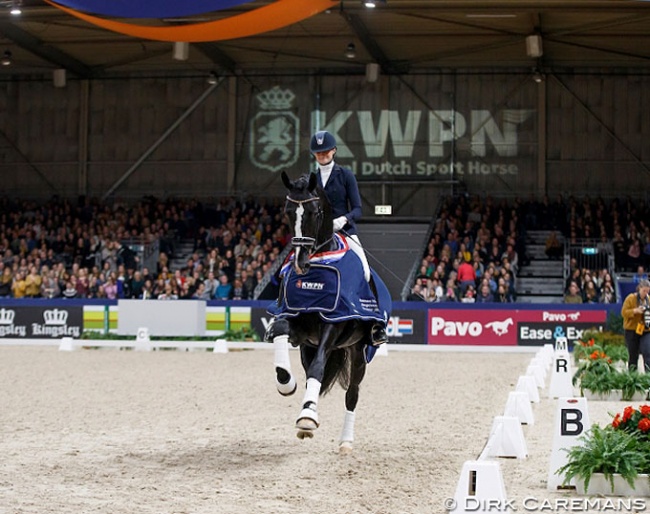 The 5-year old Jameson, the 6-year old Imposantos and the 7-year old Hermes became the winners of the 2019 KWPN Stallion Competition Finals held in 's Hertogenbosch, The Netherlands, on Friday 1 February 2019. 
The finals were judged by Dutch 5* judge Mariette Sanders-van Gansewinkel and Toine Hoefs.
In the L-level division, Marieke van der Putten and Jameson (by Zack x Negro) were unbeatable. The black 2017 KWPN licensing champion scored a 10 for canter and a 9 for trot. In walk the judges wanted to see more ground cover despite the clear rhythm. Franka Loos and Jayson (by Johnson x Negro) became the reserve champion with a total of 80 points. He was praised for the power in his canter but needed to have a bit more length in the neck. Five stallions in total competed for the title, but thirteen stallions in total competed in this class in Den Bosch. 
At M-level Bart Veeze and the black Imposantos (by Wynton x Krack C) captured the title with 94 points in the finals. The stallion raked in several 9.5 marks for his presentation. Emmelie Scholtens and the bay Indian Rock (by Apache x Vivaldi) became the runners-up with 89 points. The canter was praised as highlight gait of the 2016 KWPN licensing champion. Four stallions competed for the title but eight more stallions were presented there. 
In the smaller Z-level division, Dinja van Liere and Hermes reigned supreme with 88 points. The Easy Game x Flemmingh offspring scored a 9 for harmony and was praised for his suppleness and cadence in canter. Van Liere finished second on her second horse, Geniaal (by Vivaldi x Biotop), with 88 points. He got a 9 for trot and canter. Just two horses competed in the finals, while three more were presented in the class
Results - 2019 KWPN Stallion Competition
Rider - horse - score qualifiers - score finals -- overall total
L-level
1. Marieke van der Putten - Jameson RS2 - 279 - 91 --- 370
2. Franka Loos - Jayson - 246 - 80 --- 326
3. Gerrel Vink - Jheronimus - 240  - 81 --- 321
4. Theo Hanzon  - Johnny Cash - 239 - 80 --- 319
5. Kirsten Brouwer - Joyride - 237 - 79 --- 316
M-level
1. Bart Veeze - Imposantos - 265 - 94 --- 359
2. Emmelie Scholtens - Indian Rock  - 260 - 89 --- 349
3. Esmee Donkers/Renate van Vliet - In Style - 262 - 85 --- 347
4. Joyce Lenaerts - Iconic B - 253 - 86 --- 339
Z-level
1. Dinja van Liere - Hermes - 256 - 88 --- 344
2. Dinja van Liere - Geniaal - 248 - 88 --- 336
Complete results: L-level / M-level / Z-level
Photo © Dirk Caremans
Related Links
Jameson, In Style, Hermes Win Third Qualifier for 2019 KWPN Stallion Competition Finals
Jameson, Imposantos, In Style, Hermes Win Second Qualifier for 2019 KWPN Stallion Competition Finals
Jameson, Imposantos, Hermes Win First Qualifier for 2019 KWPN Stallion Competition Finals
Previous Winners
Imposantos, Total U.S., Gunner KS Win 2018 KWPN Stallion Competition
Trafalgar, Toto Jr, Four Legends Win 2017 KWPN Stallion Competition Finals
Toto Jr, Ferdeaux, and Electron Win 2015-2016 KWPN Stallion Competition Finals
El Capone, Desperado, Cupido Win 2013-2014 KWPN Stallion Competition
Desperado, Charmeur, Bordeaux Win 2012-2013 KWPN Stallion Competition Finals
Chippendale, Bon Bravour, and Apache Win 2011-2012 KWPN Stallion Competition
Bon Bravour, Amazing Star and Zhivago Win 2011 KWPN Stallion Competition Finals
Andretti, Zhivago and Wynton Win 2010 KWPN Stallion Competition
Zizi Top, Wynton and Vivaldi Win 2009 KWPN Stallion Competition
Wynton, Johnson, Dreamcatcher Win 2008 KWPN Stallion Competition Finals
Uptown, Tolando and Florencio Win 2006 KWPN/KNHS Stallion Competition Finals
Sandreo, Scandic and Rhodium Win 2005 KWPN/KNHS Stallion Competition Finals
Scandic, Ro-Lex and Prestige VDL 2004 KWPN Stallion Competition Winners
Rousseau, Paddox and Rubels Win 2003 KNHS/KWPN Stallion Competition