Ireland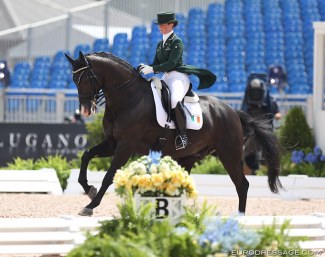 Judy Reynolds is The Irish Field Dressage Rider of the Year for 2018.  
Judy became the first ever Irish Dressage rider to reach the Grand Prix Kür (Freestyle to Music) final at a World Equestrian Games, in Tryon, North Carolina, USA last September.
Unfortunately, the final was cancelled due to the adverse weather conditions associated with Tropical Storm Florence at the North Carolina venue.
This is the sixth time Judy has won The Irish Field Dressage Rider of the Year award as she closes in on Anna Merveldt's record haul of eight awards.  Judy was presented with The Irish Field Dressage Rider of the Year award by Leo Powell, Editor of The Irish Field at the awards lunch in the K Club, Straffan, Co. Kildare, Ireland on Monday, February 11, 2019.
The Irish Olympian moved up nineteen places to 35th in the latest FEI world individual dressage rankings.  Judy set a new Irish international Grand Prix Kür record score of 80.29% with the 17-year-old Jazz gelding Vancouver K, owned by her parents Joe and Kathleen Reynolds, at the eighth leg of the FEI Dressage World Cup™ 2018/2019 Western European League in Amsterdam, The Netherlands last month.
Italian based Anna Merveldt still holds the record of having won the Irish Field title 8 times.
Previous winners of The Irish Field Dressage Rider of the Year Award (first awarded in 1997) are as follows:-
1997 - Yvette Truesdale
1998 - Heike Holstein (1)
1999 - Katy Price
2000 - Anna Merveldt (1)
2001 - Anna Merveldt  (2)
2002 - Anna Merveldt  (3)
2003 - Heike Holstein (2)
2004 - Anna Merveldt (4)
2005 - Heike Holstein (3)
2006 - Anna Merveldt (5)
2007 - Heike Holstein (4)
2008 - Judy Reynolds (1)
2009 - Anna Merveldt (6)
2010 - Anna Medveldt (7)
2011 - Anna Merveldt (8)
2012 - Helen Kearney
2013 - Roland Tong
2014 - Judy Reynolds (2)
2015 - Judy Reynolds (3)
2016 - Judy Reynolds (4)
2017 - Judy Reynolds (5)
2018 - Judy Reynolds (6)
Related Links
Judy Reynolds Named Irish Field Dressage Rider of the Year 2017
Judy Reynolds Named the Irish Field Rider of the Year 2016
Reynolds and Dunphy Win 2015 Irish Field Award
Judy Reynolds Is Irish Field Dressage Rider of the Year 2008
Merveldt Wins The Irish Field Dressage Rider of the Year Award for Record Sixth Time
Heike Holstein Wins Irish Field Award for Third Time
Merveldt Steffens Wins Her Fourth Irish Field Award