Russia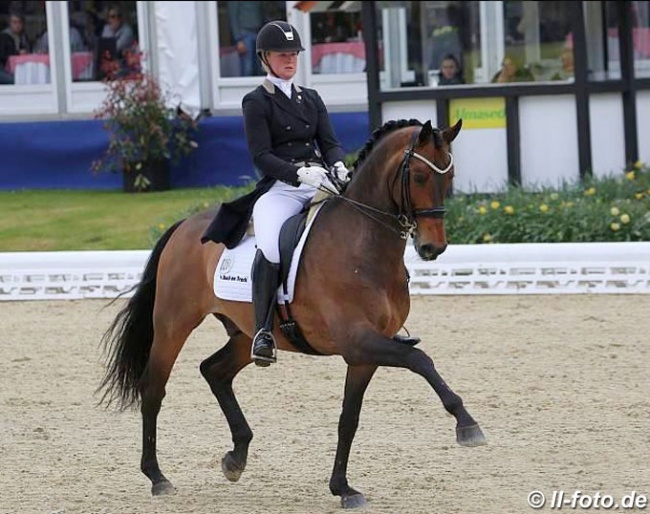 German based Russian Grand Prix rider Elena Starr has acquired the 9-year old Dutch warmblood Foreign Affair as her hope for the future. 
Foreign Affair is by Rock Forever x Scandic x Cocktail and was originally named Filur. He is bred by Dutch veterinarian Jan Greve.
Foreign affair first made the international spotlight two years ago. Breeder and owner Greve sent the horse to Patrik Kittel's stable in 2016 for training and to be sold. Under Kittel's assistant trainer Swedish Malin Nilsson he scored 74.976% in the Nurnberger Burgpokal qualifier at the 2017 CDI Hagen and drew the attention of Sven Rothenberger. 
Rotheberger acquired the bay gelding in partnership with sponsor Ralph Uwe Westfhoff and the horse was competed nationally by Sanneke and Semmieke Rothenberger between July 2017 and April 2018. Remarkably after 12 months the horse was returned to Kittel to be sold again.  Nilsson climbed back on board and won the small tour division at the 2018 CDI Flyinge. 
The Riesenbeck based Elena Starr, who purchased Hiltrud Mohrmann's yard as her base, purchased Foreign Affair in February. 
"I think he is one of the best Small Tour horses and Malin did an amazing job with his schooling up to Grand Prix level," Starr told Eurodressage. "I needed a horse with a lot of quality and competition experience. I think he is the right one and I have a chance to be in the national team in the future."
The combination already made its show debut at a local show in her home town on 16 - 17 March 2019.
"I plan to ride a few local national shows to get to know each other better and to ride Small Tour in Hagen and Compiègne," she said. "Depending on how good it will be I will continue the small tour or move to Inter II."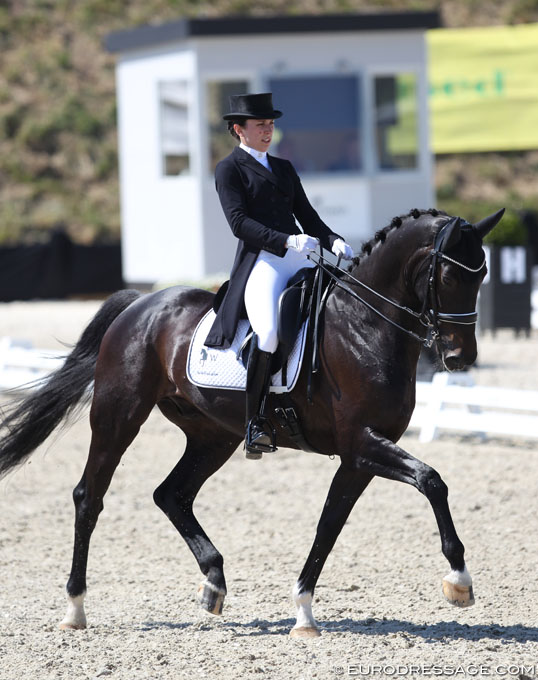 Starr made her international show debut at small tour level in 2017 aboard Aleksandr Lukianchuk's 13-year old Bryan. She has also been competing Avantgarde (by A La Carte x Magnum) and La Manche (by Lauries Crusador xx Weltmeyer) in Germany at national level. 
At the end of the summer of 2018 Helen Langehanenberg got Bryan in training for Starr and she competed him successfully at the CDI Herning in October 2018.
"At the moment I keep 3 horses at Helen's  stable, the rest are located in my stable in Riesenbeck," Elena explained. "Bryan needs a lot of control from the rider during the test, but I'm riding only 6 years and don't have enough experience. Many people told me that he has no quality and Helen is the only one who saw the potential and found the way in his daily training. They won two times the Intermediate 2 in Ankum this year. We decided to keep Bryan in training with Helen at least for this season. She is going to take him to Grand Prix level and compete him. So I plan to ride him when he will have more confidence in the ring."
Photos © LL-foto -  Astrid Appels
Related Links
Malin Nilsson, A National Victory with a Foreign Affair at 2018 CDI Flyinge
Westhoff and Rothenberger Acquire Foreign Affair
Nilsson and Foreign Affair Win Nurnberger Burgpokal Qualifier at 2017 CDI Hagen
Becks and Nilsson Score First Victories at 2017 CDI Hagen