2019 Australian Young Horse Championships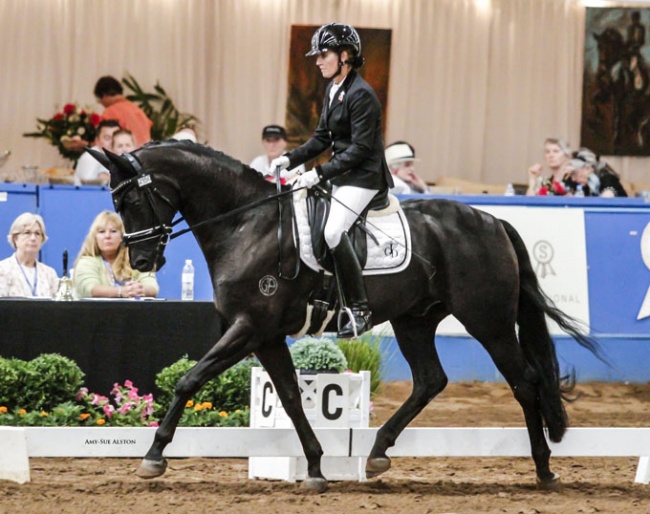 The 4-year old Sonic K, the 5-year old Willingapark Emotion, the 6-year old Bertone and the 7-year old Bluefield's Doris Day became the winners of the 2019 Australian Young Horse Championships held at the CDI-W Dressage & Show Jumping with the Stars (DJWTS) in Werribee, Australia on 21 - 24 March 2019.
Performance Sales International has been the year-long sponsor of the Australian Young Horse Championships at Dressage with the Stars and was represented by François Kasselmann on the scene. 
Sonic K in Front
Karen Blythe and the black Sonic K (by Stedinger x Weltmeyer) landed the title in the 4-year old division. The pair was on strong form in Werribee, placing second in the warm up round with 78.20% and then moving up to the gold medal first place in the second round on a score of 78.400%. Blythe discovered 'Sully' as a foal in Australia and saddle broke and trained him herself with the help of coach Maree Tomkinson. The winning pair had silver medalists David McKinnon and Terry Snow's Fangio (by Flanell x Laurentio) certainly on their heels as the duo won the warm up round with 80.20% but dropped to second place in the fianls with 77.80% Bronze went to Justine Greer aboard the Australian bred Desert Sands Isle of D Bling (by Somerset D'isle x Isle of Quest). They made a big leap on the board from seventh place in the first round (76.20%) to finish third in the finals with 75.600%.
Blythe took to Facebook and said, "Oh my god, so something pretty amazing happened for me today. We won the Champion 4-yr-old at DJWTS 2019. Certainly one of the most special and unexpected achievements I've had in my riding career. So much thanks to my friend and coach, Maree Tomkinson for all her support and wisdom - very much appreciated."
Parbery and Emotion in Command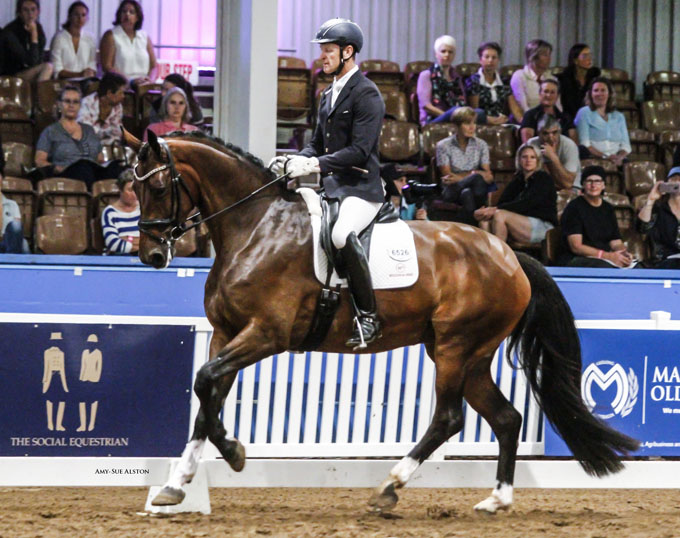 A similar scenario happened in the 5-year old division. Brett Parbery and Terry Snow's Willingapark Emotion (by Equitaris x Florestan) were the runners-up in the warm up round with 81.000% but when it truly mattered they topped the board in the finals for gold on a score of 80.80%. They had swapped places with Jayden Brown, who has returned to Australia after having worked two years at Emma Blundell's Mount St. John in the U.K. Brown and Quincy B (by Quaterback x Desperados) were first in round one (82.20%) but didn't pull it off in the finals and still got a solid silver with 78.80%. Greer repeated her leap on the board also on Sharon McCombe's Australian bred Yarramee Fonzie (by Firestone x Polansky). After a sixth place in the first round (76.40%) she got another bronze by scoring 75.80% in the Finals. 
Bertone Best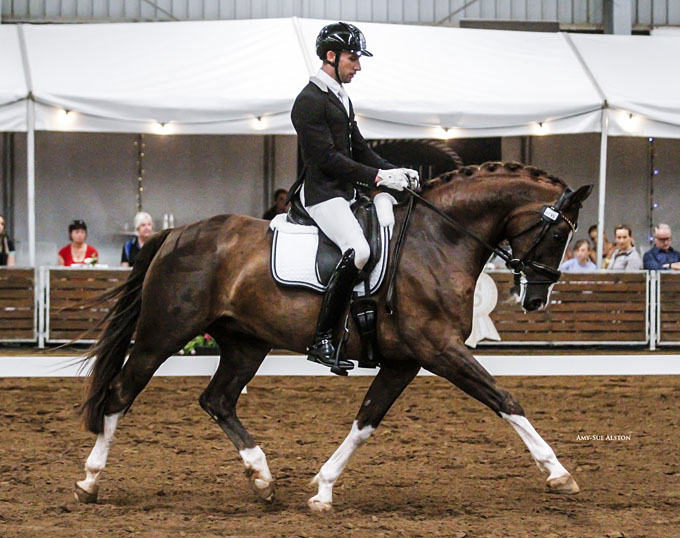 Brown did find golden glory in the 6-year old division aboard Lauren George's imported liver chestnut Bertone (by Benicio x Falsterbo x Regazzoni). The Hanoverian set the tone throughout the championship. He won t he first round with 82.60% and upped the ante in the finals. They got the title with 84.600%. Last year's champions and overall winners, Gina Montgomery and Sahara Hanslow's Dutch warmblood Iresias L (by Johnson x Ferro) were good for silver. After a second place in round one (82.00%) they maintained that position in the finals with 81.20%. Riley Alexander and the Australian bred MI Aber Sienna (by Aber Hallo x Sir Donnerhall) were fifth in the warm up round (77.60%) but snatched bronze in the Finals with 79.00%. MI Aber Sienna out of Sugarloaf Sahara, who was herself a Champion of Champions in Werribee.
"We are really happy with Bertone," Brown told Eurodressage. "He didn't compete for most of his 5-year old year and I've been training him for three months now. He's still a little green with the work but I had hoped if he could really show off his paces that he would be competitive and for him to win is really exciting for us."
Bluefields Doris Day On Song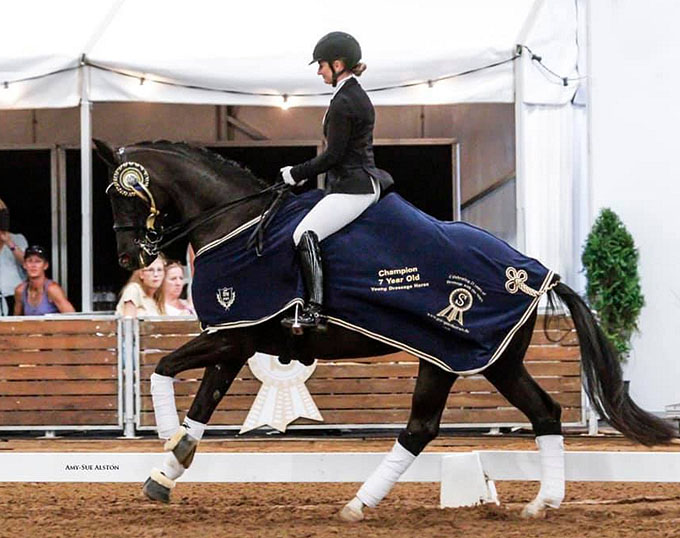 For the second time since 2018 a 7-year old developing Prix St Georges horse Championship was added to the programme of the Young Horse Nationals. Australian WEG team rider Alexis Hellyer and Bluefields Doris Day (by Desperados x Florencio)  were on song in Werribee and won the first round with 73.472% and the title with 71.129%. Heather Currie impressively scored the silver and bronze on her two horses. The silver she got on Bluefields Honduras (by Hofrat x Rotspon) with 69.157%, while Wunderbar Black  (by Desperados x Grand Kavalier) delivered her bronze with 66.372%.
"Doris was purchased as an unbroken horse from the paddock," Hellyer explained. "She has been produced over the years by Elliot (Patterson, Alexis' fiancé) and myself and has really started to come into her own. We feel this horse will be a very exciting FEI horse in the years to come. Having attended this show for over 10 years the quality of horses has significantly developed and a huge congratulations must be given to the breeders around Australia."
Wilingapark Emotion Champion of Champions
On the final day of competition DJWTS Masterclass teacher and international Grand Prix rider Therese Nilshagen test rode the four champions and picked the overall winner - the Champion of Champions - which was Willingapark Emotion. 
"Wow wow wow she's done it," the team at Willinga Park posted. "We always knew she was a superstar mare. It's nice to be rewarded for top breedingn training and preparation with WillingaPark Emotion winning the champion of champions at Dressage Jumping with the Stars."
Photos © Amy-Sue Alston 
Results - 2018 Australian Young Horse Championships - Melbourne
4-year olds - Round 2 (Finals)
Judges: Seefried, Schwennesen, Sievers
1. Karen Blythe - Sonic K - 78.400%
2.  David Mckinnon - Willingapark Fangio - 77.800%
3. Justine Greer  - Desert Sands Isle of D Bling - 75.600%
4. Jayden Brown - Lyon - 74.800%
5. Robbie McKinnon HV Del Piero - 74.200%
6. Georgina Foot  - Bellaire Davinci -72.400%
7. Jack Palfreyman  - Ellanbrae Jupiter - 68.400%
8. Danielle Walliss  - Karizmah Buzz Lightyear - 68.200%
9. Bianca Joyce - HPS Wynderland - 67.200%
5-year olds - Round 2 (Finals)
Judges: Saleh, Schwennesen, Ventura
1.  Brett Parbery - Wilingapark Emotion - 80.800% 
2. Jayden Brown  - Quincy B -  78.800%
3. Justine Greer  - Yarramee Fonzie -   75.800%
4. Alexis Hellyer  - Daenarys - 74.600%
5. Elliot Patterson  - Valhalla I -  73.000%
6. Shae Russo  - Bloomfield Royal Artist - 71.200%
7. Tori Stuckey  - Mayfield Kindred Spirit -    70.600%
8. Sally Rizzuto  - Quaterland -   68.000%
9. Stuart Archibald - Woodleigh Remember Me - 68.000%
10. Taliah Daniels  - Lamperds Stella - 58.800%
6-year olds - Round 2 (Finals)
Judges: Seefried, Hoevenaars, Asmyr
1.  Jayden Brown   - Bertone - 84.600%
2. Gina Montgomery   - Iresias L - 81.200%
3.  Riley Alexander - MI Aber Sienna -  79.000% 
4. Danielle Ffrench - Hollands Bend Skyfall -  78.400%
5. Maree Tomkinson   - Furst Deluxe - 76.000%  
6. Katrina Bolmat   - Staughton Vale Belmiro - 75.600% 
7.  Lizzie Wilson-Fellows  - Let's Blitz -  75.000%
8. Sara McDonald  - Adlanta Marcella -  71.600%
9.  Maree Tomkinson  - Total Diva - 68.000%
10. Tori Stuckey  - Mayfield Whist -  65.000%    
7-year olds - Round 2 (Finals)
Judges: Hoevenaars, Saleh, Seefried
1. Alexis Hellyer   - Bluefields Doris Day -    71.129%
2. Heather Currie - Bluefields Honduras - 69.157%  
3. Heather Currie   - Wunderbar Black - 66.372%  
4. Susan Elekessy   - Callum Park Grenadine - 66.015% 
5. Charlie Welsh - Horizonte de Jeu - 65.629%
6. Katina Smith  - BC Sangria -   65.143%
Related Links
Aber Halo MI, Yarramee Fonzie, Iresias L, Penny Hill Park Sophia, SPH Renaissance win 2018 Australian Young Horse Championships
Iresias L, Karizmah Billionaire, SPH Renaissance Win 2017 Australian Young Horse Championships
Freestyle MS, Santiago, Donna Elena Win 2016 Australian Young Horse Championships
SPH Renaissance, Donna Elena, Solo Feliz Win 2015 Australian Young Horse Championships
Three Winners Stand Out in Full Field at 2015 Australian Young Horse Championships
Sugarloaf Sirhara and Rosewater Driving Miss Daisy Win 2012 Australian Young Horse Championships
San Jose, Champion of Champions at 2010 Dressage with the Stars