Danish Warmblood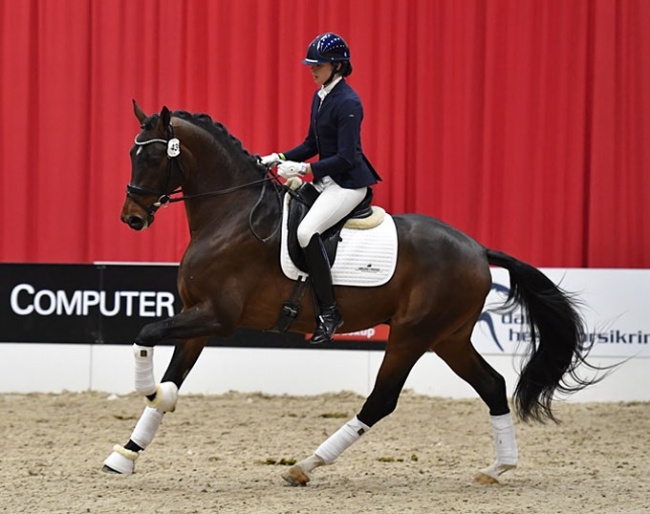 All participating stallions in the mandatory 10-day observation test after the 2019 Danish Warmblood Stallion Licensing have passed the test. 
The testing, which is supervised by Torben Frandsen, took place at the Tørring Ridecenter and concluded on 19 March 2019. 
The 10-day observation test was establishe for the newly approved 3-year olds to check on the stallions' character and rideability. 
The young stallions, who were already approved in Germany, had to do the testing four days longer and concluded their test on 23 March 2019. 
All of them passed the test, each stallion remarkably scoring the perfect 10 for their character and behaviour in the stall. The only dressage stallion who actually had a decent jump in the jumping phase was Vendôme (by Veneno x Fidertanz). He scored 7 for jumping, while the rest scraped by with a 5.
They are now allowed to breed for one year for the Danish warmblood society. In 2020 they will be re-assessed at the licensing in Herning. 
The participating stallions were:
Hesselhoj Downtown  (DWB, by Hesselhoj Donkey Boy x Blue Hors Zack) - Owner: Dorthe & Hans Jorgen Hoeck
Hesselhoj Skyfall  (DWB, by  Sir Donnerhall I x UNO Don Diego) - Owner: Dorthe & Hans Jorgen Hoeck
Bøgegårdens Santiago Bernabéu (DWB, by Bøgegårdens Santiago x Bøgegårdens Laurino) - Owner: Stina & Jørgen Schmidt
Monterey   (OLD, by  Morricone x Sir Donnerhall I) - Owner: Paul Schockemöhle & Lone Boegh Henriksen
Amperio (DWB, by Ampere x Imperio ) - Owner: Danish Performance Horses
Atterupgaards Barcelo (by Bon Coeur/Caprimond) - owner: Helgstrand Dressage and Stutteri Atterupgaard - breeder: Kristine Munch Nielsen.
 
Danciero (by Dancier/Floriscount) - owner: Helgstrand Dressage  and Paul Schockemöhle - breeder: Z G Broers + Weber H. Broers and Joh. Weber.
 
Diamancio (by Diamond Hit/Florencio) - owner: Helgstrand Dressage - breeder: Bernhard Schrapper.
 
Tophøjs Falchetto (by Floriscount/Solos Landtinus) - owner: Helgstrand Dressage  and Stutteri Tophøj - breeder: Anette Nilausen and Niels-Jørgen Johansen.
 
Fürst Highlight (by Fürstenball/His Highness) - owner: Helgstrand Dressage  and Søren Grønborg, Vodskov - breeder: Thorsten Lang.
 
Global Playe (by  Grand Galaxy Win/Don Schufro) - owner: Helgstrand Dressage, Paul Schockemöhle and HH Horses - breeder: HH Horses.
 
Giovanni Bell (by Grand Galaxy Win/Don Romantic) - owner: Helgstrand Dressage and Sølyst Heste - breeder: Tina and Nicolai Jepsen.
 
Lord Europe (by Lord Leatherdale/Boston) -  owner: Helgstrand Dressage, Paul Schockemöhle and Joop van Uytert - breeder: ZG Pleines Werner and Heike Pleines. 

Vendóme (by Veneno/Fidertanz) -  owner: Helgstrand Dressage  and Stutteri EVO - breeder: Paul Paessens.
 
Vivino (by Vivaldi/Dancier) - owner: Helgstrand Dressage and Paul Schockemöhle - breeder: Ulrike Buurman.
 
L.A.Zonik.L (by Zonik/Goodtimes) - owner: Helgstrand DressageS and Sølyst Heste - breeder: A.J. Lievaart. 

Lance V.O.D. (by Glamourdale/Davino V.O.D.) - owner: Helgstrand Dressage - breeder: A.J. van Os
Duke (HANN, by   Dimaggio x Sir Donnerhall I) - Owner: Equi Stallion
Zen (HANN, by Blue Hors Zack x Fürst Heinrich) - Owner: Blue Hors
Blue Hors Livius (KWPN, by Gotcha Utopia x Jazz) - Owner: Blue Hors
Ambjergs Delgadino  (DWB, by  Hesselhoj Donkey Boy x Blue Hors Don Romantic) - Owner: Ole Morten Myhre
Not yet Danish approved, but already successfully tested:
Mr. Grey VH (by Grey Flanell/Dalwhinnie) - owner: Helgstrand Dressage and Västra Hoby Stuteri - breeder: Västra Hoby Stuteri
Test reports here (in Danish)
Photo © Ridehesten
Related Links
Seven Premium Stallions at 2019 Danish Warmblood Stallion Licensing
Eighteen Older Stallions Approved at 2019 Danish Warmblood Licensing