Horse Transport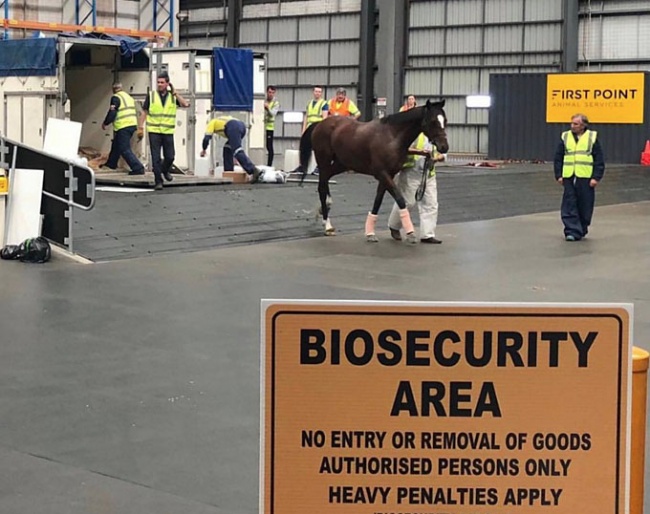 The global transportation of horses is an extraordinary task and IRT have an incredible reputation for safely transporting horses all over the globe. It is a fascinating industry from both a logistical and a horse health and welfare perspective.
Dr. Amy Little is IRT's Global Veterinary Advisor and she replied to a series of questions about the world of horse transport to Australia.
Preparing Your Horse For Flight
What does your position involve?
Dr. Amy Little: The international movement of horses is strictly controlled by the governments of the countries involved, particularly the importing country. A large part of my role involves ensuring that the horses in IRT's care are compliant with these importing country requirements, as well as the regulations imposed by the countries the horses are transiting through.
How many Horses does IRT fly each year? 
Dr. Amy Little: Numbers vary from year to year based on several external factors. However, it would be fair to say, that for every hour of every day, IRT has a horse in the air!
What do I need to do to prepare my horse to fly? 
Dr. Amy Little: You should contact us as soon as you know that you want to transport a horse overseas. We will work with you to find the best option to safely move your horse and ensure everything runs smoothly. It can take anywhere from a matter of days to several weeks to prepare a horse for export, as each importing country has specific requirements with regards to pre-export quarantine, testing, treatments and vaccinations.
IRT will work with your own veterinarian to facilitate this.
It can be helpful to reduce the energy content of your horse's diet a few days prior to the flight. Other than that, as horses are animals that thrive on routine, it's always best to minimize disruptions to their routine prior to travel.
Are there any flight restrictions related to the age of the horse?
Dr. Amy Little: No. However, all horses must be examined by a veterinarian prior to travel and assessed as being "fit to fly". IRT also require owners to sign a release and waiver of liability for all horses aged 18 and over. Additionally, it is prudent for owners to check with their insurers regarding any age limit for travel.
Can a horse still fly to Europe if they have been vaccinated against Hendra?
Dr. Amy Little: Yes
Mid flight - safety and monitoring
Who monitors the horses whilst they are flying?
Dr. Amy Little: IRT only use professional flying grooms who are very experienced in caring for horses during flight. Our grooms ensure the horses are kept fed and hydrated and monitor them regularly to ensure they are comfortable throughout the flight.
How large are the stalls that the horses travel in? 
Dr. Amy Little: An air-stall can carry 1-3 horses. If there are three horses in an air-stall, each bay is 30 inches/76cm wide – a similar width to a bay of a straight-load horse float.
Can I fly with my horse? 
Dr. Amy Little: Unfortunately, there are only limited passenger seats available on freighter aircraft. So these are necessarily restricted to our professional flying grooms, to ensure all the horses have access to the best possible care during flight.
Additionally, unlike booking a seat on a passenger aircraft, access to a seat on a freighter aircraft is subject to strict security requirements.
How many grooms per horse?
Dr. Amy Little: This depends on the number of horses in a consignment, but generally we aim to have one professional groom for every 6 to 9 horses.
The Quarantine Experience
Pre-export and post-arrival quarantine requirements vary from country to country. For example, Australia requires horses to undergo both pre-export and post-arrival quarantine periods, both of 14 days duration. All quarantined horses are examined twice daily for any signs of disease. A key part of this examination is monitoring their temperature, as a raised temperature may be the first or only sign of disease. The horses are also tested at least twice for equine influenza; prior to shipment and then again after arrival.
What happens if my horse gets sick in quarantine?
Dr. Amy Little: IRT's professional grooms provide 24/7 care for your horse and highly qualified equine veterinarians are on-call. Government veterinarians will work to rule-out diseases of biosecurity concern as the cause for the horse's illness, prior to their release from quarantine. In the unlikely event that your horse needs surgery, the Mickleham Quarantine Facility has a fully equipped equine surgery. IRT has engaged the services of a highly qualified, specialist equine surgeon who is on call during quarantine periods to ensure your horse has access to life-saving surgery without any delay.
Will I get updates about my horse in quarantine?
Dr. Amy Little: Yes absolutely! Our grooms provide the IRT Operations Manager with regular updates, who in turn will keep you updated along the way. Of course, you will also be informed should any problems develop.
Can I visit my horse in quarantine.
Dr. Amy Little: No – a key principle of biosecurity is limiting the number of entrants to a quarantine facility. Many equine diseases can be spread via people so the fewer people that enter quarantine, the less likely a disease will get out.
The Australian government operated Mickleham quarantine facility is specifically designed to mitigate the risk of a serious equine disease entering Australia via an imported horse. Only authorised personnel who are trained in correct biosecurity and disease containment protocols are permitted into the facility.
Interestingly, all personnel have to shower thoroughly and wash their hair, prior to leaving at the end of their shift. Quarantine also includes management of any equipment that has come in contact with the horses, as some diseases can be spread by contaminated shoes, water buckets, grooming equipment etc.
For more information about IRT and global horse transport, visit www.irt.com
Related Links
Equine Health and Safety in Full Flight with IRT
New Zealand's Julie Brougham on Board with IRT To Go All the Way To Rio
How Glanders in Germany Has Affected Global Equine Transportation
Equine Travel Restrictions from Germany to Australia End 30 July 2015