Greece
The Swiss based Grecian young rider Theodora Livanos has decided to retire her her junior rider's horse Winston from competition sport. 
Winston is a 16-year old Dutch warmblood gelding by OO Seven x Cocktail. He is bred C. Kleinjan in The Netherlands. 
Winston first made headlines under Dutch rider Stephanie Kooijman, who discovered him as a 3-year old and trained him up to Grand Prix level with the help of coach Tineke Bartels.
Kooijman and Winston were a fixture on the Dutch junior and young riders team as of 2010. The pair competed at the 2010 and 2011 European Junior Riders Championships in Kronberg and Broholm, where they got team silver and bronze. As a young rider she represented The Netherlands at the 2012, 2013 and 2014 European Young Riders Championships.  They won team gold in 2012 and 2013 and team silver in 2014. In 2013 Winston also won individual silver and kur bronze. The pair returned on the Dutch team for the 2016 European Under 25 Championships, where they got team silver and placed fifth overall.
Kooijman was forced to sell Winston due to financial issues in her family and the horse found a forever home with Livanos in Switzerland. 
Theodora and Winston made their show debut at junior level at the 2017 CDI Caselle di Sommacampagne where they finished third, second and first. They went on to compete at the internationals in Saumur, Prangins, and Diepenbeek before riding as individuals for Greece at the 2017 European Junior Riders Championships in Roosendaal, where they were fifth in the Kur to Music finals.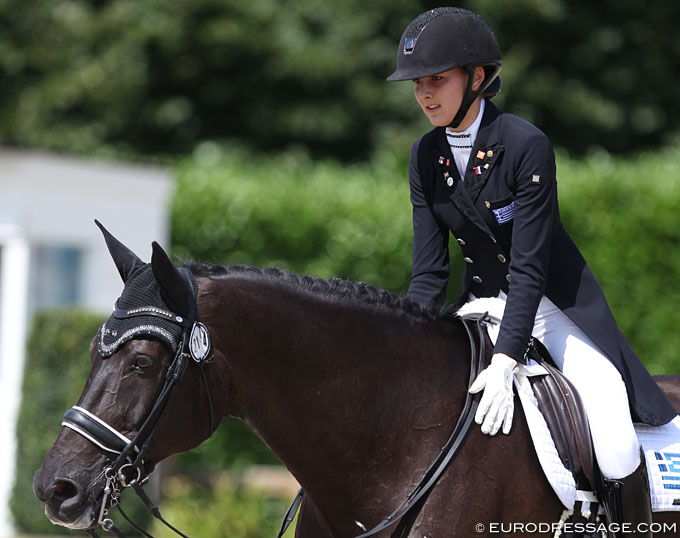 They finished the 2017 show year with indoor starts at Le Mans and Aachen at young riders' level. Winston sustained an injury in 2018 and was off to recover. He has not been shown since and the family has now decided to give the horse a more relaxed life away from top sport. 
"Winston is back home now but I've only been riding him at home. No more competitions," Theodora told Eurodressage. "He is one of a kind. He's 16 now so a good time to retire. He has had some pretty bad, unlucky injuries, so I don't want to try and bring him back to top level. He had a long show career and has done so so much. He deserves the best life now."
Theodora will continue to compete her young rider's horse Fido Dido as well as her Under 25 schoolmaster For Compliment. She also has Robinvale in the wings, who is currently being competed by her trainer Birgit Wientzek-Pläge. 
Photo © Astrid Appels
Related Links
Eurodressage Photo Database: Winston
Daphne van Peperstraten, Queen of the Kur at 2017 European Junior Riders Championships
Horstmann Puts Germany in the Lead in Team Test at 2017 European Junior Riders Championships
Germany Gets Gold with Overpowering Force at 2017 European Junior Riders Championships
Rohmann and Holzknecht Top Divisions at 2017 CDI-PJYR Aachen
Stephanie Kooijman's Winston Sold
Robinvale Sold to Theodora Livanos
Theodora Livanos Acquires Fido Dido