Denmark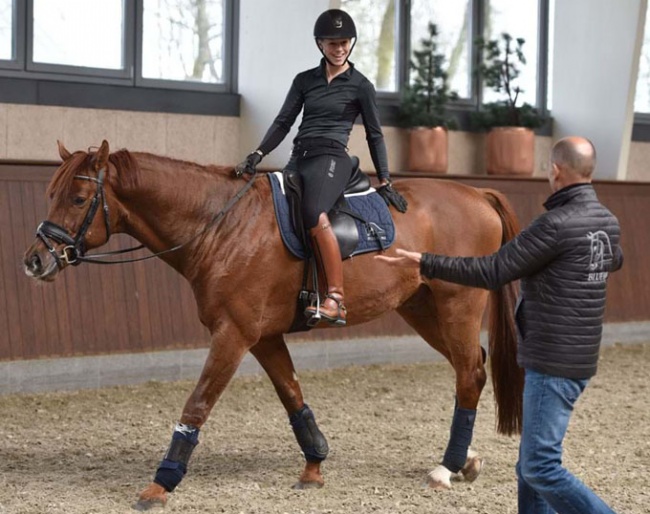 Danish Olympic team member Agnete Kirk Thinggaard has officially joined the riders' team at Blue Hors stud in Randboel, Denmark. Kirk Thinggaard is the daughter of Blue Hors stud's owner Kjeld Kirk Kristiansen, but until now she has run and worked from her own yard, Julianelyst. 
Over the past few years, Kirk Thinggaard has already made several changes to her team and horse stock. Not only did she source the small tour horse Zatchmo (by Zack) direclty at Blue Hors alongside shopping in Europe, but she also switched trainers, saying goodbye to her long-time coach Mikael Stevn for Blue Hors' head trainer Lars Petersen. 
Agnete has now officially joined the team of riders at Blue Hors stud and will flank Daniel Bachmann Andersen and Nanna Skodborg Merrald as well as several more assistant riders there. 
"It is a very natural development that just felt right," Agnete commented. "I am really proud to ride for Blue Hors and actually I didn't realize  how much it would mean to me. My father has created Blue Hors, which has been a part of our family most of my life. The first time I rode with the Blue Hors logo, I felt this pride completely spontaneously. It's a great feeling."
The Blue Hors dressage team is headed by sport director Ulrik Sorensen. 
"Blue Hors has a super professional set-up with control over things," said Anete. "They are a good riders' team that backs each other up and helps each other, and then we have a sports manager with an overview. You can talk to him, get good advice and can push one in the right direction."
The first change that has happened with Agnete's arrival on the team is that she has been allocated Daniel Bachmann's rising star Blue Hors Veneziano (by Vivaldi x Donnerhall). Daniel steered the chestnut stallion to victory in the 2018 German Developing Grand Prix Horse Championship (Louisdor Cup) last December. 
"It feels very safe to take over Veneziano in this way. It is something completely different from, for example, getting a new horse from abroad, which you have only tried once or twice," Agnete explained. "I already know Veneziano well and I have full support from the Blue Hors team. He's a fantastic horse. He is so nice and good in the head.  I can ride him in the woods on a long rein and he is super hard-working. He likes to make his rider happy. He is uncomplicated and super educated, so in that way "easy" to take over."
Photos © Ridehesten
Related Links
Kirk Thinggaard Returns to the Show Ring with Jojo AZ
Kirk Thinggaard and Mikael Stevn Part Ways, Lars Petersen New Coach
Thinggaard Pullls Orthilia Out of 2018 WEG Team Contention
Blue Hors Veneziano Wins 2018 Louisdor Cup Finals for Developing Grand Prix Horses