2019 Irish Winter Championships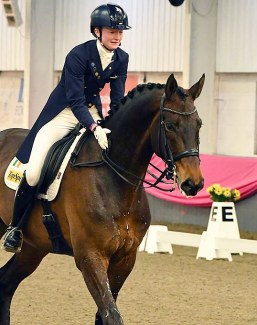 Rachel Dowley, Anne Marie Dunphy, and Sorrell Klatzko became the grand winners of the FEI level classes at the 2019 Irish Winter Championships held at the Cavan Equestrian Centreon 6 - 7 April  2019.
Rachel Dowley won three championship classes.  In the Intermédiare I final, Dowley and the 12-year-old Hochadel gelding Cadens scored 68.088% for the win.  Dowley claimed top honours in the novice category three championship with Florencio gelding Insticator B.S., winner of the young horse five-year old and novice freestyle national championships last September.  This one went right down to the wire with just 0.028% separating Insticator B.S. from Marguerite McSweeney and Fidette in the final standings.  Dowley also won the preliminary category three championship with Just a Ball B.S.
 "I'm delighted" said Rachel "I have had Cadens since he was four and we have had a lot of success coming up through the grades to get to this level.  I'm aiming to do our first big tour grand prix at the Wild Atlantic dressage festival in Sligo in early May.  I'm fortunate to ride two horses from Julie Lockley's Bramley Stud in Yorkshire, Insticator B.S. and Just a Ball B.S.  Both are talented horses and they delivered mistake free tests for the win."   
Dowley's trainer, Irish international rider Anne Marie Dunphy won the Prix St-Georges final with Her Highness Willow.  The former national champion and her 13-year-old His Highness mare winning on a score of 65.956%.  
Sorrell Klatzko retained her Intermédiare II title with Highlight.  It was an emotional final outing for the pair who nearly didn't make it to Cavan when Sorrell's trailer was stolen earlier in the week.  
"I want to thank Julieann Gaffney and JAG Equestrian for letting me have a trailer so I could compete here." said Sorrell "Highlight is the first horse I have owned and trained winning every single title up to this level.  It is our last competition and she will now go to a young rider."
 International pony rider Finn Curran scored 67.102% with Blokland's Hoeve Amor to win the FEI pony rider final. 
by Paul Nolan - Photo © Sagittarian Photography
Results - 2019 Irish Winter Championships - Cavan
Pony Riders
1. Blokland's Hoeve's Amor  -   Finn Curran  -  66.500  
2. Reduster Martin -  Bronte Collins   -   65.857  
3. Calelvador May Blossom -  Rachel Carr  -   65.357
4. Maverick S -   Sadhbh O' Toole  - 64.643  
5. Top Hero -  Oscar O' Connor  -   63.714  
6. Schermeers Hof Arendsoog -    Isabella Murray -  62.643
Prix St Georges
1. Her Highness Willow -  Anne Marie Dunphy - 65.956
2. CLS Bram -   David Freeney - 65.662
3. Variant H  -  Elizabeth Frayling -   65.662
4. Carn Verdon Boy -  Alana Cazabon   -  65.074
5. Zazou - Alana Cazabon -   64.044
6. Flagranti  -  Marguerite McSweeney  -  62.794
7. Has to be Fun  -  Ruaidhri O' Cianain -  62.206
8.Chablis -  Alana Cazabon -  58.529
9. Deja Vu Roundthorn -   Lisa Dundee - 58.529
Intermediaire I
1. Cadens -   Rachel Dowley  -  68.088
2. Variant H  -  Elizabeth Frayling -  66.324  
3. Her Highness Willow  -   Anne Marie Dunphy  -  65.074  
4. Saint Emilion -   Kevin Acres -  64.853  
5. Beezies Big Brother  -  Simone Hession - 61.912
Zazou -  Alana Cazabon -  ret
Intermediaire II
1. Highlight  -  Sorrell Klatzko -  65.441
2. Cadens  -   Rachel Dowley -  63.824  
3. Dutchman -   Alex Baker  -  62.353  
4. Saint Emilion -  Kevin Acres - 61.176
Grand Prix
1. Highlight  -  Sorrell Klatzko -  64.457
Related Links
Holstein and Klatzko Take FEI Level Titles at 2018 Irish Winter Championships
Dwyer and Holstein Win Big and Small Tour at 2017 Irish Indoor Dressage Championships
Klatzko Steals the Show at 2011 Irish Winter Dressage Championships
Truesdale On Song At 2007 Dressage Ireland Winter Finals