Verden Auction News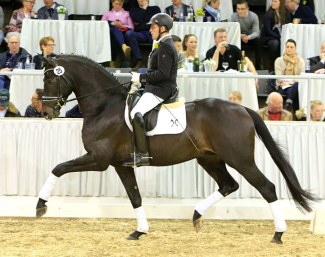 The dark bay dressage stallion Zouzo became the price highlight of the 2019 Hanoverian Spring Elite Auction in Verden on 13 April 2019. 
An investor acquired the 4-year old Zouzo (by Zack x Soliman de Hus - breeder: Günter Röhrich, Neustadt, exhibitor: Willem Klausing GbR, Diepholz) for 165,000 euro. The horse will go in training with French Grand Prix riders Charlotte Chalvignac and Jean François Vesin. 
More horses are moving to France. Frenchman Guillaume Trubuil bought two horses in Verden: the second most expensive one of the auction, the 4-year old Magic Moment HRH (by Millennium x Don Bosco), who was licensed right before the auction. Bred and owned by Heiner and Renate Hormann, he sold for 100,000 euro and will go in training with French Grand Prix rider Pauline Guillem.  A Grand Prix rider himself, Trubuil also purchased the 3-year old gelding Fonik (by Franklin x Zonik). Guillem will be in charge of their training as long as they are young horses.
The third most expensive horse was the 5-year old grey jumper mare Grey Diraba (by Grey Top x Diarado) which sold to a German for 86,000 euro. The jumper mare Sarentina KJ (by Spartacus x Contendro) sold abroad for 68,000 euro. 
The 4-year old gelding Quality (by Quantensprung x Hohenstein) moves abroad for 60,000 euro, while jumper Smudo (by Stolzenberg x Contendro) also moves outside Germany for 56,000 euro. 
The 6-year old gelding Duque de Montebello (by Dancier x St. Moritz) achieved a knock down price of 58,000 euro, while the 4-year old stallion Zuckerberg (by Zack x Feuerspiel) sold for 44,000 euro. 
The average price for a horse at this auction was 25,071 euro.
"Home is a feeling" – this was the theme of the Verden Auction in April. The team around auction manager Jörg-Wilhelm Wegener came up with a lot of ideas with great attention to detail and just as much passion to make this event very special. The day before the auction, the Verden Evening, which focused on the horse, was a festive start. Beside the auction horses their sires had a great appearance in the spotlight. Moreover Reinhard Baumgart was honoured with the Golden Badge of Honour of the Hannoveraner Verband. As an auction rider, trainer and member of the selection committee, he was a strong pillar in the Verden Auction team. 
The Gala and atmosphere were well received, not only at home. 32 horses were released into the wide world, 45 will stay in Germany.
"The first-class collection was rewarded accordingly by our customers - and that 70 years after the first auction in Verden," said auction manager Jörg-Wilhelm Wegener. "The mood was very optimistic and is an incentive for the foal auction in May"
Photo © Tammo Ernst