Hanoverian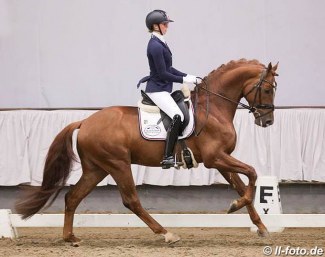 The jumper Belico Royal became the top scoring horse at the 14-day Stallion Suitability Test held in Adelheidsdorf, Germany, on 5 - 18 April 2019. 
The suitability test is mandatory for 3-year old and 4-year old licensed colts. The Adelheidsdorf testing focused on show jumpers, but several stallion owners entered their dressage colts there as well for logistical reasons.
Belico Royal (by Bellini Royal x Captain Fire) was the clear top scorer in a pack of 30, in which there was one drop out. He scored 8.85 overall with 7.9 for dressage and 9.58 for show jumping. The colt earned 9.5 for his character, 6.5 for trot, 8.5 for canter and 8 for walk. He got 8 for rideability, 10 for jumping in freedom and 9 under the test rider. 
The second highest scorer was jumper For the Future (by For Pleasure), followed by Hickstead Blue (8.58), Cornet's Edition (by Cornet Obolensky), Kanabalou (by Kannan) with 8.40
The Dutch owned Westfalian Fonq (by Furst Fohlenhoff x Lissaro van de Helle) was the best scoring dressage stallion with an overall total of 8.45 points. He got 9.04 for dressage and 7.28 for jumping. Eugene Reesink's chestnut got 9.5 for character, 8.5 for trot and canter, 9.5 for walk and rideability, 6.5 for jumping in freedom and 9.75 under the test rider. 
Several stallions would have failed the testing as they were unable to score an overall higher than 7.50, but they were saved by the judges' panel as they attributed the colts 8 or higher for just one discipline. This was the case for First Date (by Furstenball), who got 5.68 for jumoing, but 8.21 for dressage (overall 7.18 points). It was also the way for Vivaldos (by Vivaldi) only made the cut because his dressage score was 8.05 points. His overall of 7.13 didn't suffice, especially with a 5.93 jumping score. Corneo TF was also saved because of his jumper score, as the 6.25 for dressage was below par.
Two colts failed the testing: The Hanoverian premium stallion Dario (by Dancier x Wolkenstein II) with 7.13 and Eugene Reesink's KWPN bred Kaiman (by Dark Pleasure) with 7.10.
Photo © LL-foto
Related Links
Damaschino, Top Scorer in 2019 Schlieckau Stallion Suitability Test
Woodlander Wicked Game, Top Scorer of the 2019 Munich Stallion Suitability Test