Bits 'n Pieces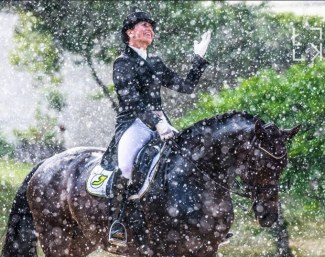 Eurodressage's own Central European photography correspondent Lukasz Kowalski has won the 2018 McCauley's Alltech A+ Awards for the best photo.  McCauley's, Alltech and the International Alliance of Equestrian Journalists (IAEJ) established the A+ Journalism Awards  in 2010 to reward creativity, passion and excellence in equestrian journalism. Kowalski is the photo winner of the 2018 McCauley's Alltech 'A+' Award for outstanding coverage of international equestrian sport. 
Dutch Philip van Ommen has been reunited with the 12-year old KWPN licensed stallion Chagall D&R (by Jazz). The chestnut is no stranger to Van Ommen, who rode him for three years when the horse was between and 3 and 6 years old. Afterwards Patrick van der Meer took over the ride. He competed the stallion briefly at international small tour level in 2015 and the beginning of 2016 and returned with him to the arena at Grand Prix level with two CDI's in 2018. The stallion scored between 63 and 65%. Van Ommen is now back in the saddle and is coached by Van der Meer. They are aiming for the Dutch Championships this year.
Commotion at the Spanish Riding School continues. After the controversial appointment of Sonja Klima as the new managing director of the Spanish Riding School in Vienna, the institution for classical dressage continues to upset the dressage world with its decision taking. Klima has now hired Kathrin Glock as an advisor and new member on an expert panel that has been created after the "expert advisory board" jointly resigned when Klima was appointed. The Expert advisory Board, which consisted of Sissy Max-Theurer, 5* judge Thomas Lang, 4* CDI dressage event organizer Klaus Haim Swarovski and Michael Enzinger (president of the Vienna lawyers society), recommended the appointment of Herwig Radnetter (long term rider at the SRS) as the new managing director. The SRS board of directors, however, preferred Klima. She has now invited Glock on a counsel as "Kathrin Glock is a leading specialist in horse breeding, horse sport and international event organisation."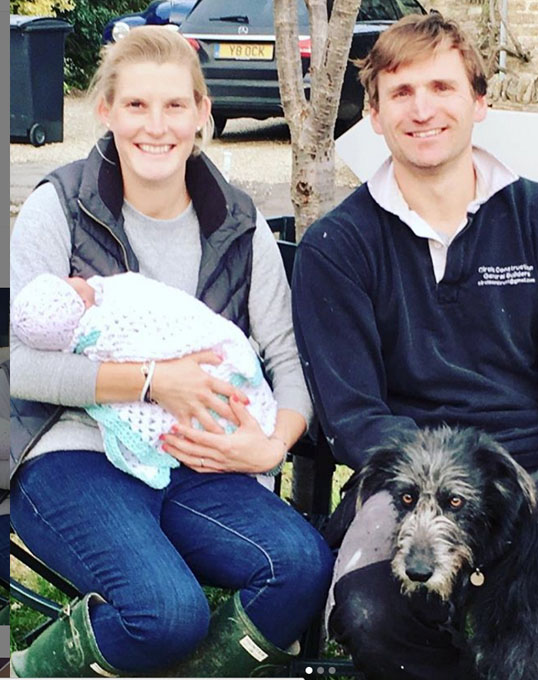 British WEG team shortlisted rider Lara Butler-Griffith has given birth to her first child. Lara and her husband Bill Butler welcomed their son, Jack Mark Butler, on 12 April 2019. Butler is the 2018 British Grand Prix champion and was the 2016 Rio team reserve. Butler rides for Wilfried and Ursula Bechtolsheimer in the U.K.
Belgian FEI rider Brecht D'Hoore and his Dutch wife, professional Dominique D'Hoore-van der Horst are expecting their first baby. The baby is due 3 October. D'Hoore and Van der Horst got married on 7 July 2017 and runs a professional dressage stable in The Netherlands.
Laura Kathrein Müller has received the ride on Judith Kalkoffen's 9-year old Westfalian mare Damon's Divarouge, who is a full sister to winning dressage horses Damon's Delorange and Damon's Satelite. Divarouge was first competed as a 4-year old by Kristina Spaniol. in 2015 Petra Strötmann took over the ride and brought her up to small tour level. Strötmann last competed Divarouge in March 2018. The new rider, Laura Kathrein Müller, made her show debut on the mare at the local show in Troisdorf on 23 March 2019. The third full sister, Damon's Divene, was owned by the DOKR and competed up until 2015 by Helen Langehanenberg. She was euthanized due to a career ending injury.
Helgstrand Dressage has hired Marianne Fog Jørgensen as Chief Financial Officer (CFO). The new position is a result of the dressage company being bought by the venture capital firm, Waterland Private Equity, last year. A former PriceWaterhouseCooper partner, Marianne Fog Jørgensen, is now part of the Helgstrand management board as CFO. 
"When Waterland joined Helgstrand the sails were set for an even stronger Helgstrand with the ambitious goal of creating the world's leading equestrian business," Helgstrand stated in a press release. "In that connection, Helgstrand hired Marianne Fog Jørgsensen, who is a former partner in the well-known auditing and consulting company, PricewaterhouseCoopers, or simply PwC. Marianne has a clear advantage as she has been a full-time auditor for the Helgstrand Group for several years and thus has a deep understanding of the company's business model, processes and value-drivers as well as insight in the company, the industry and the company's stakeholders." 
The 7-year old KWPN licensed and Westfalian bred stallion Daily Diamond (by Daily Deal x Furst Heinrich) has returned to owner Anneke Greve-Vellekoop and the ride has been allocated to Annabel Rootveld. The black stallion who won the 2015 KWPN Autumn Stallion Performance Test, has been trained by Bart Veeze for the past two years. Before Veeze, the stallion was also ridden by Dana van Lierop and Kirsten Brouwer. 
Blue Hors Zack's dam Orona (by Jazz) has passed away at age 23. Owned by Trudy and Bas Wilschut, the prestatie star mare Orona produced Zack (by Rousseau), his full sister Herarona, and the recently approved but not yet performance tested Lennox W (by Grand Galaxy Win T), who became the reserve champion of the 2019 KWPN Stallion Licensing. Orona was suffering from old age and was euthanized.